Blizzard has posted an update regarding queues and server disconnects. It shows that they are managing the rate of players entering the game until we have a full fix for the disconnection issues. They suggest players stay in the queue without resetting the timer in order not to waste more time. "We plan to have more accurate queue countdowns in place for Open Beta next weekend as noted in our Known Issues post", according to the Official. Here we collect the most common issues in Diablo 4 and the corresponding methods to fix them.
The Most Common Problems: Diablo 4 Crashing or Freezing
Error Code 30020/316719/34203/30008
On Reddit, a post showed that lots of gamers spent almost 2-6 hours queuing for login when the closed beta launched. What makes matter worse is that they got in the lobby with big efforts but after just 2 minutes of playing, they got error codes 30020, 316719, 30008, 34203, etc. What are the error codes in Diablo 4 and why I got the error? After a long time queuing, players get into the game. But a few moments later, they got the error code and the game crashed. These error codes are all server-related. There are no actual ways to fix the queue time issue or the error code. Blizzard is working on this problem at present.
Stuck on Loading
Numerous players report that Diablo 4 stuck on Loading screen forever. Sometimes, after a few minutes, it will eventually successfullly load. Sometimes, after 10 minutes or so, players will have to force close the game and wait in queue for hours again.
Diablo 4 Crashing
It's really a bummer when you finally get in the game, however, a while later, Diablo 4 crashed to destop or even crashed your PC. Many players also wonder if it's a problem on their own side, or it's the game itself.
To get well prepared for Diablo 4 gameplay, you may follow the tips below and avoid crashing and forever loading issues.
7 Ways to Avoid Server Error Codes in Diablo 4
Method 1. Check System Requirements (Basic)
Check your system conditions and check whether they are good enough to play the game. Sometimes, you can still launch the game even if the system requirements are qualified. Make sure you are not struggling to play the game with relatively low conditions. Check the minimum requirements and the recommended requirements below:
Diablo 4 minimum requirements
Memory: 8 GB
Graphics Card: NVIDIA GeForce GTX 660 or Radeon R9 280
CPU: Intel Core i5-2500K or FX-8100
File Size: 45 GB
OS: Windows 10 64-bit
Diablo 4 recommended requirements
Memory: 16 GB
Graphics Card: NVIDIA GeForce GTX 970 or Radeon RX 470
CPU: Intel Core i5-4670K or Ryzen 3 1300X
File Size: 45 GB
OS: Windows 10 64-bit
Method 2. Update Graphics Driver
An outdated graphics driver will also affect your gameplay. Sometimes, it brings you lag and latency in gaming. But it can cause game crashes too. Update your drivers and operating system to resolve any compatibility issues and check if Diablo 4 is still crashing on your PC.
Method 3. Close Unnecessary Applications
Too many programs working on the tasks will make conflicts and waste RAM resources. Thus you cannot play a game without bother. Close all other applications to resolve software conflicts and free up resources in your RAM. Prepare the best running space for Diablo 4 to avoid crashing issues.
Method 4. Disable Antivirus Software
Your antivirus software such as Bitdefender or Windows Defender will sometimes spy on new processes and prevent them from running normally, which can cause the crashing on startup or make your game keep crashing when playing. Update or temporarily disable any security programs, which may mistakenly identify the login module as a security threat.
Method 5. Use Repair Tool
Run the repair tool to repair any damaged game files.
Method 6. Reinstall your game. If the above methods don't fix the crashing.
Maybe you have got packet loss when installing Diablo 4 and the crashing happens. If this is the case, you are recommended to uninstall the game clearly and reinstall it to fix the crashing issue.
Method 7: Use LagoFast Game Booster
The methods mentioned above are some common ways to fix game crashes. It requires basic technical knowledge. You can also choose LagoFast game booster to improve the performance of your PC when playing games. It works by optimizing your PC's settings, freeing up system resources, and closing any unnecessary background processes. At the same time, it helps to reduce lag, improve frame rates, and prevent games from crashing. You will surely get more ease to fix common game issues.
When it comes to Diablo 4, LagoFast game booster can help to fix crashing issues by optimizing your PC's settings. The software can identify and close any unnecessary background processes that may be interfering with the game, freeing up system resources and reducing the risk of crashes. Follow the steps, and you will get great gameplay in Diablo 4.
Step 1. Free download LagoFast and sign in;
Step 2. Search for Diablo 4 and click boost;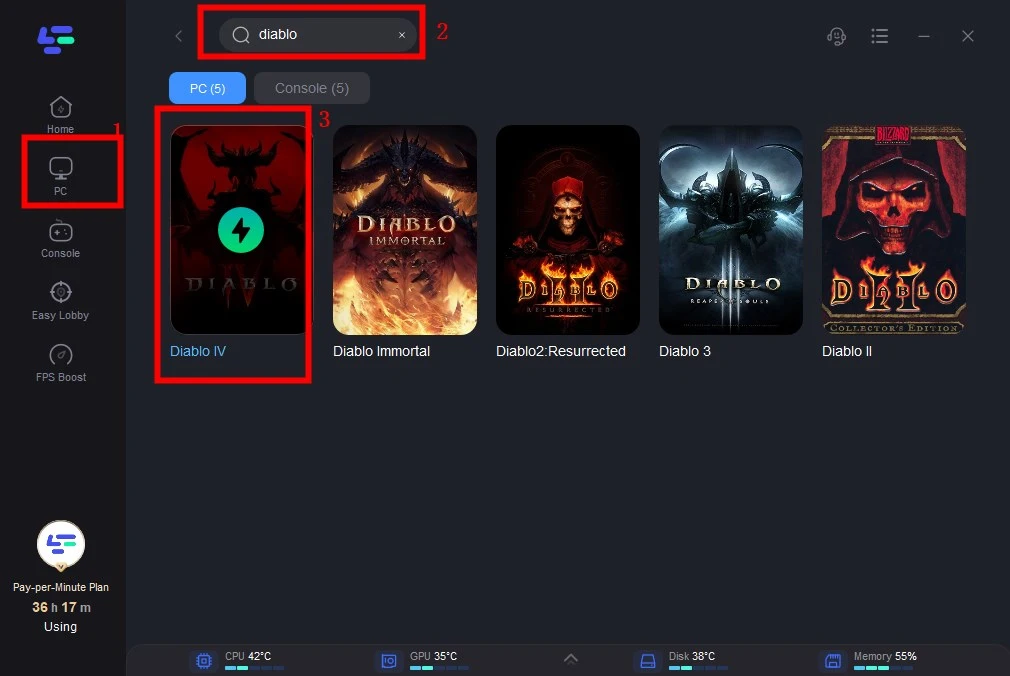 Step 3. Choose the server and node you want for Diablo 4;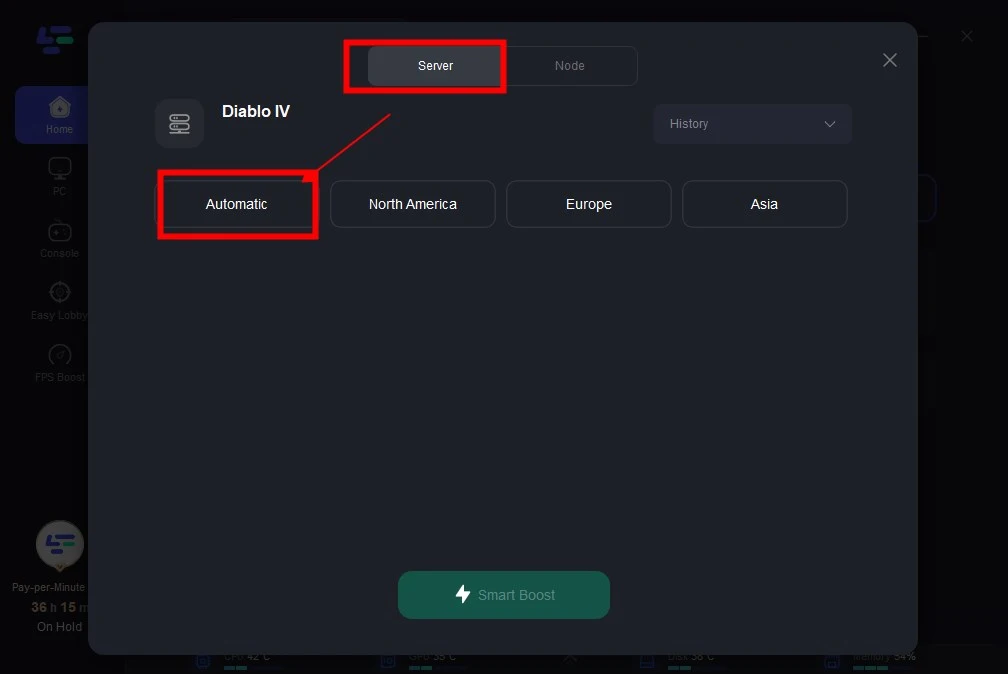 Step 4. Click smart boost and enjoy your game!
You can also check your Diablo 4 ping rate and packet loss in real time after boosting.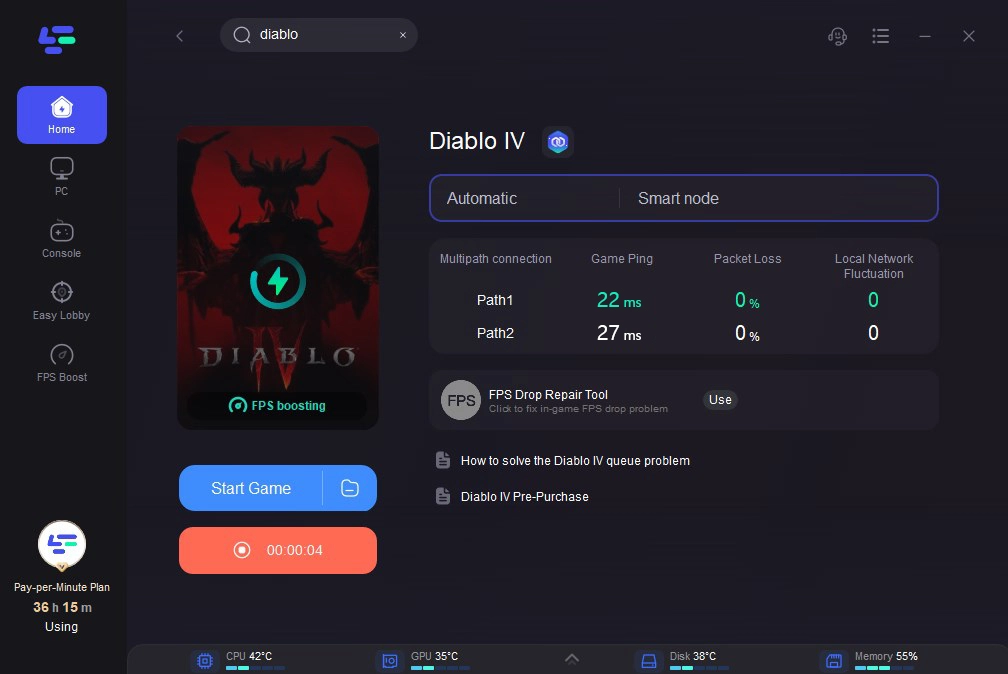 Additionally, LagoFast game booster can help to improve the performance of your PC's hardware components. By optimizing your PC's settings, the software can help to reduce the load on your CPU and graphics card, preventing them from overheating and reducing the risk of crashes. In this beta test, some players said the download speed of Diablo 4 beta is slow. You can also try LagoFast to save time in downloading.
Why I Get Diablo 4 Crashing on PC
There are various reasons why Diablo 4 may crash on PC. One of the most common causes is outdated or corrupted drivers. If your PC's drivers are outdated, it may lead to compatibility issues with Diablo 4, causing the game to crash.
Another common cause of Diablo 4 crashing on PC is hardware issues. If your PC's hardware components are faulty, it may cause the game to crash. Additionally, if your PC is overheating or if your graphics card is not powerful enough to run Diablo 4, it may also cause the game to crash.
Lastly, if the game files are corrupted or if there is a bug in the game, it may cause Diablo 4 to crash on PC.
If Diablo 4 keeps crashing on your PC, there are several things you can do to fix the issue. Firstly, you can try updating your PC's drivers to the latest version. This can be done by visiting the manufacturer's website and downloading the latest drivers for your hardware components.
If updating your drivers does not fix the issue, you can try running the game in compatibility mode. To do this, right-click on the Diablo 4 executable file and select Properties. In the Properties window, click on the Compatibility tab and check the box next to "Run this program in compatibility mode". Then, select the operating system that you are running and click on Apply.
If the issue persists, you can try verifying the game files. To do this, open the Blizzard launcher and click on Diablo 4. Then, click on Options and select Scan and Repair. The launcher will then scan the game files for any errors and repair them if necessary.
Diablo 4 Crash on Start Up
If Diablo 4 crashes on startup, it may be due to corrupted game files or compatibility issues. To fix the issue, you can try verifying the game files as mentioned above. Additionally, you can try running the game as an administrator. To do this, right-click on the Diablo 4 executable file and select Run as administrator.
If the game still crashes on startup, you can try disabling any third-party software that may be interfering with the game. This includes antivirus software, firewalls, and game boosters.
Conclusion
Diablo 4 got a big crowd at the beginning of the close beta. But don't worry, you can wait for the official to fix server issues and provide the best server status in the open beta next week. If you are a victim of Diablo 4 crashing issues and searching for a way to fix them, LagoFast can be your best choice. It will help improve your gaming speed by changing servers, boosting FPS and fixing common game issues, etc. Try it now and get a great Diablo 4 gaming experience!