Warhammer 40,000: Darktide, a first-person action game set in the Warhammer 40,000 world, is being developed and published by Fatshark. It's billed as another four-player co-op action adventure that takes Vermintide's immensely successful hack-and-slash melee combat, adds some classic 40K ranged weaponry, and drops you into the terrifyingly dark depths of a Chaos-infested hive metropolis to survive. Instead of a pre-made cast of characters, gamers will be able to customize their class, appearance, and gender. There are four types: An Imperial Guard stormtrooper wearing a gas mask and holding a lasgun; Zealot- A bowl-cut inquisitorial acolyte with a power hammer and a scroll down their front; Ogryn- carrying a massive slug cannon and a cutlass; and Psyker- A hooded, warp-powered psyker who doesn't require weapons. However, like other games, it has gameplay issues such as fps drops. During the closed beta test, players have already reported several difficulties. Don't worry! We'll tell you how to fix them. Moreover, we'll introduce LagoFast to you, which is the best solver for Warhammer 40,000: Darktide FPS drop issue.
Part 1: LagoFast: The Best Solver for Warhammer 40,000: Darktide FPS Drop
Part 2: 5 Fixes for Darktide FPS Drop Issues
Part 3: The Reason for Warhammer 40,000: Darktide Low FPS
LagoFast: The Best Solver for Warhammer 40,000: Darktide FPS Drop
If you are having problems with your game in Darktide, such as low FPS or latency, please do not hesitate to utilize LagoFast! Let me go through each of its characteristics one by one. To begin with, it has outstanding network compatibility, allowing it to deal with a broad range of challenging network situations while protecting your gaming experience. It can also give real-time, intelligent network diagnosis and connect you with the best-performing network nodes based on ping value. Second, you may use the boost anytime and anywhere you choose! In approximately 60 countries/regions, LagoFast offers exclusive acceleration channels. Third, it is really easy to use, allowing you to enjoy the ultimate gaming experience with only one click. Furthermore, you may customize the FPS Boost button to meet your demands in order to build your acceleration environment.
We have summarized the features of LagoFast:
Over 8 years of experience resolving gaming difficulties
Pay by minute, the only one with a time charge package!
Increase FPS while decreasing ping value
Simple to use, with simply one click boost
Only in 4 steps, you can get smooth gameplay!
Step 1: Download LagoFast and register.
Step 2: Type Darktide in the Search box and choose it among the results.
Step 3: Choose your needed server and the best node for Darktide.
Step 4: Click on the Boost button to start boosting.
You can know Darktide real-time ping and packet loss rate, which are closely related to your in-game performance.
Also, you can change the settings manually to get a suitable boost environment by clicking on the ones you want to turn on/off.
Do like this:
Step 1: Select the FPS Boost tab on the left of the desktop.
Step 2: Turn on/off the settings to boost Darktide FPS.

5 Fixes for Darktide FPS Drop Issues
FPS drop issues in all games can be caused by a variety of issues, including outdated graphics drivers, an excessive number of background application activities, and faulty game files. Fixing the problem from a single viewpoint may not solve the FPS reduction in Warhammer 40,000: Darktide, but you may still try to get better FPS on the personal computer. We've collected a list of some of the most popular and effective approaches. We hope these enhance your game experience.
Check your system: Once the game is available, the game creators will disclose the game's system requirements, including the minimum and recommended system requirements. The hardware and software parameters that must be met in order for the game to operate on your PC are referred to as the minimum system requirements. Recommended system requirements are computer system requirements that allow you to keep higher settings for comfortable gaming in the game.
Check the game's integrity: An unfinished game can cause a range of difficulties, including slowness, poor FPS, and even crashes. You can use Steam to check if the game files are correctly installed on your PC.
Active game mode in Windows: The newest version of Microsoft's Windows operating system has a game mode option. This tool allows you to eliminate any unnecessary background programs, which immediately enhances the in-game FPS. So, if your FPS in Warhammer is low, try enabling the game mode and seeing if it helps.
Change the video settings: While increasing the resolution of your game, you should also modify the other visual settings for an additional FPS boost. You can modify the following settings:
1. Graphical details: The quality of shadows, lighting, textures, and reflections should all be lowered. As a result, your game will seem less realistic, but it should run more smoothly.
2. Anti-aliasing: This feature smoothes down the edges of your game's various parts. Turn it off, then gradually raise it till you see a difference in your graphics but it has no negative impact on your FPS.
3. Graphical effects: Motion blur, lens flares, and other types of graphical flare can be reduced or eliminated. It's one less thing for your GPU to worry about.
Cool down your CPU and GPU: Overheating CPU and GPU might cause poor FPS. When your computer becomes overheated, the major PC components can continue to function, but they will slow down to protect themselves. So, everything is OK when we first start playing the game, but after a time, Warhammer 40,000: Darktide FPS lowers. At this point, we may decrease the computer's temperature by placing it in a well-ventilated room, cleaning the radiator, or adding more fans.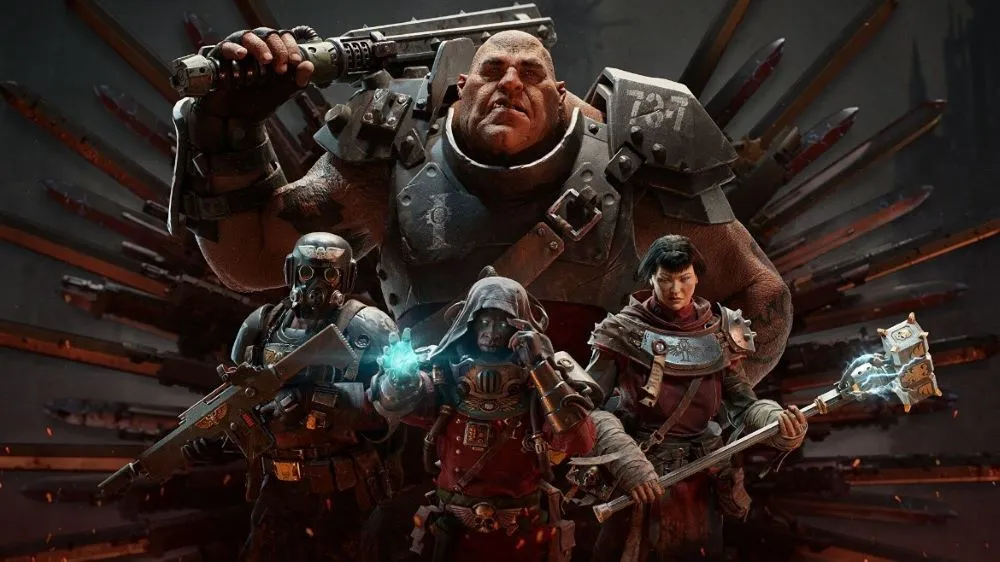 The Reason for Warhammer 40,000: Darktide Low FPS
Here, we first introduce you to what FPS means. FPS is an abbreviation for frames per second, which is the number of successive pictures taken or shown each second (the number of images displayed on the screen in one second). After this, we'll tell you common causes for Warhammer 40,000: Darktide Low FPS.
Wireless network: Many players will use laptops to play Warhammer 40,000: Darktide and they will frequently connect to wireless networks. However, wireless networks are highly unreliable and prone to interference, and the signal can be considerably diminished even when there is a wall between your computer and the router. Furthermore, too many connected devices might cause limited network data to be divided up. All of these can lead to a bad game experience.
Excessive graphics settings: Many people enjoy Warhammer 40,000: Darktide because of the stunning graphics and intricate game elements. Darktide, on the other hand, stutters if your graphics settings are too high, leading your computer to spend too much time processing images. This means that your graphics card is unable to handle such high graphics settings.
Not meeting the minimum system requirements: Darktide is demanding the hardware of your machine. If you run the game on an ancient computer, it may lag like a movie projector. If you find that your FPS is continually falling, especially during the shooting sequences, you should check the specs of your computer to determine if it meets the minimum system requirements. Minimum system requirements are generally included on the game's download screen to guarantee that gamers' PCs can render their precisely made games properly.