Warhammer 40,000: Darktide is a first-person action video game developed and published by Fatshark. It was rated 8 out of 10 by IGN, one of the most prestigious game-rating websites. It can be said that Warhammer 40,000: Darktide is a popular game.
What is Darktide error 3001 and why did it happen?
Darktide error 3001 normally occurs when players are trying to enter the game. And the error is always accompanied by a message saying "Failed Joining Server". Also, when you are in the middle of a game, this error may occur and prevent you from enjoying your game.
According to many players who have run into this error, Warhammer Darktide error 3001 may occur because of an unstable network connection. Fortunately, it is not a problem that is impossible to solve. We can try many different ways to fix it.
But before we do anything to fix Darktide error 3001, we should check whether the server is down. If there is an official maintenance, then we can just wait until it is over.
1. Try LagoFast to enhance your network connection.
LagoFast is an incredible game accelerator that is developed to fix all kinds of game issues. Thanks to its worldwide exclusive routes and unique LFP protocol, it is always reliable when players run into game troubles. We can always count on it.
As a game accelerator, LagoFast is good at fixing network connection issues. Darktide error code 3001 should not be a problem.
Besides, LagoFast is a user-friendly software because it has a really simple and clear interface. Within only a few steps, you can accelerate Warhammer 40,000: Darktide and fix error code 3001 Darktide.
Step 1: Download LagoFast from its official website.
Step 2: Open LagoFast and search for the game on the top of the interface.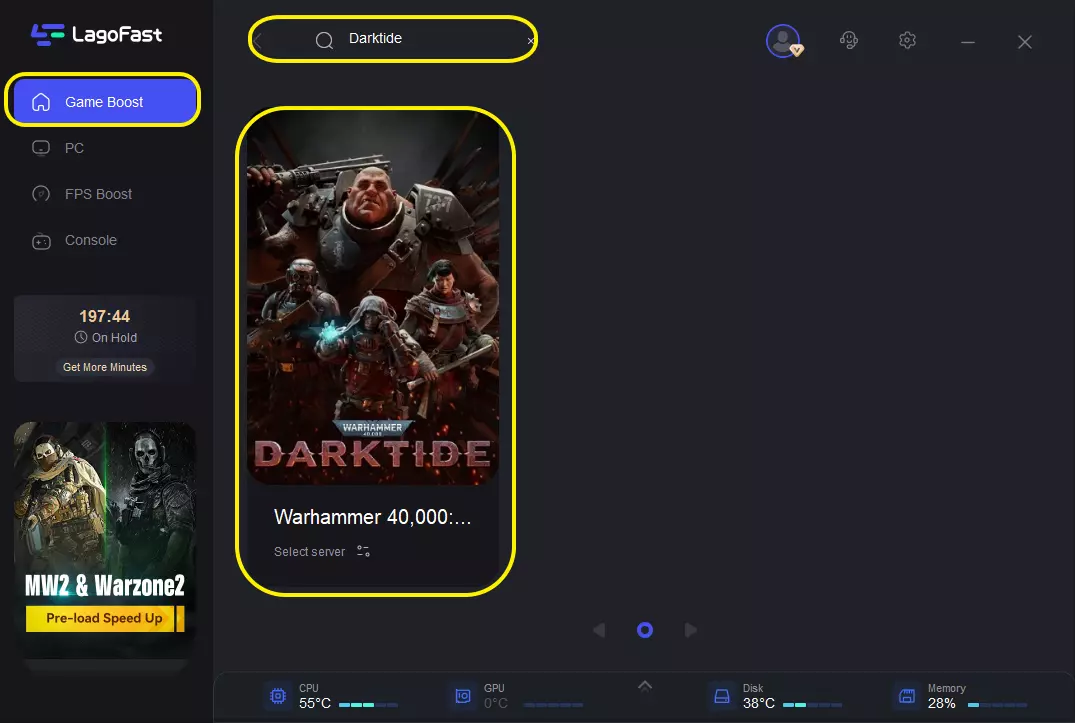 Step 3: Choose the server and node.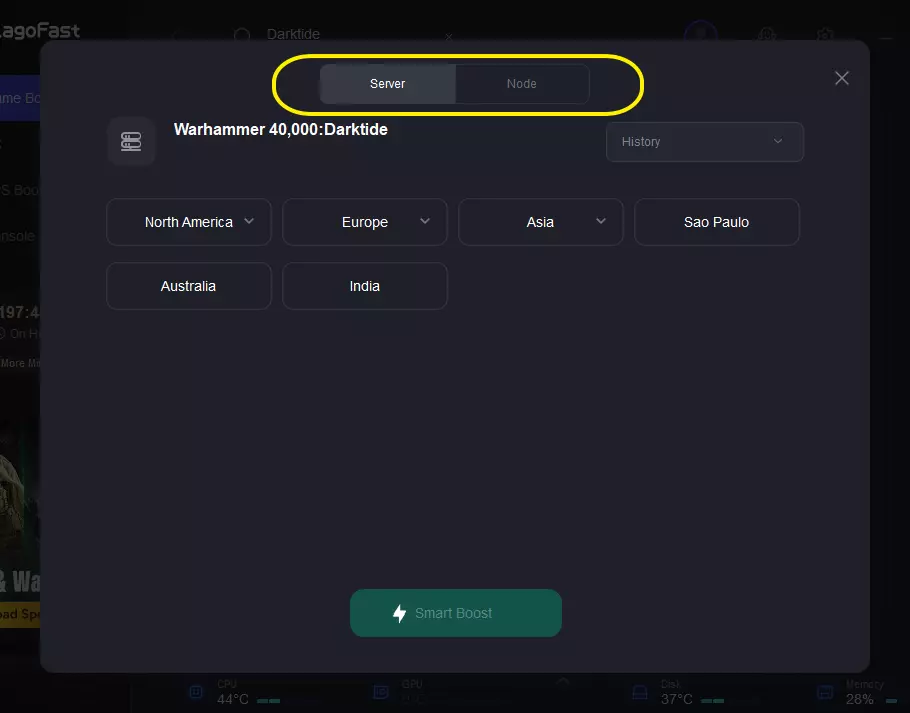 Step 4: Enjoy your game with the enhanced network connection.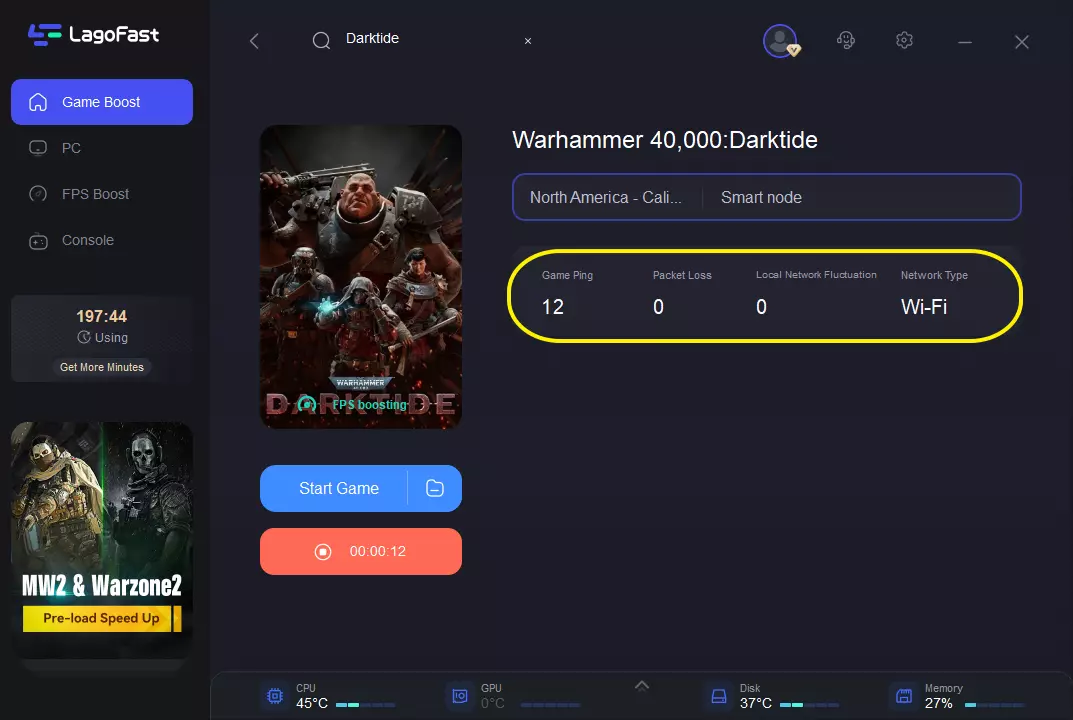 In addition, LagoFast is also considerate and thoughtful towards its users. Anyone who uses LagoFast can stop the acceleration whenever they want without being charged for the extra minutes they didn't actually use. This makes LagoFast an economic choice for all the players.
What's more, LagoFast now covers more than 60 countries and 150 cities. And it supports more than 2000 online games. These numbers continue to grow day by day. Wherever you are, whatever game you play, you can always find it on LagoFast.
After my introduction, you must be intrigued by this revolutionary game accelerator. Download it now and have a try! It will not let you down.
2. Turn off Windows Defender Firewall.
Turning off Windows Defender Firewall is a risky move but might work well for you when you face error 3001 Darktide because it might be blocking your access to the game's server. However, on the other hand, your computer could get exposed to potential danger. You should decide when to use this method and when not to.
Step 1: Open the Control Panel app by searching for it in the Start Menu.
Step 2: Navigate to Windows Defender Firewall by going to System & Security, then Windows Defender Firewall.
Step 3: To disable Windows Defender Firewall, click on the Turn Windows Defender Firewall on or off option on the left-hand side.
Step 4: Select the Turn off Windows Defender Firewall option under both Private and Public network settings.
Step 5: Click OK and see if that resolves the issue.
Because this method is a risky one. You must remember to turn Windows Defender Firewall on after you finish the game.
3. Reset your router.
Because Darktide error code 3001 is probably connected with players' network conditions, it might help to reset your router. If you are experiencing Darktide error 3001, you can close the game and reset your router to improve your Internet connection.
Step 1: Close Warhammer 40,000: Darktide.
Step 2: Disconnect your computer from the Internet and close it.
Step 3: Keep your router plugged in.
Step 4: Find your router's reset button. This will be on the back or the bottom of your router.
Step 5: Use a paperclip to hold down the reset button for around 30 seconds.
Step 6: Release the button.
Step 7: Wait for the router to power back on.
Step 8: Open your computer and connect it to your Internet again.
This method can refresh your network connection and hopefully address the Warhammer Darktide error 3001 problems.
Conclusion
In this article, we told you what Darktide error 3001 is and taught you several ways to fix this issue. It is believed by many players that LagoFast is one of the most efficient and easiest ways to troubleshoot it. So download LagoFast now and give it a try to change your gaming experience forever!