Some news has confirmed the Japanese release of Blue Protocol on June 14, 2023. This has made a lot of players in other countries upset and curious. They are searching online about how to play Blue Protocol on the Japan server. Most of the results show that a VPN could help with the region-locked issue. However, some gamers complained about being banned from Blue Protocol officially after using the VPN service. Why did this happen and is there any solution to fix the blocking? Here is the latest full guide about Blue Protocol IP blocking on PC.
What are the Blocking Issues in Blue Protocol?
Generally, there are 2 types of blocking issues in Blue Protocol. One is IP blocking and the other is hardware device blocking. It's easy to understand these 2 blocking phenomenons according to the facial meaning. If you get IP blocking, you will fail to play Blue Protocol under your IP address no matter which device you are using. If you get blocked with the hardware device, you may be able to play it again by changing to a new device. Both of the above blocking issues are frustrating and will greatly influence the gamers' moods to play Blue Protocol.
Why did I Get Banned from Blue Protocol?
Due to the region lock background of Blue Protocol on PC, the developer will take some actions to those who are trying to unlock the limitation. The VPN service hides and modifies your real IP address before getting on the Japan server in Blue Protocol. In this case, the official may notice the IP change of your address or the hardware device. So they block the IP addresses or hardware devices. This is common in some other MMORPG games like Lost Ark, ArcheAge War and etc.
How to Prevent Blue Protocol From Being Blocked?
Since there are risks of using a VPN for playing Blue Protocol on PC, how can we connect with the Japan server securely? Here you can try LagoFast game booster. It works like a gaming VPN but it's not a real VPN for online gamers. LagoFast helps to connect with the servers before you launch a game. It will not hide or modify your real IP address so there is no risk of being banned by the official. Moreover, with the optimized game routes, you will get reduced lag and the lowest ping in Blue Protocol. LagoFast works great on fixing the Lost Ark IP block issue too. Check the following steps and see how it works.
Step 1. Download LagoFast and sign in.
Step 2. Search "Blue Protocol" and click Boost;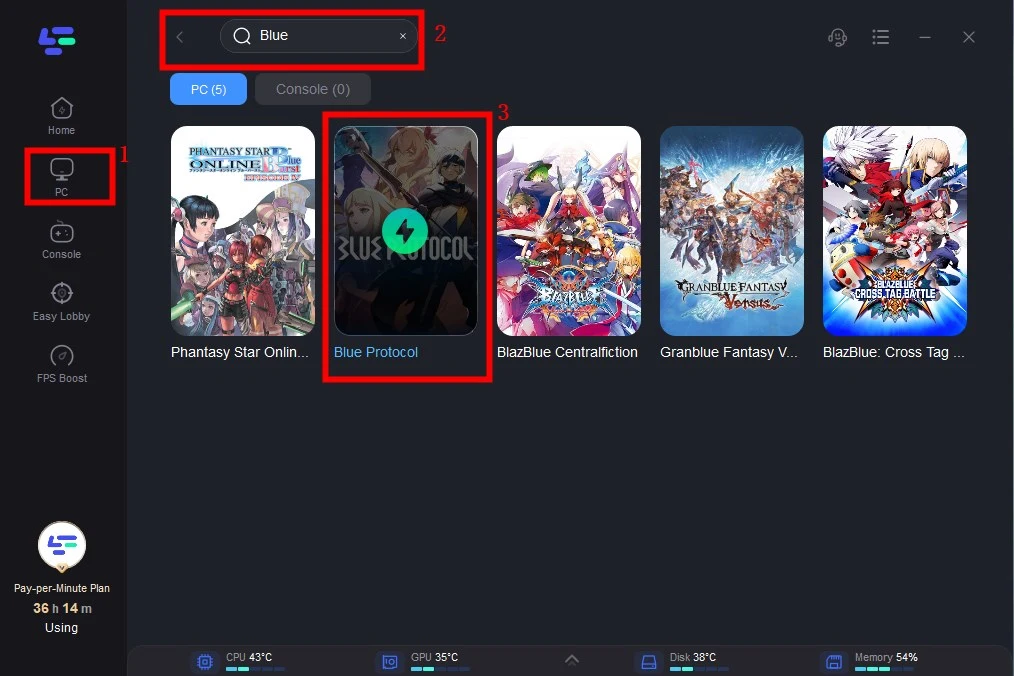 Step 3. Choose the Japan server and the node;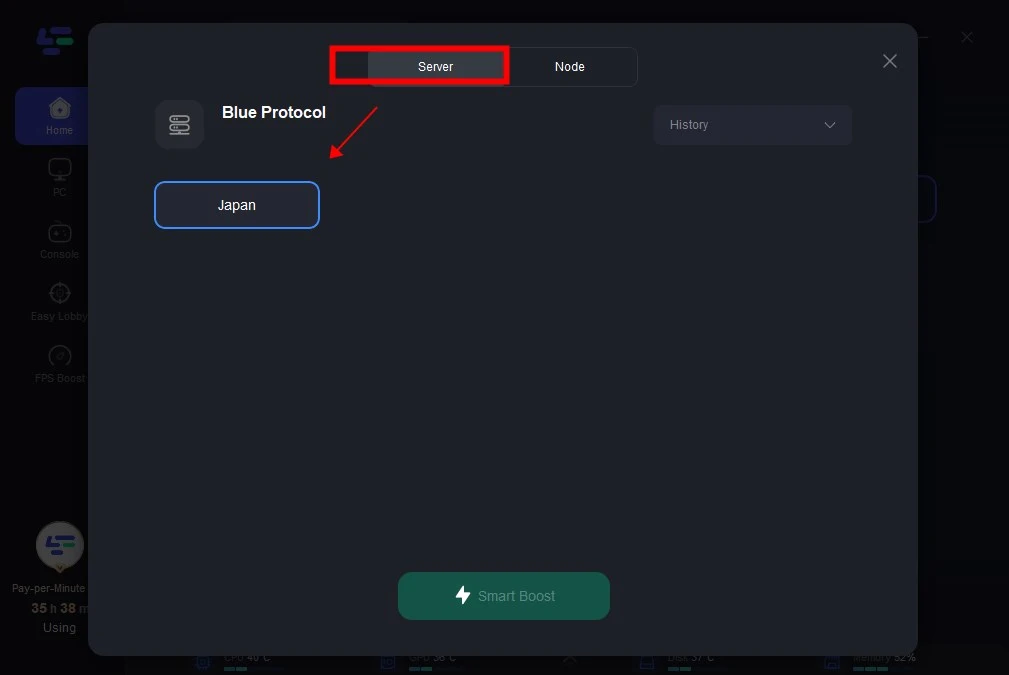 Step 4. Click the "Smart Boost" button and it will start.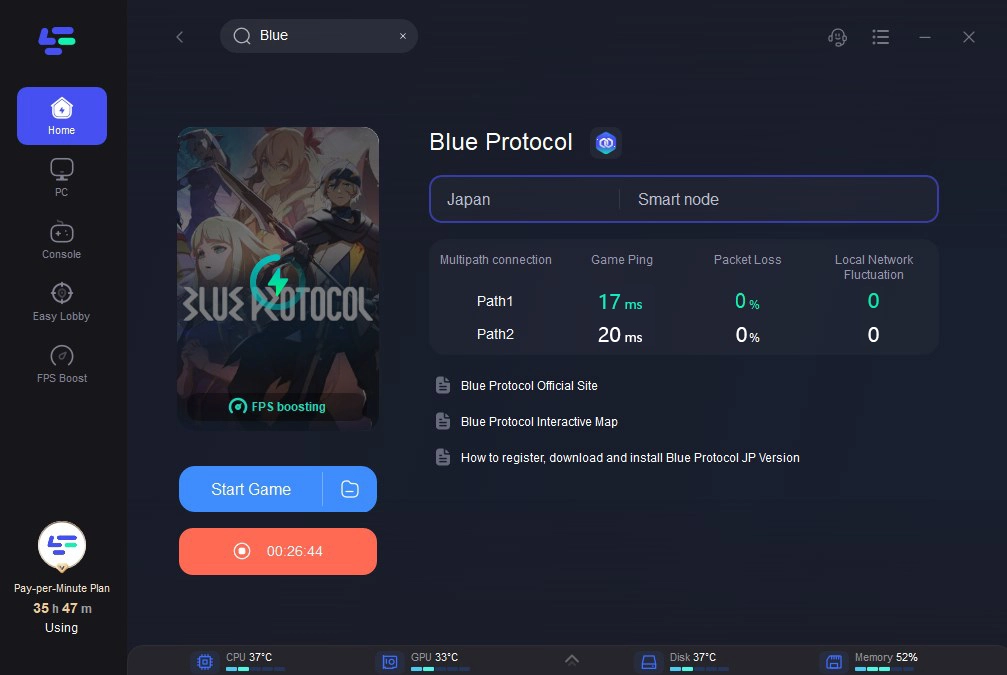 After boosting, you can see the real-time ping, network status and packet loss rate on the boosted page. Then you can start the game inside LagoFast and enjoy your online gameplay in Blue Protocol.
You may wonder if LagoFast can really fix the IP blocking issue and enable gamers to play Blue Protocol on the Japan server. Before publishing this article, we found several gamers in different countries to test if it works for getting on the Japan server safely. The result shows 0 blocking among all test gamers with a greatly reduced ping rate.
What are the Differences Between a VPN and LagoFast Game Booster?
Some gamers wonder why LagoFast game booster is more secure than a common VPN, here we have listed all the differences between a VPN and LagoFast game booster. You can check in the following: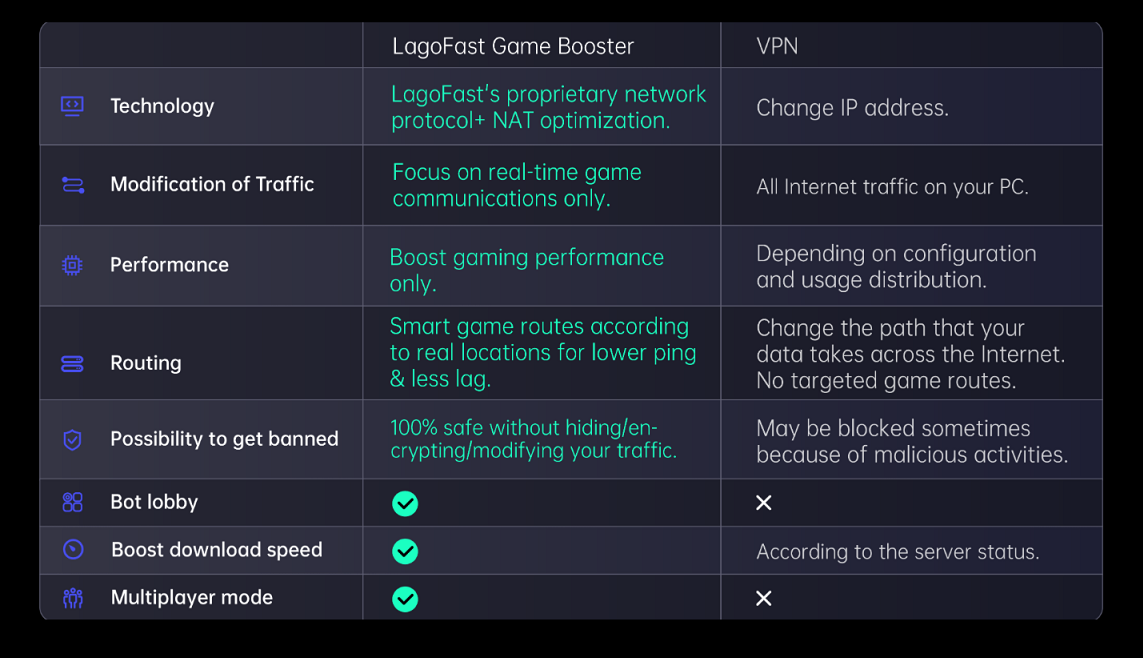 It's clear to see that LagoFast game booster can not only change servers in gaming but also provides the lowest ping to ensure the best gaming performance. Moreover, its advanced protocol for network optimization will not encrypt or modify your real IP address, which is 100% safe to use without IP blocking risks.
[Bonus] Why are Games Region-locked on Steam?
Steam introduced this strategy to prevent users from buying titles from regions where they are cheaper. That allows the service to offer titles at appropriate prices for the local markets. So, if you purchase from those areas, you can't play outside of them. And a game is defined as a region-locked one if it shows "This item is currently unavailable in your region" on the Steam search result page.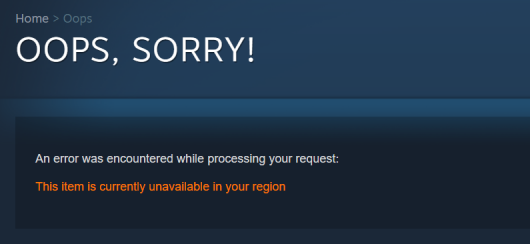 Conclusion
If you are searching for a way to fix IP blocking issue in Blue Protocol, or if you have been blocked in the game after using some VPN services, LagoFast game booster can be your best choice to solve this problem. It is 100% secure and workable for playing region-locked games on PC without masking your real IP address. Give it a try and have fun in MMORPG playing!