Fortnite is an online video game developed by Epic Games and released in 2017. It is offered in three different game mode variations, all of which use the same basic gameplay and game engine: Fortnite: Save the World, a cooperative hybrid tower defense-shooter and survival game in which up to four players fight off zombie-like creatures and defend objects with traps and fortifications they can build; Fortnite Battle Royale, a free-to-play battle royale game in which up to 100 players compete to be the last person standing; and Fortnite Creative, in which players are given complete freedom to create worlds and battle arenas. The same engine powers three distinct game modes for Fortnite, all of which share a lot of the same visual elements and gameplay characteristics.
In the cooperative player versus environment game Fortnite: Save the World, four players work together on numerous tasks to achieve a shared goal. The game takes place after a freak storm sweeps the planet, wiping off 98% of the people and turning the survivors into zombie-like "husks." The players assume the role of commanders of home base shelters, gathering resources, rescuing people, and guarding machinery that aids in either gathering information about the storm or delaying it. Players receive a variety of in-game objects during missions, including survivors, weapon and trap schematics, and hero characters, all of which can be leveled up to improve their abilities. With up to 100 players, Fortnite Battle Royale is a player-versus-player game that can be played solo, in pairs, or in a squad (usually consisting of three or four players). Players without weapons drop off a "Battle Bus" that travels throughout the game's map. Upon landing, they are forced to scavenge for weapons, equipment, resources, and even vehicles while attempting to stay alive and engage in attacks on and elimination of other players. In the sandbox game mode Fortnite Creative, players have complete flexibility to spawn any object from the Battle Royale gamemode on a private island and can design their own games, including arenas for combat, racetracks, platforming challenges, and more.
You might have experienced low FPS or trouble remembering things in Fortnite on PC, and in that case you are not alone. Many gamers are currently dissatisfied with the severe low frame rates they experience while playing games. Maybe you wonder the best settings to get more FPS in fortnite. Follow this article, I will tell you the best fortnite settings 2023 on PC to boost FPS. In addition, I also recommend you to use LagoFast to improve FPS, which is a professional FPS checker and booster. Besides, LagoFast can also solve lag, packet loss and other Fortnite problem.
Part 2: The Best Fortnite Settings for FPS
Part 3: How to Get Better FPS?
What is FPS?
What exactly is FPS? In the graphics industry, the term "FPS" refers to the quantity of frames per second that a screen transmits (also the abbreviation for First-Person Shooter game). It also describes the number of frames that can be seen on a monitor during an animation or video. There are more frames per second the smoother the action is presented.
The Best Fortnite Settings for FPS
The recommended minimum to avoid incoherence action is 30. Gaming typically requires a minimum frame rate of around 30Hz and a minimum smoothness level of over 60Hz. A computer crash, stuttering, or even a white screen are all indicators that your frame rate has dropped below 60. Your low FPS issue may be caused by the insufficient capabilities of your gaming device. Even the latest processors and graphics cards eventually lose their effectiveness. In conclusion, the power of your computer, not the server, determines FPS. A higher FPS typically leads to a more fluid gaming experience. Because of this, FPS is essential in online games, particularly in shooting and simulation games like the FIFA and Call of Duty series.
best 60 FPS settings fortnite:
3D Resolution: 100%

View Distance: Epic.

Shadows: Off.

Anti-Aliasing: Off.

Textures: Low.

Effects: Low.

Post-processing: Low.
How to Get Better FPS?
LagoFast can help you boost FPS in fortnite FPS settings. LagoFast, with more than 8 years of experience, can increase in-game FPS, handle lag problems, and lower high ping. It independently created a special game data transmission protocol that ensures both quality and privacy in order to better serve customers. LagoFast does offer a fair price, which is what users are most concerned about when it comes to costs. The only top booster that supports a Pay-per-Minute plan and has the lowest subscription rate allows you to cancel at any time.
LagoFast has the following features, for example:
Plan of Support Pay-per-Minute

It is not only competent, but also reasonably priced.

Increasing game frame rates for more than eight years

Globally dispersed self-developed game data transmission protocol

Support for over a thousand well-known games, resolution of lag, crashes, and other connectivity problems
Follow the four steps to learn how to use LagoFast:
Step 1: Download LagoFast.
Step 2: Input "Fortnite" in the search box and then click.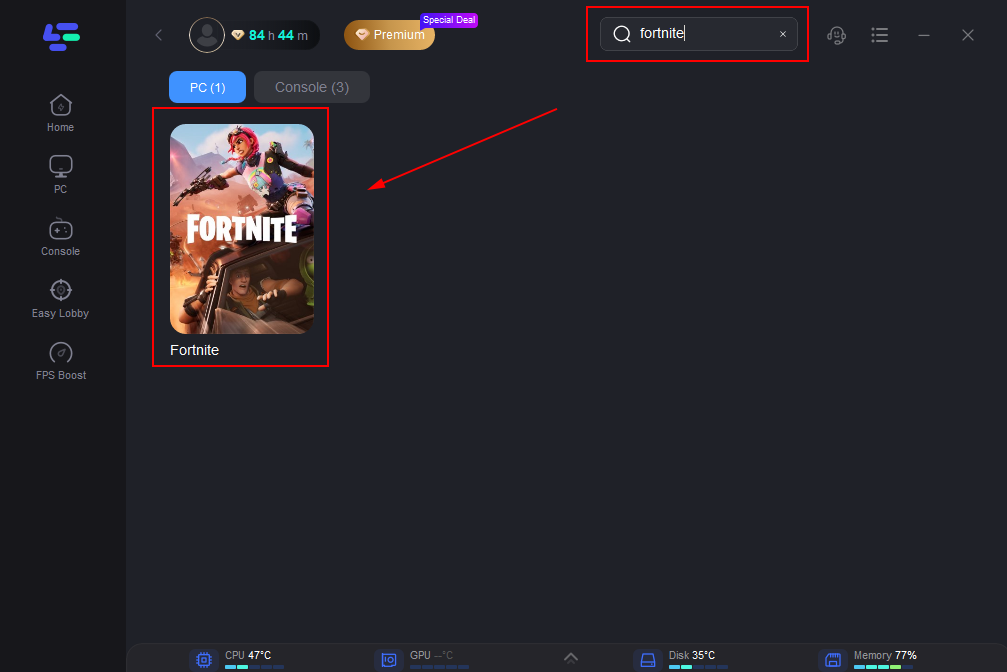 Step 3: Choose the server that you want.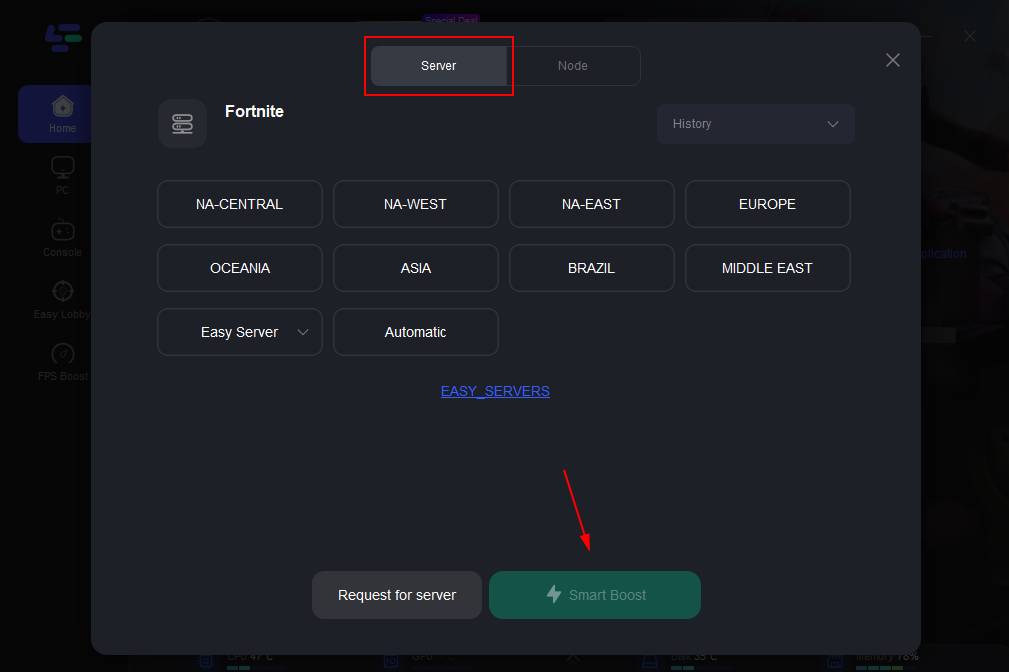 Step 4: Click to begin. The packet loss and ping rates, which are both shown in real-time, have a direct impact on Fortnite's frame rates.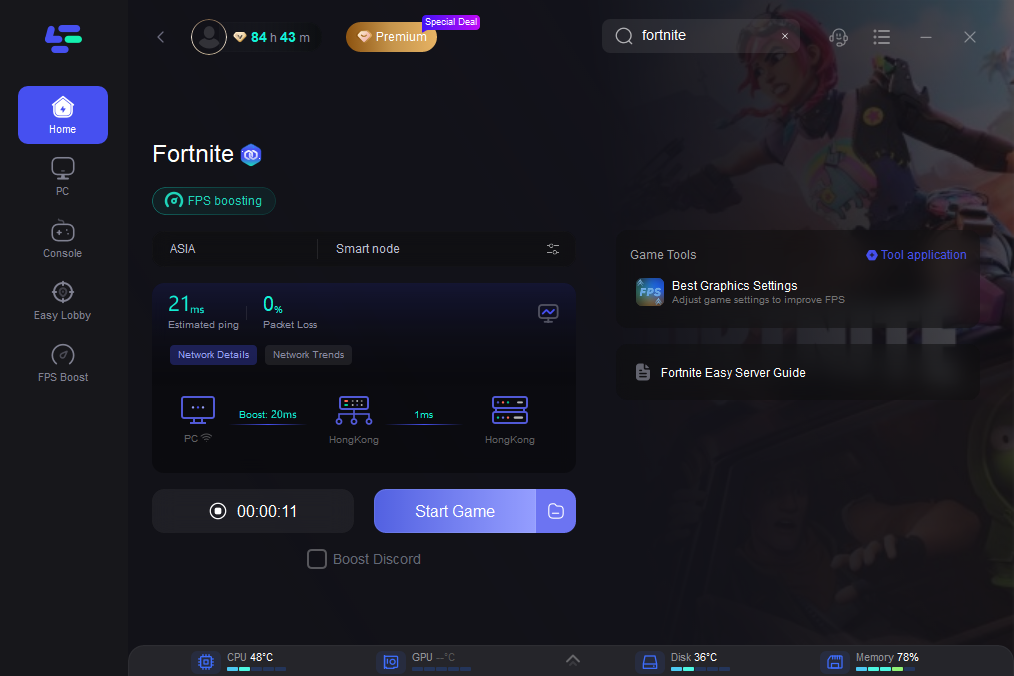 Just in case, there are some additional ways to increase Fortnite FPS.
Check to see if your game complies with the system requirements. FPS is more reliant on the strength of your machine than it is on the server, as was already established. Making sure your system complies with the minimum requirements is therefore the most important step to take if you want to increase the frame rate of your game. And it would be better if you made an effort to satisfy the advised system specifications! On the game's official website or through the Steam service, you can find the system requirements.
Reduce the resolution and graphics settings in-game. The amount of information you must process and display on the screen grows as the resolution of the game changes. If you increase the game's visual settings, such as the fineness of the foliage, the demands on the graphics rendering will also rise. Consider lowering the quality of the character, the shadow, and the texture, among other graphic options.
Turn on Exclusive Fullscreen. Some games won't run as smoothly if you just play them in fullscreen mode because the output on the screen is entirely under the control of the graphics driver. Therefore, turn on the special Fullscreen mode when you start the game.