Apex Legends is a free-to-play battle royale-hero shooter game which is developed by Respawn Entertainment and published by Electronic Arts. Before the game, participants divide into two- or three-player squads and choose "Legends", pre-made characters with unique skills. There are two different game modes. In "Battle Royale", up to 20 three-person squads or 30 two-person pairs land on an island, look about for food and weapons, then engage in combat with each other. The island's accessible play space gradually decreases, requiring players to remain mobile or risk being killed if they leave the play area. The round is won by the last team standing. In "Arenas", participants divide into three-player squads and engage in a 3v3 team deathmatch against an opposing squad over a number of rounds to decide who will win the match. Teams succeed when they have at least 3 points and a 2-point advantage. Critics gave Apex Legends largely favorable reviews and commended its gameplay, advancement system, and blending of aspects from other genres. Some see it as a strong rival to existing battle royale video games. By the end of the first week, Apex Legends had more than 25 million players, and by the end of the first month, it had 50 million. It has almost 100 million players by April 2021, making it one of the most popular video games ever in terms of player numbers.
However, it can not be ignored that in-game issues like Apex Legends lag are widely complained about by players. That's why you need the best VPN for Apex Legends to improve your PC's performance. Read on to find out the best game VPN for Apex Legends and fix lag!
Part 2: LagoFast —— the Best VPN for Apex Legends
Part 3: Other Recommended VPN for Apex Legends
What is Game VPN?
A gaming VPN is a necessary tool for the dedicated gamer, even though it may not cost as much as a new GPU or RGB mechanical keyboard. Who wants to be struck in the head by an enemy strike, after all? Getting a VPN when gaming is not just for the purpose of staying secure. It's possible that your network is being throttled by your ISP if you've ever observed that your Internet connection starts to fluctuate after you've been online for a time. You may prevent your ISP from identifying your data as coming from a high-bandwidth user by using the best VPN to conceal it from it. Additionally, by switching locations, you can even find cheaper sports.
No-Lag VPN, like LagoFast, a specialized Apex game VPN, offers more than simply a VPN, though. Lowering lag, lowering high ping, and raising FPS, Lagofast will enhance your in-game experience. It can be seen that it is necessary to use a game VPN in Apex Legends to improve the gaming experience.
LagoFast —— the Best VPN for
Apex Legends
As an experienced Apex game VPN, LagoFast can assist you in determining whether there is packet loss when gaming as well as in resolving it. It has more than 8 years of experience increasing in-game performance with an emphasis on eliminating packet loss, relaxing the network, lowering high ping, etc. LagoFast has a sophisticated routing system and has created a special game data delivery protocol. It is very simple to use; all you have to do is click the "boost" button to improve every aspect of your PC's performance. In addition to all of these benefits, LagoFast is inexpensive. Currently, it is the only game booster that enables "plan per minute." Scroll back and examine the previous steps for more details on how to enhance performance in-game. For players who are not yet sure, there is also a free trial in 2023.
The following are some of LagoFast's features:
The only booster for games that works with plans per minute

More than 8 years of optimization experience.

A specialized protocol for game data transmission.

A cunning routing system.

Support for more than a thousand well-known titles, including Apex Legends 2, Fortnite, and NBA 2K23.

Easy to use; protects against any game issues.
Follow the guidelines to learn how to use the best game VPN for Apex Legends, in just four steps.
Step1: Click the free trial button to install LagoFast
Step 2: In the search box, type "Apex Legends", and then press it from the list of results.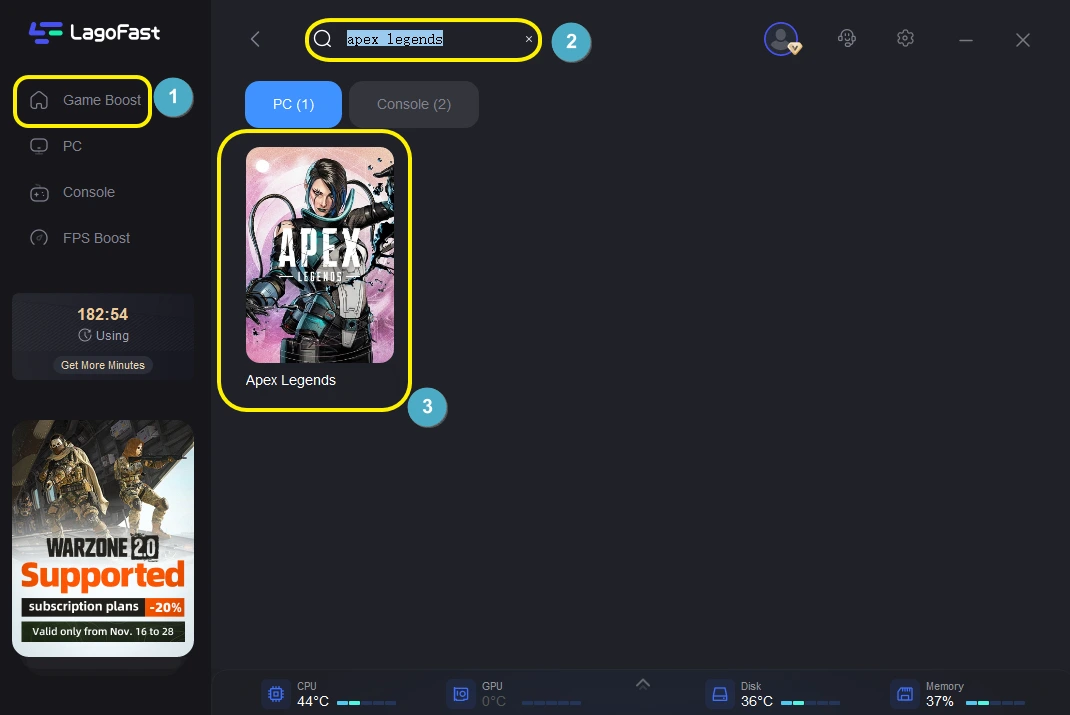 Step 3: Choose a server that suits Apex Legends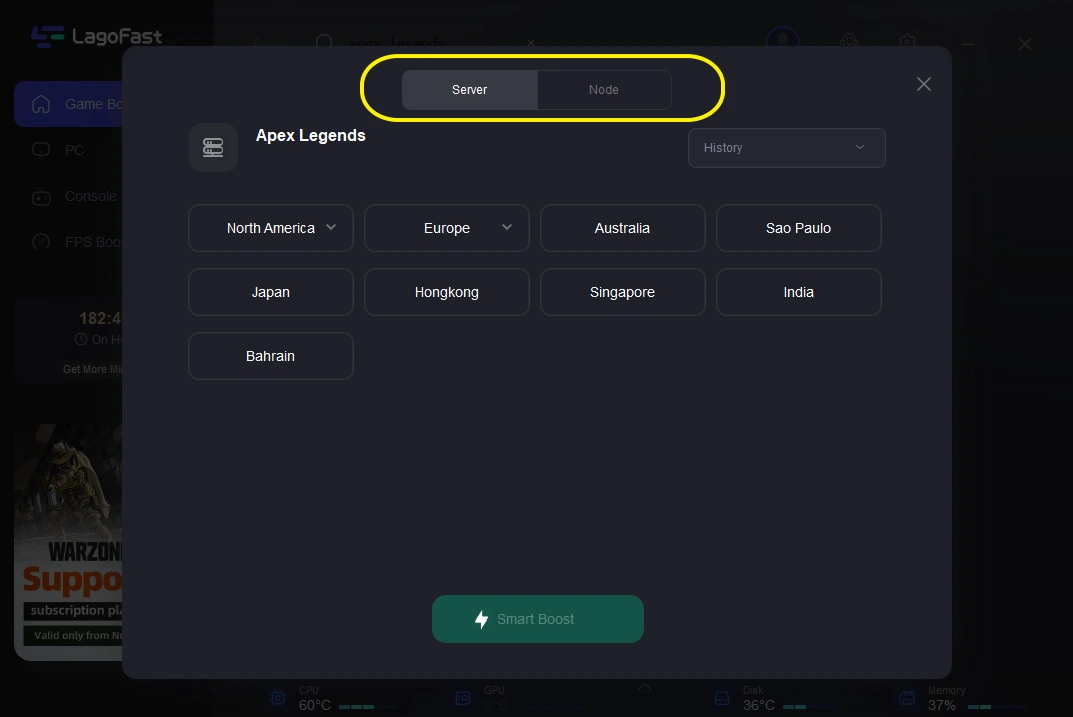 Step 4: Click the boost button to start boosting.
The following page shows your current ping rate and packet loss rate. It will also start to fix if the rates are too high.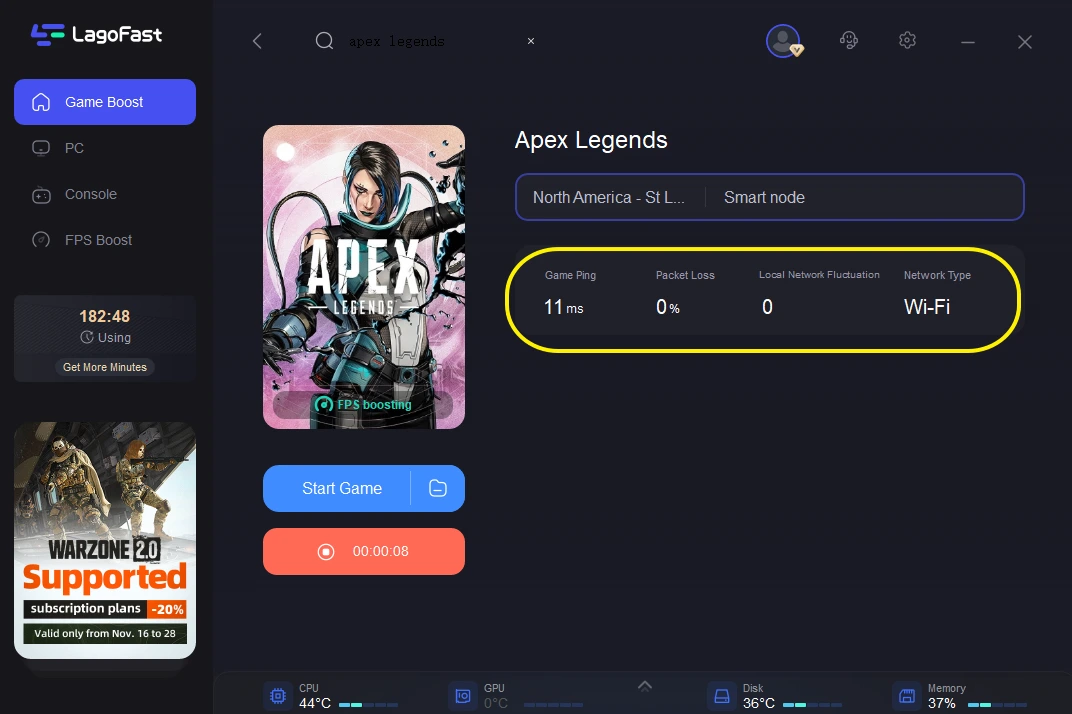 Other Recommended VPN for Apex Legends
There are some other apex game VPNs you can use, though not as good as LagoFast.
● Express VPN: The advantages are blazing fast speeds for lag-free gaming, access to over 3,000 servers in 94 countries anytime, anywhere, and the ability to connect 5 devices simultaneously for a variety of games, including Roblox, Fortnite, Minecraft, and Call of Duty: Warzone. The downside is that it's a bit more expensive than other VPNs
● Cyber Ghost: CyberGhost's gaming-specific servers make it possible to play video games with low latency. I tested it in four of its gaming-friendly nations: France, Germany, the UK, and the US. Additionally, I like that the server list had an easily accessible separate section for gaming servers. My ping averaged 68 ms, and my connection never dropped below 26 Mbps, which was plenty for lag-free, uninterrupted gaming. The advantage is that you can play games on dedicated servers with lightning-fast bandwidth and low latency. You can also hide your location in 89 countries and 8,911 servers. You can connect seven devices at the same time. Suitable for various games, including Roblox, Fortnite, Minecraft, and Call of Duty: Warzone. The downside is that it's pretty expensive if you choose to pay monthly and doesn't support FPS boosts
● IP Vanish: As you play online games, IP Vanish supports an infinite number of device connections to keep all of your devices secure. No noticeable stops, lags, or disconnections occurred for me. This suggests that there won't be any lag when you play your favorite online games. The advantage is that it has extremely fast speed, can guarantee a smooth gaming experience, and allows countless concurrent device connections. The downside is that it's US-based, not privacy-friendly, and the monthly plans are expensive