Game VPNs like LagoFast are used for changing game servers and game routes, also boosting game performance. It's just like a VPN for games. Similar to this, LagoFast game VPN increases FPS largely by keeping an eye on memory and temperature, optimizing pertinent system settings, and shutting off unneeded background processes. It helps users free up RAM and CPU resources so that lag-free gaming is possible. Even if you believe the game is doing flawlessly, giving a game VPN a try would undoubtedly enhance the game's performance. Additionally, some VPNs change the node server to guarantee a better internet connection for you to enhance your game experience.
The node server is the centerpiece of the gaming VPN. Reduce latency by switching the server's node. Your computer network on server A and your gaming server on server B would be a straightforward illustration. The native server forwards once through the node server to complete the game booster when you utilize the game VPN. You have a direct route to the game server thanks to the gaming VPN. This in turn speeds up the network. This shortens the path to the gaming server, lowers online lag, provides a reasonable ping rate, and increases frame rates. LagoFast, for instance, is a fantastic PC game VPN.
Part1: Why Gaming VPN Is Necessary
Part2: What is the Best Game VPN
Part3: How to Choose the Best VPN for Gaming
Why Gaming VPN Is Necessary
A gaming VPN focuses on enhancing network interactions and minimizing in-game problems. A gaming VPN can solve a lot of problems and Lagofast is a good illustration. Your high ping rate will vanish by using LagoFast. Your overall game experience will go much more smoothly if you have a low ping.
Following your comprehension of the purpose of a gaming VPN, you must understand the distinction between a VPN and a VPN for gaming. Games can occasionally be sped up using Internet-connected devices like VPNs and proxy servers. While VPNs and proxy servers are more commonly used to connect to the Internet, such as for accessing websites, game VPNs are primarily used to speed up games. The company employs data forwarding technology to offer users high-quality game acceleration services with the aid of IDC resources since the room distribution of IDC is different, which is why the game VPN can give an acceleration function. Therefore, a node-accelerated network is used by the game VPN.
The fundamental idea behind a VPN for gaming is to send game data to the server of the accelerator operator before sending the game data via optimized private lines to the game server (to solve routing, blocking, congestion, etc.). This lessens the lag in the game, fixes the log in issue with the server, and lowers the packet loss rate.
In terms of fundamental acceleration, free gaming VPNs are similar; the difference is in the real acceleration experience or network fluency. Charge requires a common service game increase. The cost of the service booster line is another simple-to-understand factor.
What is the Best Game VPN
In my years of experience, LagoFast is the best VPN for gaming. You can use LagoFast to help you figure out whether there is packet loss when gaming and to fix it. With a focus on reducing packet loss, easing the network, lowering high ping, etc., it has more than 8 years of expertise in boosting in-game performance. LagoFast has developed a unique game data delivery protocol and includes a sophisticated routing system. To increase every area of your PC's performance, all you have to do is click the "boost" button. Along with all of these advantages, LagoFast is also reasonably priced. It is currently the only game booster that makes "plan per minute" possible. For further information on how to improve game performance, go back and look at the earlier steps. There will also be a free trial in 2023 for players who are still unsure.
LagoFast has the following characteristics, among others:
The only game booster that uses plans per minute

More than 8 years of expertise in optimizing

A clever routing mechanism

A specific protocol for the transfer of game data.

Easy to use

Guards against any game troubles

Support for more than a thousand popular games, including Apex Legends 2, Fortnite, and NBA 2K23.
Follow the guidelines to learn how to use game VPN, in just four steps.
Step1: Click the free trial button to install LagoFast
Step 2: In the search box, type "Apex Legends" for example, then press it from results.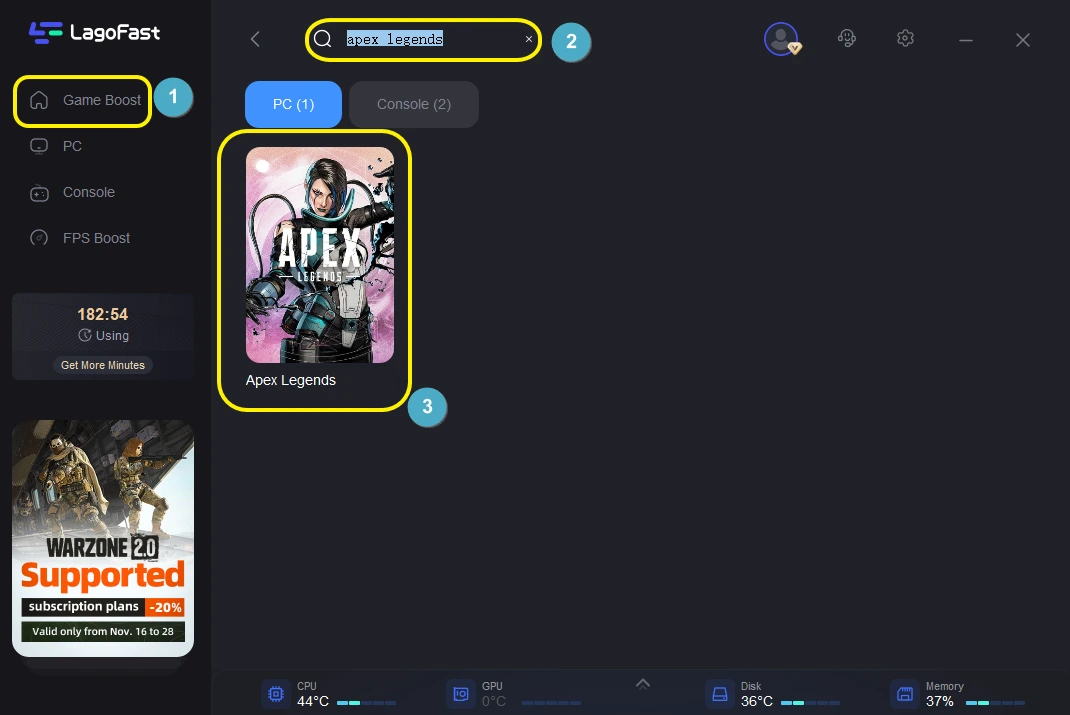 Step 3: Choose a server that suits the game.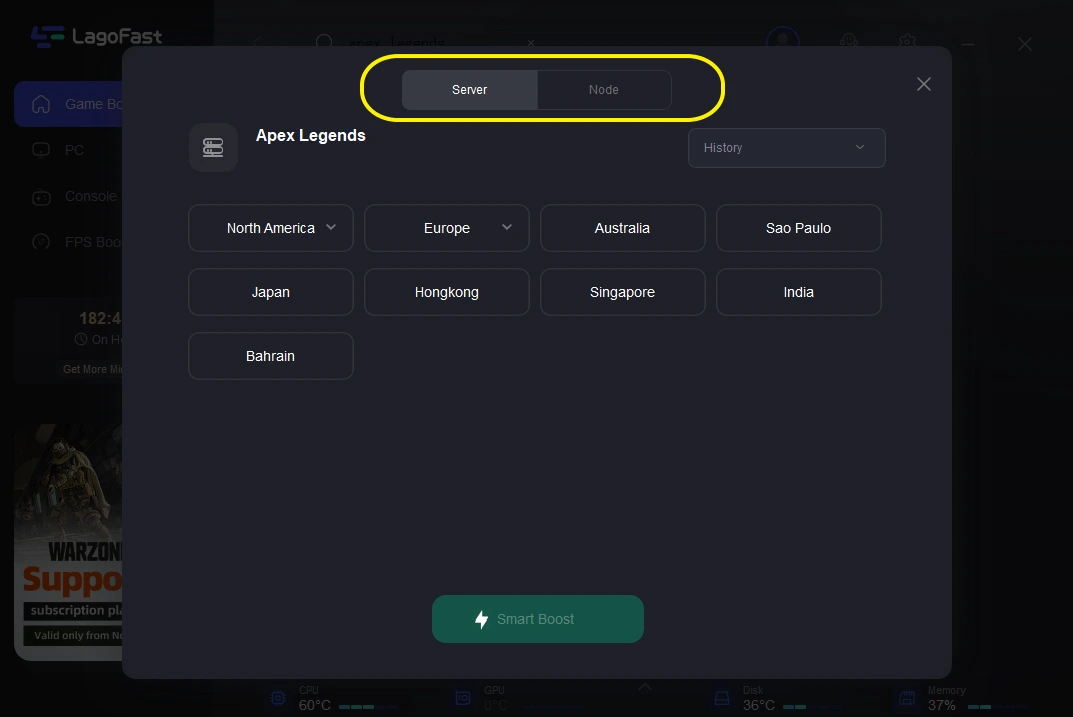 Step 4: Click the boost button to start boosting.
Your current packet loss rate and ping rate are displayed on the following page. If the rates are too high, it will also begin to fix.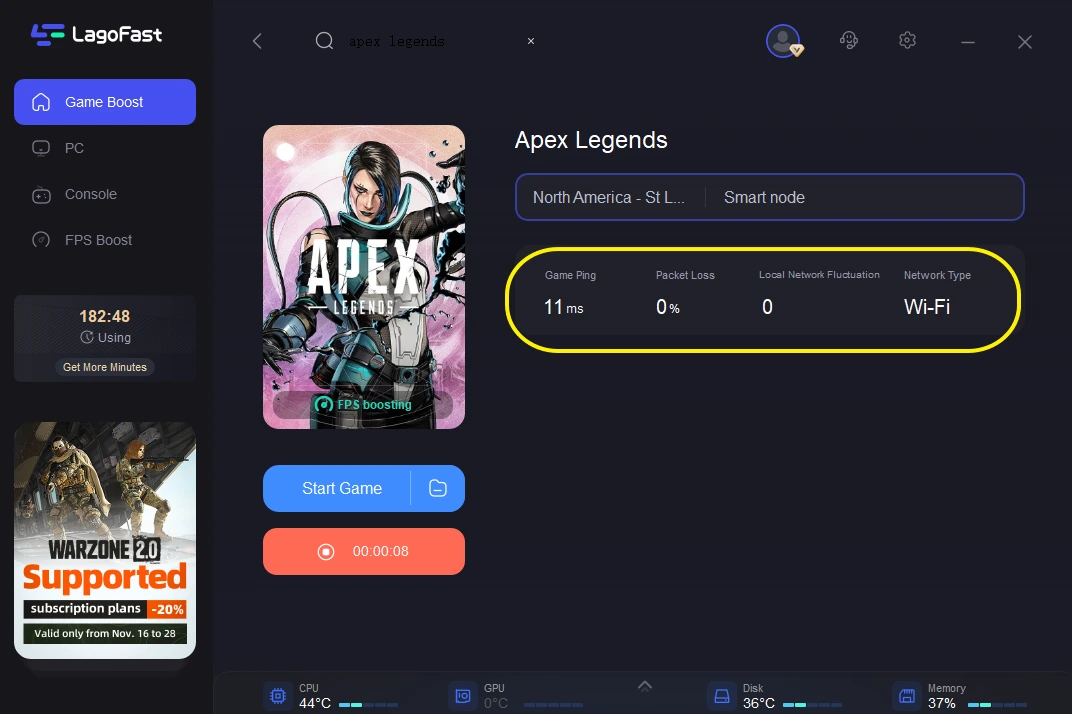 How to Choose the Best VPN for Gaming?
There are various criteria to follow while selecting the best VPN for gaming.
The number of servers and the regions they serve are two factors that determine how good a VPN service is. If you wish to travel there for work or pleasure, or if you reside in a less established or less developed area. You need to be aware of whether the VPN server you've chosen is present in or close to these regions.

Device compatibility with VPN Some VPNs are incompatible with Windows, Mac, iOS, Android, and Linux, despite the fact that the majority of them are. Make sure your VPN works on both Windows PCs and iPhones if you own both devices. You should also be aware of how many devices your preferred VPN may connect to simultaneously. While some can only connect to a select number of devices, some VPNs can connect to an endless number of devices simultaneously.

Its supported games. Consider purchasing a product that supports additional video games. On the VPN product page, you may discover a list of games that are supported. Make sure the VPN you use is appropriate for your game.