Don't worry! Let LagoFast Game Booster fix TRAHA Global lag, high ping, fps drops and other connection errors.
TRAHA Global
The RvR MMORPG Traha Global is based on a conflict between two significant factions. Traha Global has an open world on a massive scale. Using the Unreal 4 Engine, explore the vast open world with the best graphics possible. There are six sizable open fields with an actual size of 3 to 5 KM based on the launch version. Besides, Traha Global owns infinity class system, dungeons and raids to experience, plenty of PvP/RvR content and crafting items with various professions.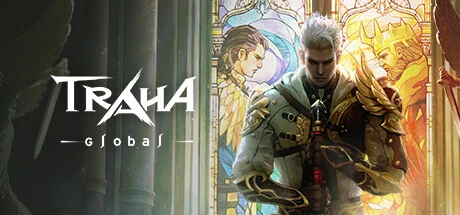 Some players complain always that Traha Global is unable to start due to various of issues, such as lag, stuttering, packet loss, fps drop. Therefore, You should do your best to minimize issues like Traha Global lag, high ping, fps drops and other connection errors if you want to have the best and most ideal experience possible there.
LagoFast is a good option for you in this situation, in my opinion. It can protect you from issues that interfere with your ability to enjoy Traha Global because it is an expert Traha Global lag fixer.
How to Use LagoFast to Fix Traha Global Lag
If you want to decrease lag spikes, server issues, login errors, and connection issues in Traha Global, take the following actions.
Step1: Download LagoFast by clicking free trial.
Step2: Type Traha Global in the Search Bar and click it.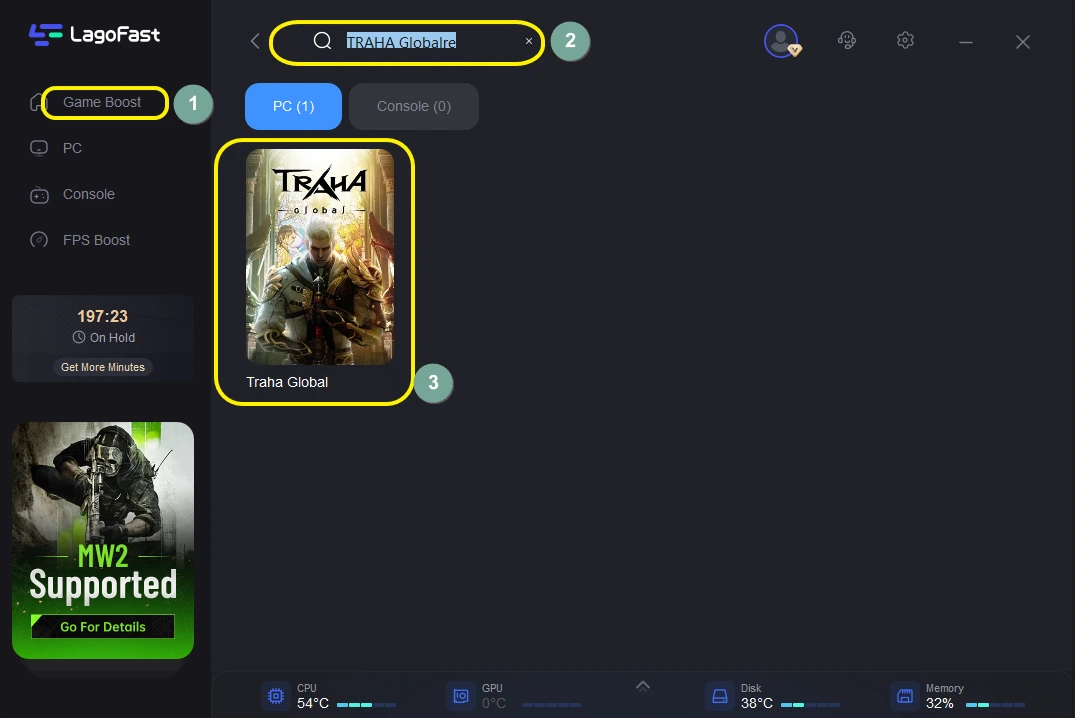 Step3: Choose the server that you suit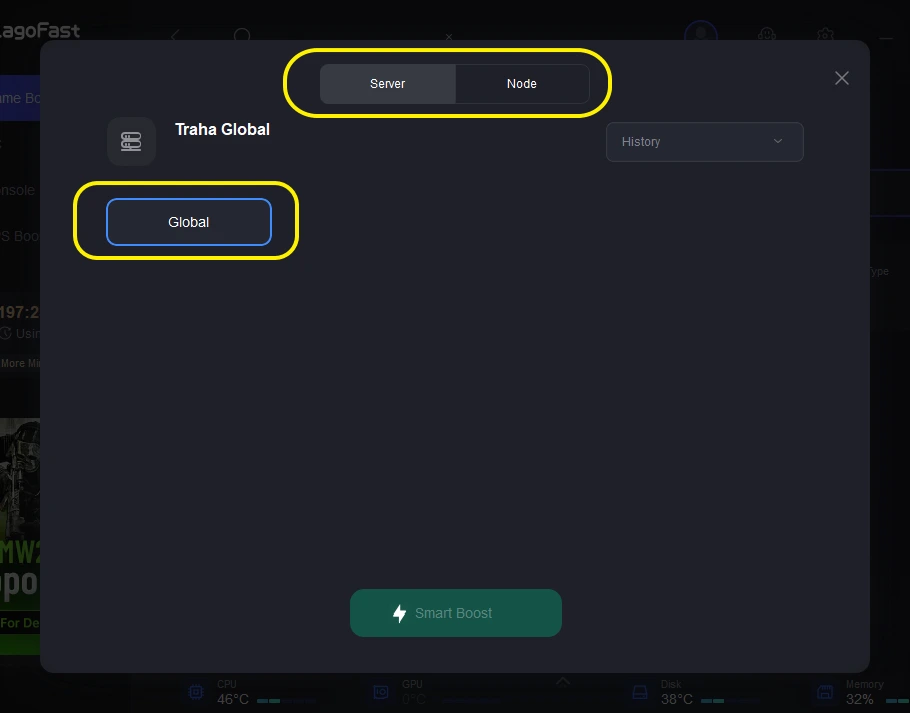 Step4: Toggle Smart Boost on. After boosting Traha Global, you will see the ping rate and packet loss status.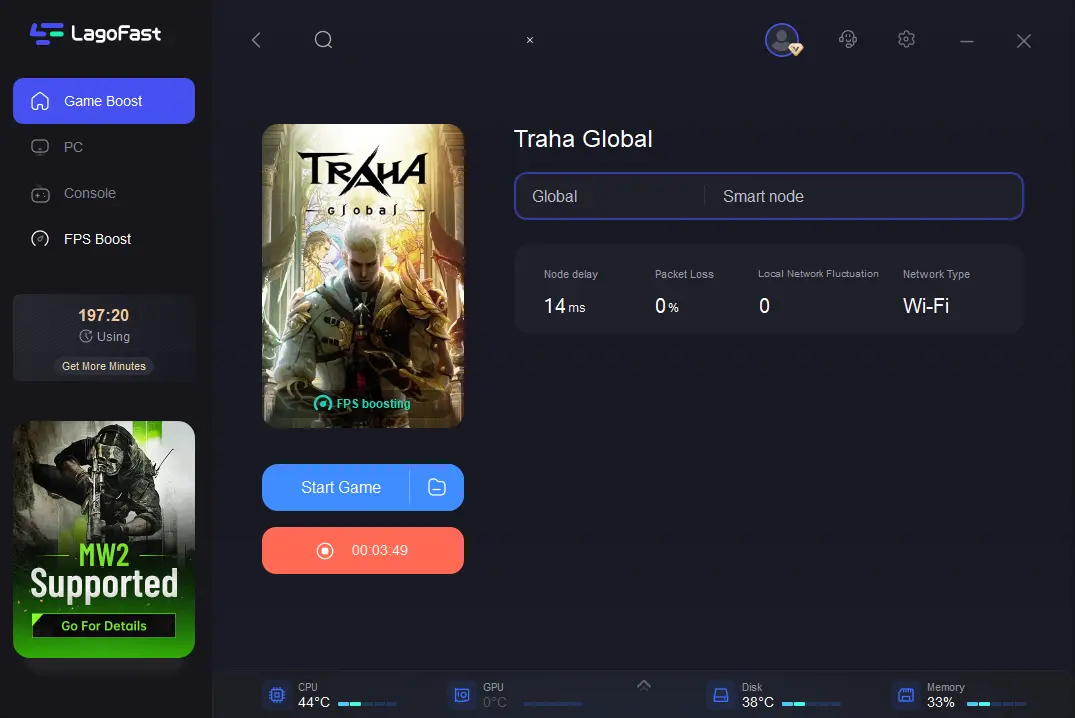 LagoFast: the Best Traha Global Lag Fixer
Following reading the aforementioned article, you might be wondering why LagoFast is a wise choice. Now let me tell you why you should be aware of this Traha Global Lag Fixer. It can ensure that every player, anywhere in the world, has an amazing gaming experience. LagoFast can speed up the Internet easily to solve Traha Global lag, high ping and packet loss. In addition to Traha Global's high ping and packet loss, LagoFast also performs well in the game's low fps. LagoFast has a custom game data transmission protocol, which sets it apart from competing products of a similar nature. With no additional network interference, players can experience faster and more stable in-game speed thanks to this self-developed game data transmission protocol. When Traha Global fps drops or Traha Global high ping occurs, LagoFast can quickly and simultaneously increase fps and reduce high ping rates. LagoFast is able to serve gamers worldwide thanks to its international network of servers and nodes. The likelihood of Traha Global connection issues and Traha Global stuttering is decreased by LagoFast when there are enough servers spread out across the globe. You can try clicking the "Traha Global" Boost button if Traha Global keeps crashing. Players have learned a lot about improving Traha Global's fps first-hand thanks to LagoFast. LagoFast is adept at finding and fixing any internal bugs that have been ignored, even if Traha Global cannot start up right away. LagoFast is the only top-rank game booster that supports a Pay-per-Minute plan and offers the least expensive monthly plan in terms of cost. It implies that some Players who are unable to pay for an entire month can select a Pay-per-Minute plan and take advantage of the most affordable monthly plan. In general, it is an excellent Traha Global Lag Reducer& Fps Booster that is definitely worth your consideration. You can also take into account the following characteristics.
Able to reduce lag and increase Traha Global

fps

Offer a cost-effective rate — Pay-Per-Minute Plan

Utilizable with a single button

Leave Traha Global quickly high ping rates (get 0 ping rate)

Eliminate Traha Global connection issues

Leave Traha Global crashing and stuttering away.

Provide boosters for 1000+ well-known online computer games.
Video of How To Use LagoFast