Destiny 2 is a free-to-play online-only multiplayer first-person shooter video game developed by Bungie. Destiny 2, which is set in a "mythic science fiction" world, has a multiplayer "shared-world" setting with role-playing game aspects. Similar to the original, player versus environment (PvE) and player versus player (PvP) game modes are used to split activities in Destiny 2. PvE includes three-player "strikes," dungeons, and six-player raids in addition to standard story objectives. Each destination also has a free-roam patrol mode, which includes activities not included in the original as well as public events. The emphasis of these activities is on exploring the locations and interacting with non-player characters (NPCs); in the first Destiny, NPCs were only present in social settings. Objective-based variants and classic deathmatch game modes are both included in PvP.
Players in Destiny 2 have a ton of things to do, whether they're seeking style, traveling, or a roll of their favorite weapon. However, despite having a plethora of options, users can only start playing Destiny 2 if the servers are up and running. Players who encounter outages or disruptions will get the recognizable "Server Offline" warning when they attempt to log in, which is a sign that something is wrong with the servers, whether intentionally or accidentally. If you can't connect to Destiny 2, there must be a reason. The reason for most people is that the network speed is too slow, resulting in a loading timeout, resulting in the inability to connect to Destiny 2 server. If this is the case, I recommend using LagoFast to solve lost connection on destiny 2, which can fix lag, high ping and other destiny issues. Start your 7-day free trial with this incredible booster by downloading LagoFast!
Part 1: How to Fix Destiny 2 Lost Connection?
Part 2: Why Can't I Connect to Destiny 2 Servers?
Part 3: Other Ways to Solve Destiny 2 Lost Connection
Best Way to Fix Destiny 2 Lost Connection
Players may experience Destiny 2 server error messages for a variety of reasons, but usually, it's a result of a connection issue occurring. Due to its popularity, LagoFast has been deemed the top VPN and game booster for playing Destiny 2 efficiently. Many players have found success using the VPN bot lobby service LagoFast despite the fact that there are not enough servers for them to play their favorite games. You'll need LagoFast to fix all the issues if you want to keep playing the game without sacrificing any of your progress because of lost connection on destiny 2.
When it comes to using a VPN for Destiny 2, LagoFast's service is unique, and so is the way it handles connection problems. With LagoFast, you will stop asking why I can't connect to destiny 2 servers. Furthermore, the following are the product's perks that can affect your decision to download it :
Players of Destiny 2 should encounter fewer network interruptions

Incredibly user-friendly and easily accessible.

Users may relax knowing they are never far from a fast connection server as data centers grow.

A pay-per-minute plan

A faster connection for online players' more seamless gameplay.
LagoFast is a fantastic VPN that can assist you in resolving a variety of destiny 2 server issues. I'll demonstrate how to use the product for you next.
Step 1: Download LagoFast.
Step 2: Look for the game you want by typing "Destiny 2" into the search bar and clicking on it.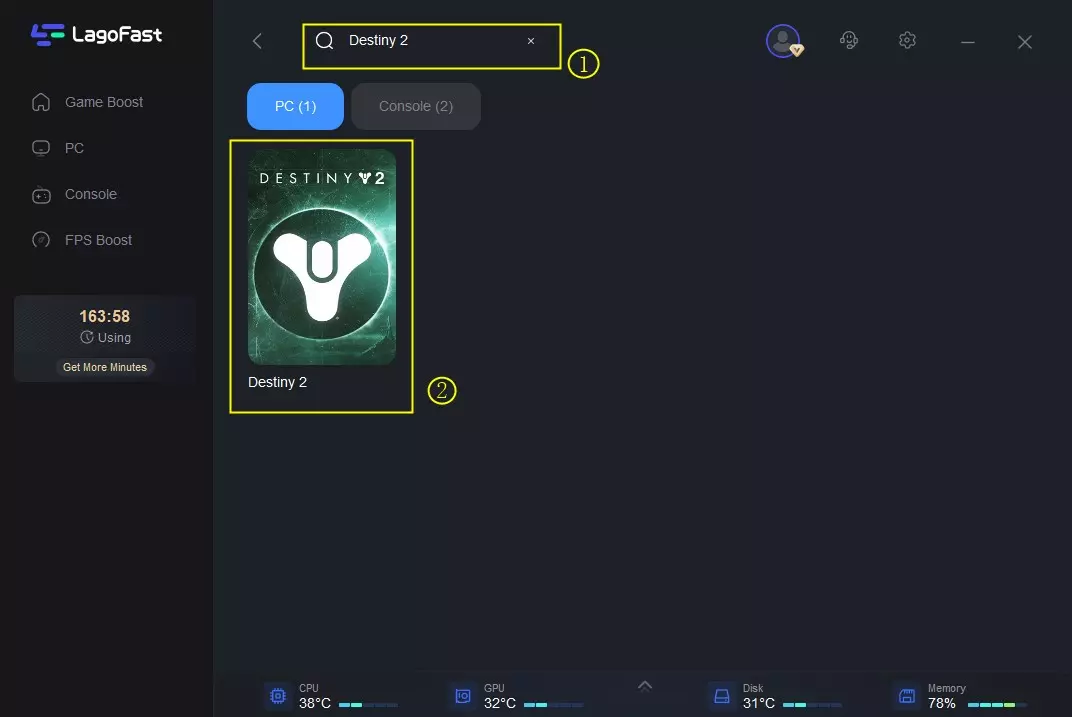 Step 3: If there is more than one server option, pick the one that best fits your needs.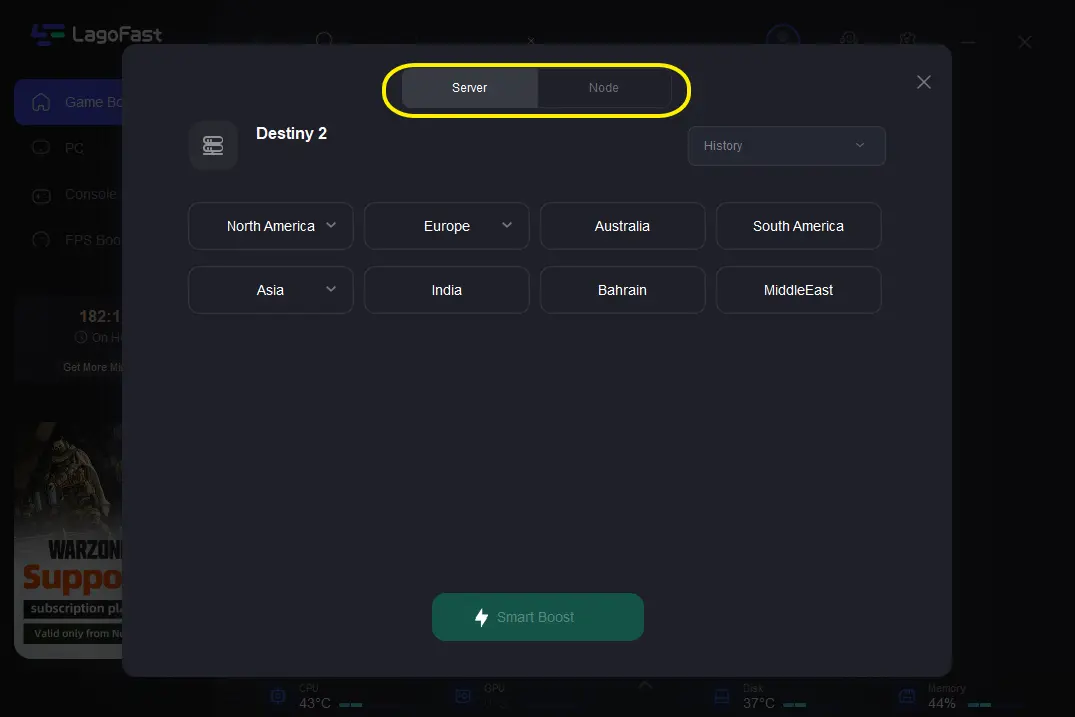 Step 4: Now that you know your ping, you can boot up Destiny 2 and see how your online friends are doing.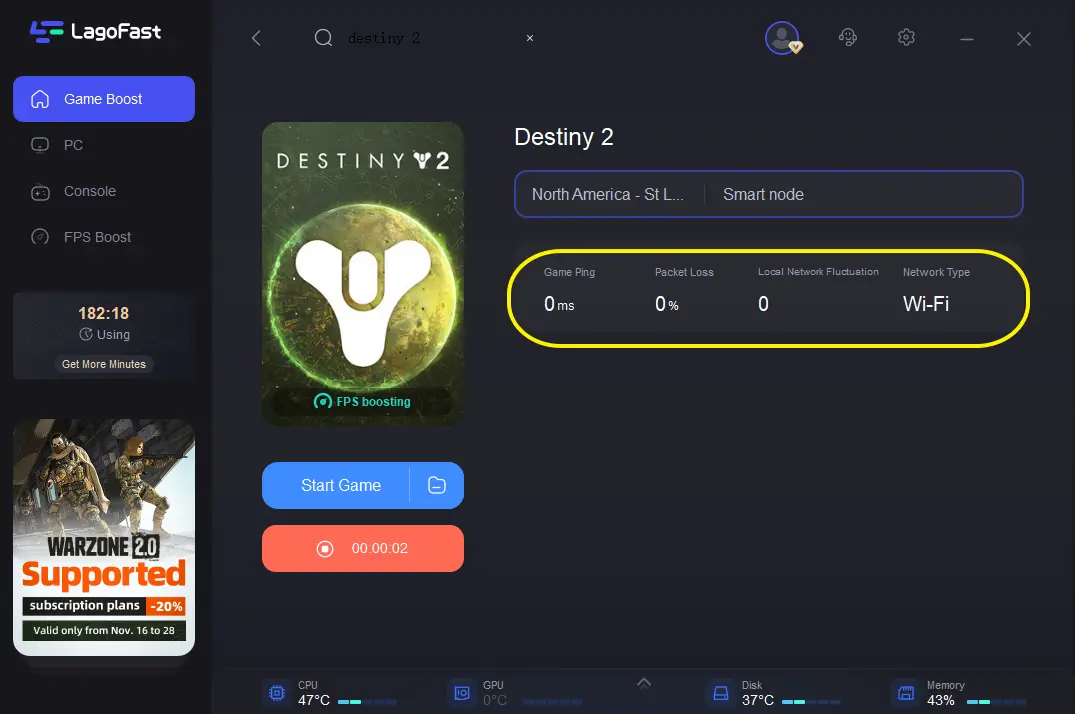 Why Can't I Connect to Destiny 2 Servers
There are many reasons why you can't connect to Destiny 2 Servers, and you need to know the reason to prescribe the right medicine. In addition to a slow network connection, here are some reasons.
● Destiny 2 server status. One of the most frequent connection issues in Destiny 2 is the "unable to access server " error, which is nearly always brought on by a server-side issue. The recommended course of action is to wait until the servers have restored to their regularly scheduled operational state if you briefly experience this issue on your computer or gaming console.
● Inappropriate drive. Too old drives can't handle new games like Destiny 2. Slow computer performance is one sign of an aged hard disk. Normally, a hard drive lasts three to five years. As a result, slowness issues could result from not updating your hard drivers or other device drivers.
Other Ways to Solve Destiny 2 Lost Connection
Here are some additional solutions for Destiny 2 connection issues, just in case.
View Destiny 2 server status. Keep up to date with the latest developments in the forum. Destiny 2 servers are almost always live, but occasionally, they do experience glitches. Knowing Destiny 2 server status can help you plan your gaming sessions. For the latest information on server maintenance and other important in-game news, check out the Destiny 2 Support Forum. The developer also refreshes the page with the information if the server is down due to an unexpected server outage.

It is advised to use a wired connection to play Destiny, and it is also advised to stop using other programs that utilize the connection while playing the game, such as streaming. One of the most crucial needs for a smooth and enjoyable gaming experience in any console game, including Destiny 2, is a strong network connection. So if you're having trouble connecting to the Destiny 2 server, check your network connection. Your modem and router's power wires should be unplugged. After at least 30 seconds, wait before replugging both connections. Once you're back online, launch Destiny 2 to check whether it can now connect to the server. If at all possible, switch to a connected connection, such as Ethernet. Because stability is so important when gaming, a cable connection is more dependable than WiFi.

If the problem still persists, players may want to try clearing the console cache or, if they're using a PC, the download cache.

The problem could be fixed by restarting the router and/or internet modem.

Get the most recent device drivers installed. To play games like Destiny 2, your device drivers must be up to date. Your internet connection may suffer if a network device driver is broken or out of date. Along with poor game performance, using an outdated graphics driver can lead to crashes and other problems.
In the end, this article tells the key to fixing lost connection on Destiny 2 and some common reasons why I can't connect to Destiny 2 servers.