Modern Warfare 2 is a FPS video game released in 2009. The game features a compelling single-player campaign with intense and cinematic missions that have gained many players attention. Unfortunately, some gamers fail to enjoy the optimal gameplay experience due to the voice service unavailable MW2 pc. This article will assist to solve this error quickly and effectively.
Why Is Voice Service Unavailable In Modern Warfare 2
Voice service unavailable in Modern Warfare 2 PC hinders communication, impacting multiplayer gameplay and teamwork. Resolving this problem promptly is crucial for winning in the FPS game. It would be beneficial for players to totally understand the key reasons why it says voice service is unavailable MW2 before diving into practical solutions. The main reasons are as follows.
Not Update Game and Drivers
If gamers ask why it says voice service is unavailable in MW2, they should check if they update the game and drivers. If gamers didn't update to the latest version, especially the audio driver, it would easily occur that voice service is unavailable MW2 pc due to incomplete resources.
Incorrect in-game audio settings
Occasionally, players incorrectly adjust in-game audio settings like forgetting to make the push-to-talk button enabled. This will directly lead to voice service unavailable MW2.
In some cases, gamers' microphones have some issues or the microphone doesn't totally match PC and MW2 audio requirements. This is also one of the reasons why it says voice service is unavailable on MW2.
Incorrect detection of Anti-virus Programs
Anti-virus programs on pc may incorrectly detect players' microphone drivers as risky programs, therefore it would impact the microphone when they play MW2 and finally cause voice service unavailable on MW2 pc.
Third-party communication programs issues
Sometimes, players will choose to use alternative voice software like Discord to communicate especially when they play MW2 with their friends. However, if Discord had issues such as bad internet connection, this will also lead to voice service unavailable MW2 pc.
Fix Voice Service Unavailable In Modern Warfare 2
If players are using Discord to assist them communicate in COD Modern Warfare 2 and they also experienced the issue that voice service is unavailable on MW2 pc. It is recommended that gamers use the LagoFast first. LagoFast is the best solution to improve the game experience of players. The most important thing is that players can use LagoFast to boost Discord and MW2 at the same time, and finally solve the problem of voice service being unavailable MW2. Additionally, LagoFast has exceptional features like reducing high ping, enhancing FPS, and preventing game lag. Gamers can follow the below method to try a free trial of LagoFast.
Fix MW2 Voice Issues with LagoFast
Step 1: Free download LagoFast and sign in;
Step 2: Before you start running MW2, you should search for it in LagoFast;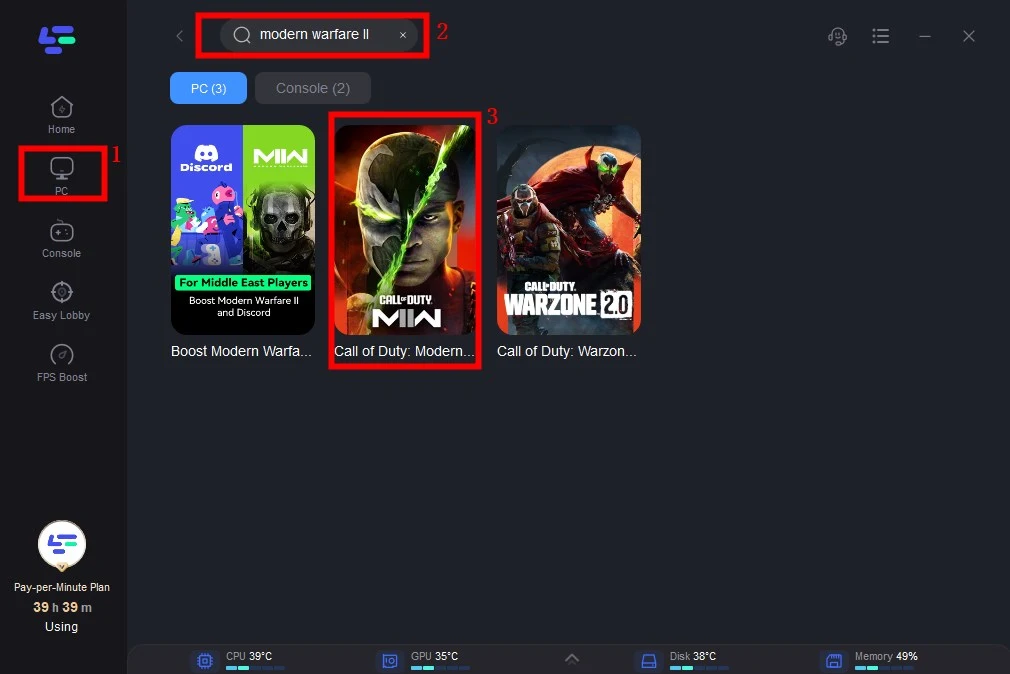 Step 3:Click on Select Server so you can choose the right server that will allow MW2 to connect stably, then click on the Node on the right, you can also select the best Node for MW2.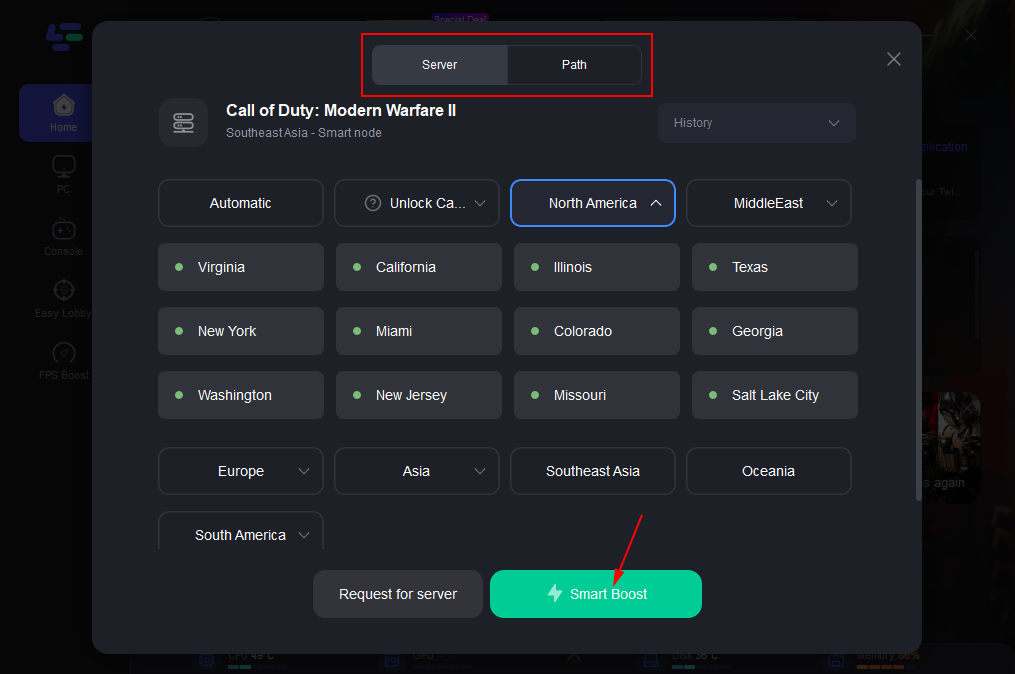 Step 4:By clicking the Smart Boost button, you can see the specific Game ping, Packet Loss and Network Type on the right side. Finally, click the Start Game button to start MW2.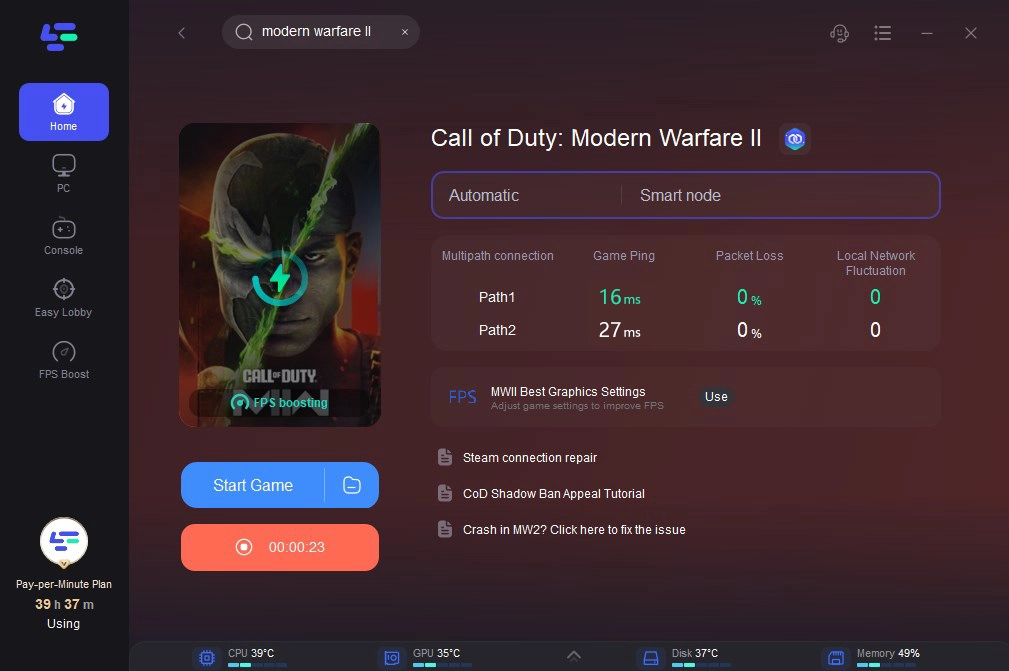 Alternatively, if players consider how to fix the voice service unavailable MW2 but prefer to explore alternative methods to resolve the "voice service unavailable MW2 PC" issue in Modern Warfare 2 on PC, they can follow the solutions provided below.
Make sure you have installed the latest updates for "Modern Warfare 2". Additionally, update your audio drivers to their latest versions to ensure compatibility and achieve optimal performance.
Take the time to verify your game's audio settings thoroughly. Confirm that you are indeed in the appropriate voice channel, ensuring it aligns with your intended communication group. Additionally, double-check if push-to-talk functionality is enabled, if it is a requirement in your setup.
Make sure to verify that your microphone is not physically damaged or broken and that it meets the requirements specified by the Modern Warfare 2 settings and your PC.
Thoroughly review your firewall and antivirus settings to ensure they are not interfering with the proper functioning of the game's voice communication features. If necessary, consider temporarily disabling or making adjustments to allow the game's voice communication to establish the required network connections without any hindrance.
Conclusion
Modern Warfare 2 has garnered a growing player base, but some are experiencing frustration due to the voice service being unavailable in MW2. The primary causes include incorrect in-game audio settings, microphone-related issues and so on. Players can address these concerns by following the aforementioned solutions step by step. However, the first recommended solution is LagoFast, which effectively boosts both Discord and MW2 simultaneously, enhancing the overall communication experience.