The online video game Fortnite was created by Epic Games and published in 2017. It is offered in three different game mode variations, all of which use the same basic gameplay and game engine: Up to 100 players compete in the free-to-play battle royale game Fortnite Battle Royale to be the last person standing; The cooperative tower defense-shooter and survival game Fortnite: Save the World, in which up to four players fend off zombie-like creatures and defend locations with traps and fortifications they can construct, and Fortnite Creative, in which players are given complete freedom to create worlds and battle arenas.
Players can gather basic resources like wood, brick, and metal by demolishing existing structures on the map with their pickaxe. The player can then use these materials to construct fortifications like walls, floors, and staircases in all game modes. It is possible to alter these fortification elements to include doors or windows. The utilized materials have various levels of durability and can be updated to stronger varieties by adding more of the same kind of material. This gives players in Save the World the ability to build defensive defenses around objectives or tunnels full of traps to entice husks through. This gives players in Battle Royale the ability to move over the area fast, defend themselves from opposing fire, or hold off an approaching attacker. In Creative, players are urged to use their best creativity when creating their fortifications.
However, inevitably, there are some Fortnite connection issues. Why is the network connection lost in Fortnite? What should we do if we can't connect to the Fortnite server? Some players often meet situations that Fortnite can't connect to match, Fortnite watch network connection lost or Fortnite network connection lost. Do not worry! We have an easy fix for you. Many users have revealed Lagofast as the most reliable method for resolving Fortnite connection issues. It is a professional Fortnite gaming server that provides gamers with extensive protection and has assisted players in the past.
Part1: The Best Way to Solve Fortnite Connection Issues
Part2: Why won't My Fortnite Connect
Part3: Other Ways to Fix Connection Issues
The Best Way to Solve
Fortnite Connection Issues
You can use LagoFast to help you figure out whether there is packet loss when gaming and to fix it. With a focus on reducing packet loss, easing the network, lowering high ping, etc., it has more than 8 years of expertise in boosting in-game performance. LagoFast has developed a unique game data delivery protocol and includes a sophisticated routing system. To increase every area of your PC's performance, all you have to do is click the "boost" button. Along with all of these advantages, LagoFast is also reasonably priced. It is currently the only game booster that makes "plan per minute" possible. For further information on how to improve game performance, go back and look at the earlier steps. There will also be a free trial in 2023 for players who are still unsure.
LagoFast has the following properties, among others:
Fix all Fortnite connection issues

The only game booster that uses plans per minute

A clever routing system

A customized protocol for game data delivery

More than 8 years of optimization knowledge.

Easy to use

Support for more than a thousand popular games, including Apex Legends 2, Overwatch, and NBA 2K23.
Follow the four steps to fix Fortnite connection issues.
Step 1: Download and install LagoFast.
Step 2: Input "Fortnite" in the search box and then click the result.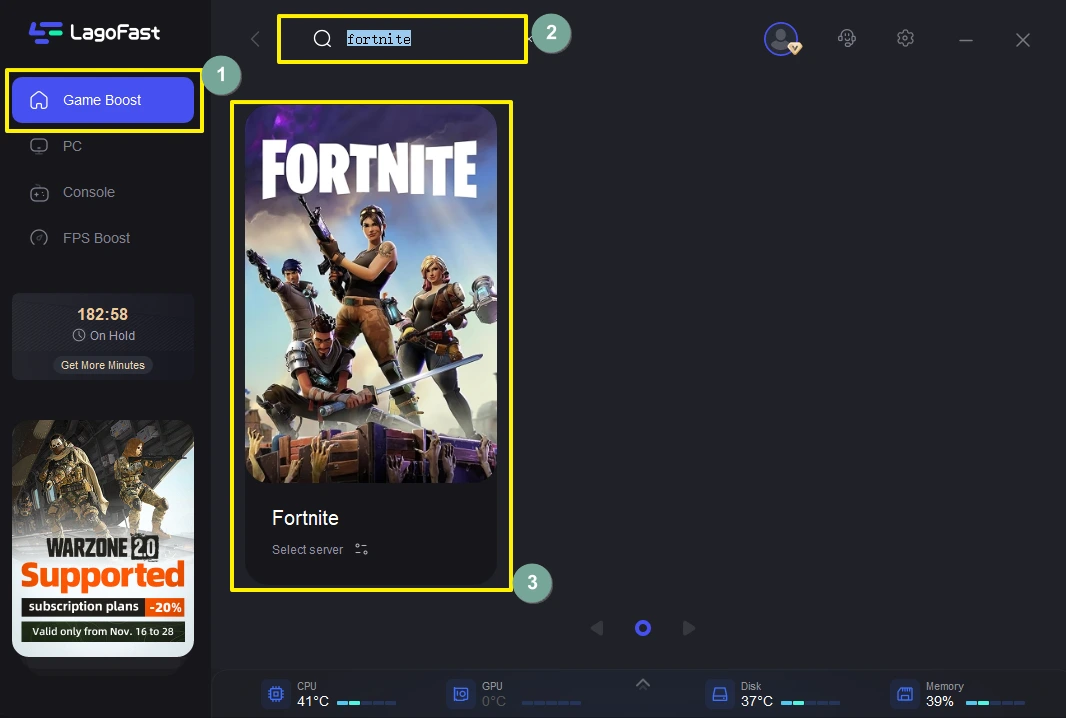 Step 3: Choose the server that matches Fortnite.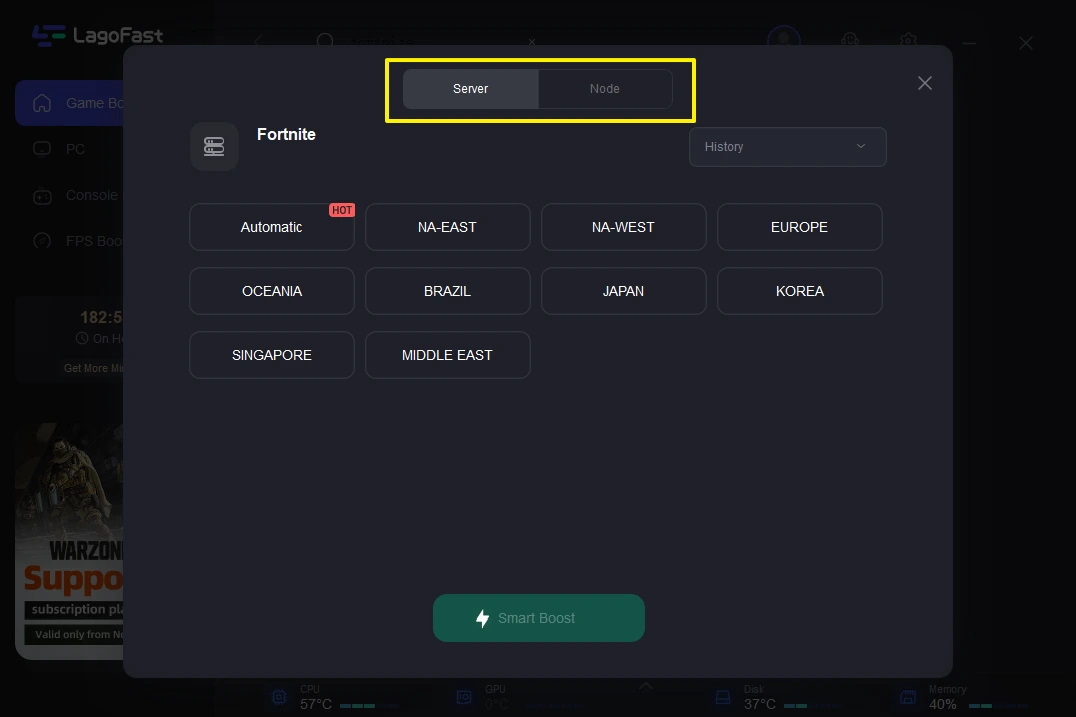 Step4: Click to begin.
The real-time displays of packet loss and ping rates directly affect Fortnite's frame rates.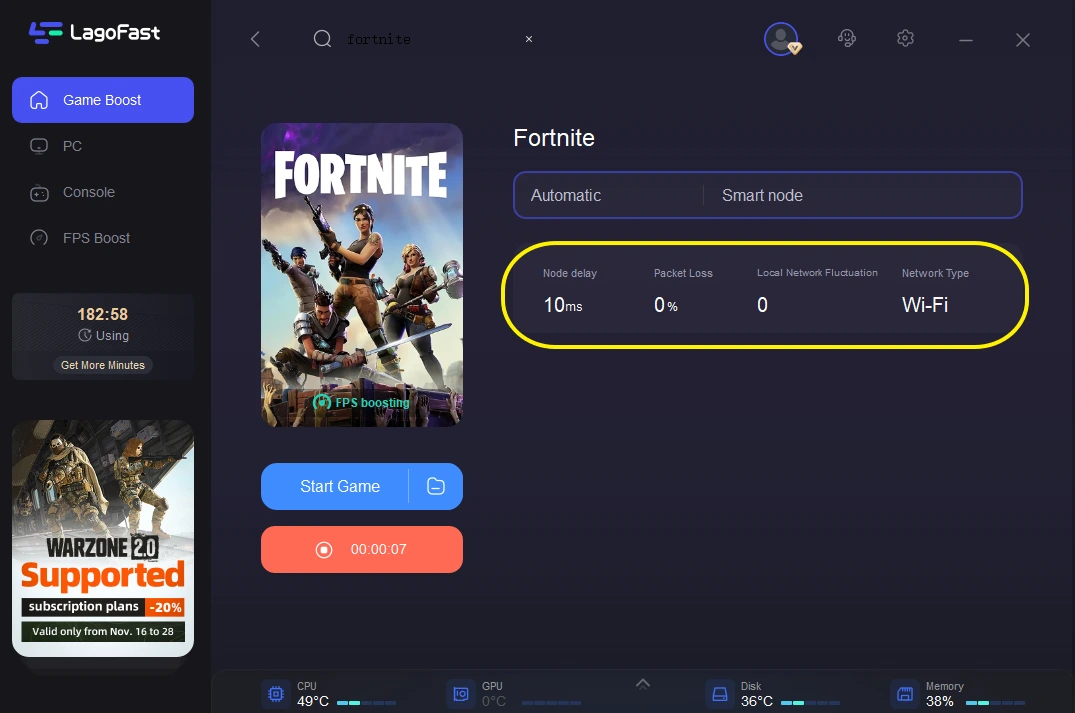 Why won't My Fortnite Connect
There could occasionally be connection issues with Fortnite, like Fortnite connection failure. If you are currently dealing with the problem indicated above, take a look at the potential reasons for the problem listed below.
Difficulties with the server. One of the most frequent connection issues in

Fortnite

is the "unable to access online services" error, which is nearly always the result of a server-side issue. The best course of action to take if you experience this issue on your computer or gaming console for a limited period of time is to wait until the servers have been restored to their usual operational status.

A large capacity.

Fortnite

servers' capacity can be seriously exceeded when millions of players from various platforms are all actively playing the game at the same time. The servers may crash if too many devices attempt to update or log in at once.

Maintenance of the servers. Some portions could occasionally be inaccessible due to the need for routine preventative maintenance and repairs on servers. It is standard procedure to notify players of impending maintenance by doing so in advance and giving them a rough idea of the time the game will be unavailable.

Corruption of game data. Several gamers have reported that the error notice "unable to access online services" has been fixed for them after removing

Fortnite

game data. These gamers hail from various online forums. It's likely that some of these profiles or accounts have game data that has been altered, which would prevent the game from operating as it should.
Other Ways to Fix
Fortnite
Connection
Issues
Here are other methods to solve Fortnite connection failure, just in case.
View the status of Fortnite's server. If you're getting a Fortnite connection issue or having trouble connecting in to the game, always check the server status first. You'll have to wait until maintenance is finished if the server is down for it. Keep an eye on the most recent tweets on the Fortnite official Twitter feed to see if an announcement has been made.

Make sure you have the most recent device drivers installed. Device drivers must be current to play video games like

Fortnite

. An outdated or malfunctioning network adapter driver could have an effect on your internet connection. Additionally, if your graphics driver is out-of-date, you can have crashes and other issues in addition to decreased game performance.

Switch on your modem and router. One of the most crucial prerequisites for a smooth and enjoyable gaming experience in any console game, including Fortnite, is a reliable network connection. So, if you're having trouble connecting to the Fortnite server, check your network connection. Try unplugging the power wires from your router and modem, waiting at least 30 seconds, and then plugging both cables back in. Once you're back online, launch Fortnite to check if it can now connect to the server. If at all possible, switch to a connected connection, such as Ethernet. Because stability is so important in gaming, a cable connection is more reliable than WiFi.