In April, Diablo 4 close beta started and millions of gamers get into the server queuing for login. Some even spent 6 hours waiting on the loading screen. Now Diablo 4 has been released and some gamers encounter server lag and some errors related to the server status. Don't worry, here we are introducing the best way to avoid server lag or other errors.
According to some gamers' feedback on Reddit, they have changed the server to a less crowded region and get into the game easily. The queuing issue is mainly caused by the overloaded server, so changing your server to an uncrowded one will greatly shorten your loading time in Diablo 4.
In addition to the long-time queuing issue. Some gamers also would like to know how to change servers in Diablo 4 to experience different gameplay or in case they move to a new place. Follow this guide and get the easiest way to change the server in Diablo 4 without lag and ping issues.
Is It Workable to Change the Server in Diablo 4
Before changing servers in Diablo 4, you should understand the overview of Diablo 4 server status. In the close beta, there were 4 servers in Diablo 4, including North America, Asia, and Europe. If you are in Europe, you can connect with the Europe server from 12:00 AM to 7:00 AM, during the time people are sleeping. Otherwise, you can try to change your server to North American or Asia in order not to be kicked out from the Europe server. It is the same case with gamers in Asia and America. The principle is that you should avoid active times on a server. Until the preload of Diablo 4, there is no change in the server locations. And Diablo 4 is not region-locked so you don't need to worry about the accessibility of the game playing.
How to Change Server in Diablo 4
Generally, it's not easy to change servers in a game casually. You may need to consider your account and the characters in the game. But now, with a game booster, you can simply change your server in Diablo 4 without modifying any game settings. LagoFast works as the best game booster for Diablo 4 to change the server with the lowest ping. It also helps to boost FPS in Diablo 4 when changing to a new server. Follow the steps and experience the new server now.
Step 1. Download LagoFast and sign in;
Step 2. Search Diablo 4 and click boost;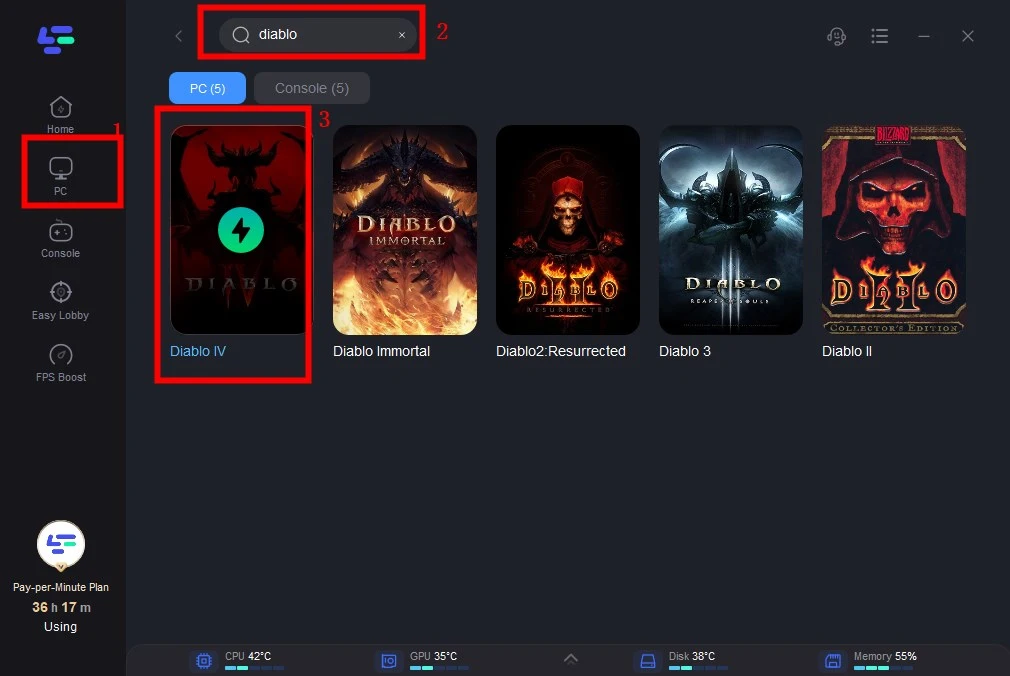 Step 3. Choose the server and node you want for Diablo 4. Here you can also choose the Auto server, LagoFast will help you connect with the best server according to your location and Diablo 4 server status;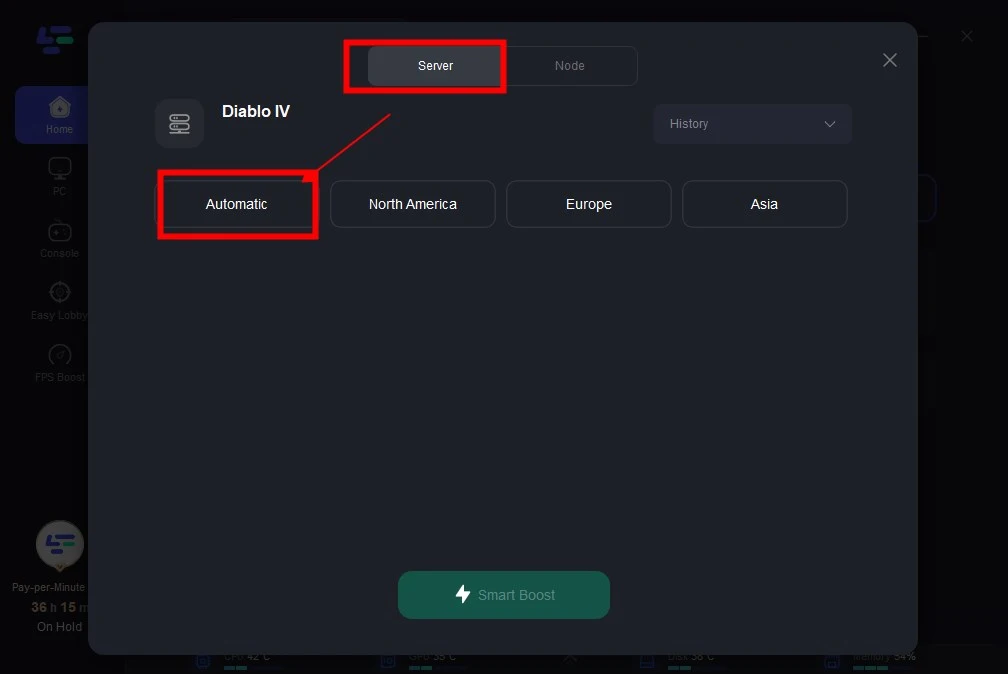 Step 4. Click smart boost and start boosting Diablo 4 now. You can check the real-time ping and packet loss on the boosting page.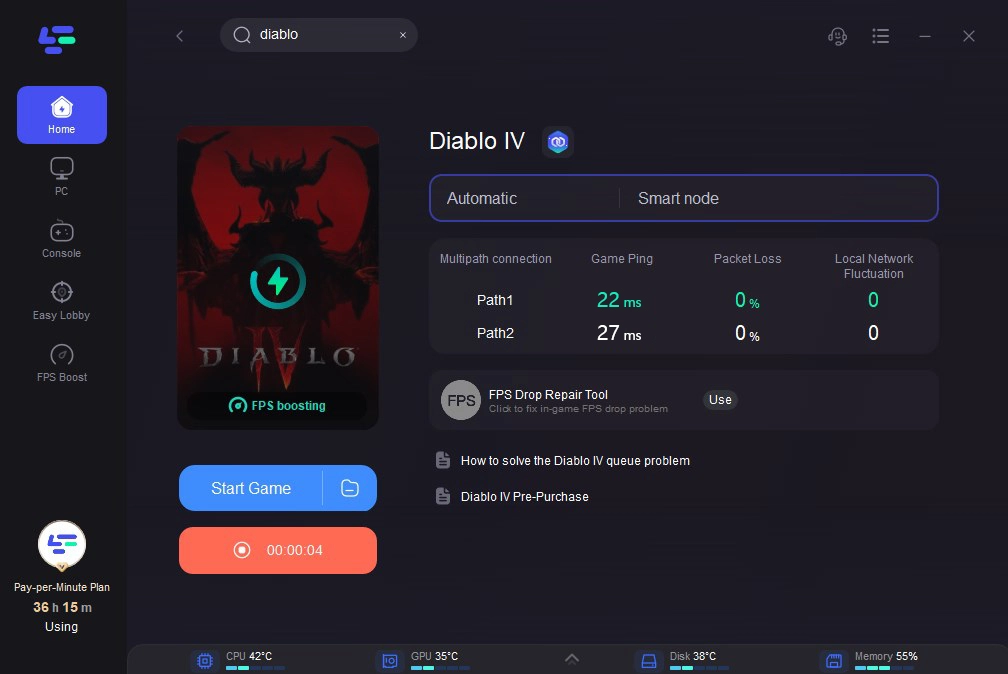 Both the Battle.net client and Diablo 4 will be optimized. The full advantages of LagoFast are as follows:
Change the server without hiding your IP address
Fix long-time queuing issues in Diablo 4
Reduce Diablo 4 lag and high ping
Boost FPS in real time
Unlike common VPNs, LagoFast is game-only so it will not mask your real location and hide your IP address. As a result, there is no worry about being banned or locked by the game developer. It 100% secure and easy-to-use game VPN for Diablo 4. Gamers have been using it to change server in Modern Warfare 2 for a long time. Now you have a chance to change server in Diablo 4 for free! Use the code "diablo" in LagoFast and you will get 50-hour free boost time.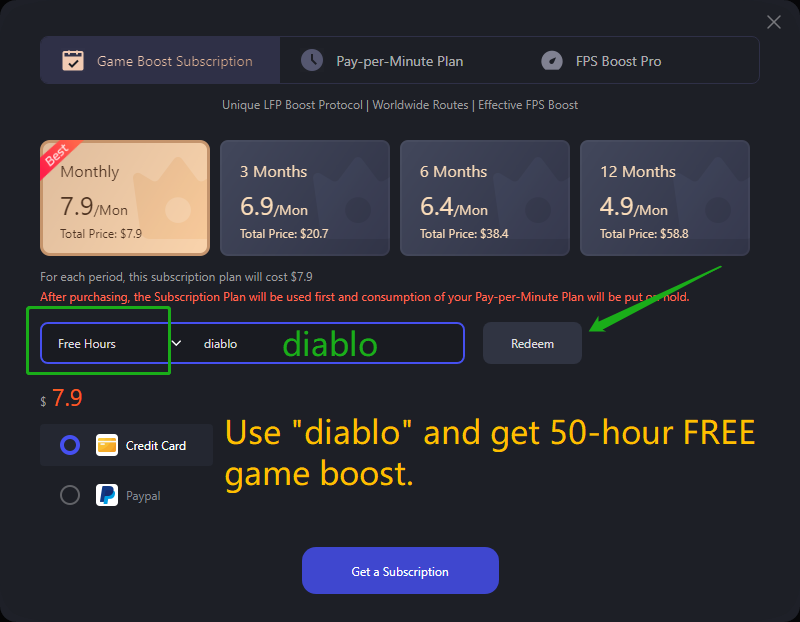 The Benefits of Changing Server in Diablo 4 with LagoFast
Some Diablo 4 players wonder why they should choose LagoFast to change the server. Here you can check the benefits of changing servers in Diablo 4 with LagoFast in the following:
1. 100% Work
With the help of LagoFast, there is no worry about failing to change the server in Diablo 4. For some manual ways to change the server in a game, you may need to consider how to make the settings, change your IP address, or anything else. What you get is an easy way to change the server in Diablo 4 without failure.
2. Reduced Ping on a New Server
The server you'd like to load might not be the nearest one to your real location. In this case, your game ping will increase in the dungeon. LagoFast will help both change the server and reduce the ping rate so that you can have great fun on the new server.
3. Avoid Long-time Queuing
As we all know that gamers spend too much time queuing to log in before Diablo 4 official release. Using LagoFast to change the server will surely avoid queuing for login if the normal one is overloaded with game players. You'll never spend more time stuck on the loading screen like in the playtest.
Conclusion
Changing your server in Diablo 4 will not only reduce time on queuing for login but also provides you with a faster and smoother gaming experience without lag and high ping. Try LagoFast and change Diablo 4 server now to enjoy better gameplay in the dungeon.