Along with updated versions of the original CS content, CS: GO offers new maps, characters, weapons, and game modes. Almost immediately after its introduction in August 1999, Counter-improbable Strike's MOD surprised the gaming industry by becoming the most popular online PC action game in the entire globe, according to Valve's Doug Lombardi. "It has been one of the most popular games in the world for the past 12 years, serving as the main event at gaming competitions and generating over 25 million unit sales globally across the franchise. The award-winning gameplay of CS will be expanded in CS: GO and made available to players on the PC, next-generation consoles, and Mac." Despite all the praise, CSGO FPS drop Windows 11 is a major issue that can not be ignored. If you also suffer from CSGO FPS drop Windows 11 and wonder how to get more FPS in-game, read on to find the most effective fixes including a useful CS:GO game booster LagoFast.
Part 2: Why does CSGO FPS Drop Windows 11 happen?
Part 3: How to Fix CSGO FPS Drop Windows 11?
Part 4: How to Show FPS in CSGO?
What is FPS in CSGO?
Due to the nature of its design, first-person perspective games enable players to interact closely with their environment. This may reveal certain graphical issues that ruin the experience. A sophisticated computer system that can output various graphical features in their full splendor and resolution is needed to get around this issue.
Another advantage of having a strong computer is its speed. More frames per second, or FPS, can be produced. Regarding CS: GO, this FPS should not be confused with the first-person shooter, which is the game's genre. Instead, FPS is a measurement of how many visual frames of the game your computer is drawing per second, as the name suggests.
A greater FPS indicates that your machine is continuously generating multiple frames. A low FPS, on the other hand, indicates that your machine is having trouble keeping up with the game's display. If you want to know how to get more FPS and how to fix FPS drop, read on!
Why Does CSGO FPS Drop Windows 11 Happen?
It is always better to dive in to know the causes first before jumping to discuss the fixes. So before telling you how to fix FPS drop and how to get more FPS, let's find out its causes first.
Incompatible PC specification: Frankly speaking, if you just want to be able to run CSGO on your PC, meeting the minimum requirements of CSGO is enough. However, if you want to have a decent visual experience and get rid of the CSGO FPS drop on Windows 11, it'll be better to meet the recommended requirements. If not, you are very likely to have FPS drop issues in-game.
Insufficient RAM. For the purposes of playing contemporary video games, a sizable amount of RAM is required. Because of the way operating systems store information and perform background operations, you need always have at least 1GB of RAM available, even when your game is running. If there is less space available, Windows can run into issues and begin writing straight to your hard disks. Serious glitches or game crashes could happen as a result of this.
CPU overheated. Any part of your computer can experience thermal throttling. In order to maintain safe temperatures, components like the CPU or GPU automatically restrict their performance when the temperature rises too high. The conventional solution for this hardware issue is to upgrade your computer's cooling system.
How to Fix CSGO FPS Drop Windows 11?
Use an FPS booster —— LagoFast!
When you ask me what the most convenient and efficient method is to solve CSGO FPS drops Windows 11 and how to get more FPS, the first thing that comes to mind is LagoFast, the best FPS booster available. It's been improving in-game FPS and resolving performance issues for more than 8 years. Contrary to typical game boosters, LagoFast is an expert at resolving FPS-related problems and optimizing your PC settings to raise FPS. In addition to having a wealth of practical expertise, LagoFast also has a solid technological foundation in the form of a self-created game data transfer protocol. Additionally, LagoFast offers a free trial to new users and has a Pay-per-Minute plan. The monthly plan has the lowest price among other same-rank products.
The features of LagoFast are as follows:
Fix CSGO FPS drop
Highly boost in-game FPS
8+ years of experience in boosting FPS
Well-developed game data transmission protocol
Offer a free trial & a Pay-per-Minute plan
Here's how to use it:
Step 1: Download LagoFast.
Step 2: Click on the FPS Boost tab on the left side.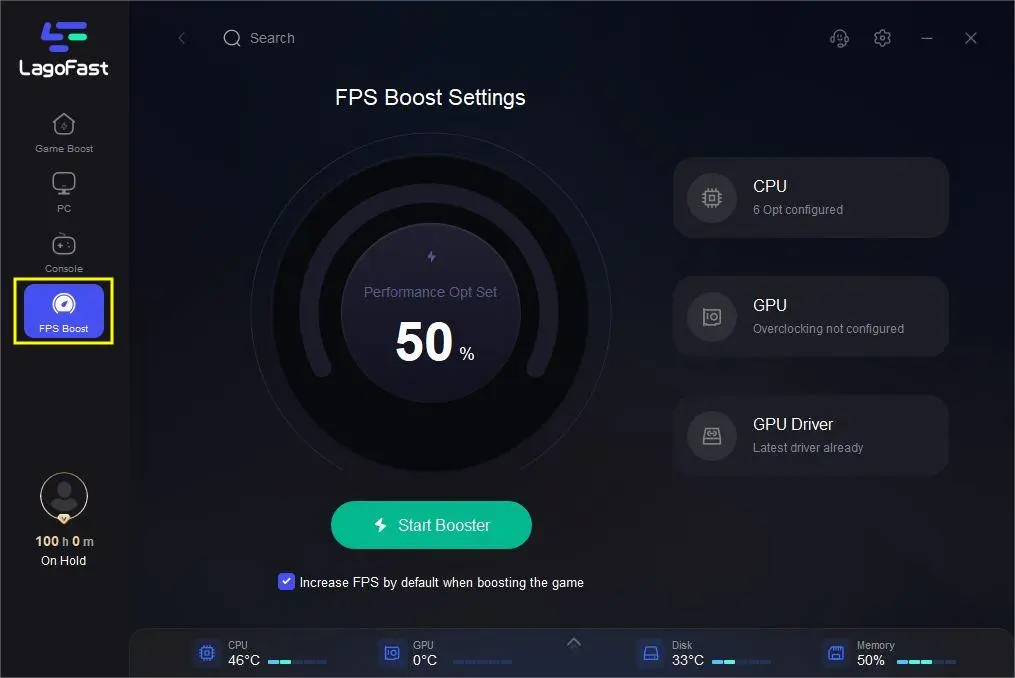 Step 3: Choose the settings you want to turn on/off by clicking on the checkbox.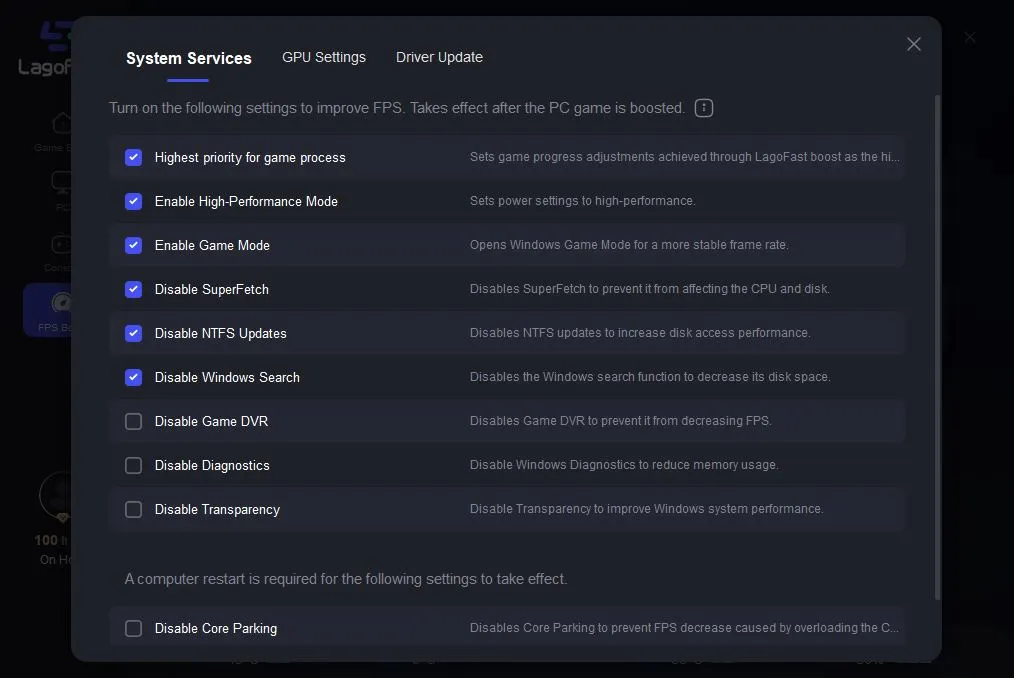 Other Solutions to fix FPS drop and boost FPS
Except for using LagoFast and letting it automatically fix your CSGO FPS drop, here are also some other methods to answer your question of how to get more FPS:
Meet the recommended requirements: Most often, compatibility problems with your PC's specifications can result in FPS drop and low FPS. So, rather than assuming anything, we advise you to carefully review the system requirements for the game and your PC. The recommended requirements of CSGO are as follows:
OS: Windows® 7/Vista/XP
Processor: Intel® Core™ 2 Duo E6600 or AMD Phenom™ X3 8750 processor or better
Memory: 2 GB RAM
Graphics: Video card must be 256 MB or more and should be DirectX 9-compatible with support for Pixel Shader 3.0
DirectX: Version 9.0c
Storage: 15 GB of available space
Run CSGO as an administrator: To prevent complications with user account control-related privileges, you need additionally launch the CSGO game executable file as an administrator. How to do it:
1. To launch CSGO on your computer, right-click the exe shortcut file.
2. Afterward, choose Properties > Select the Compatibility tab.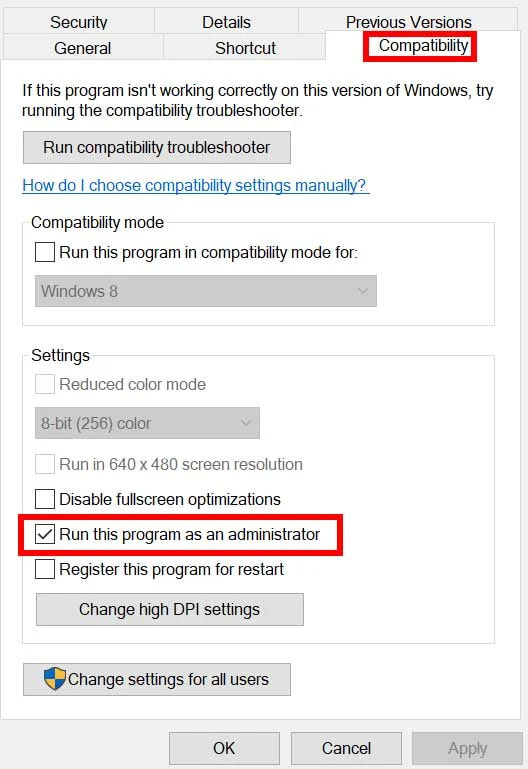 3. Ensure that the Run this software as an administrator checkbox is selected by clicking on it.
4. To save changes, select OK after clicking Apply.
Set the Power Options to High Performance: If for some reason, your Windows system is set to run in Balanced mode in Power Options, the hardware and system won't function to their fullest capacity. For improved results during hard gameplay, you can simply switch to the High-Performance option. If you're using a laptop, the high-performance mode will drain the battery more quickly. How to do it:
1. Choose Control Panel from the search results by selecting Start > Search > Control Panel.
2. Afterward, select Power Options under Hardware and Sound.
3. Select it by selecting High Performance.
4. Be sure to shut down your computer completely and close the window.
How to Show FPS in CSGO?
Ulike showing real-time ping, showing FPS in CSGO is kind of complex. Although the game does have the option to display your FPS, it doesn't make it simple or user-friendly to utilize. There isn't a place in the options menu where you can choose to display the framerate. If you're still unsure about how to access the game's console to view your FPS in CS: GO without using any additional software, let me tell you how.
Players that have performed even the most basic tweaks in CS: GO ought to be very familiar with the console. With this effective tool, you may swiftly put changes or adjustments into place by simply typing CS: GO terminal commands. The key to showing the console by default is '~'. You must first enable the developer console in the settings menu in order to access it.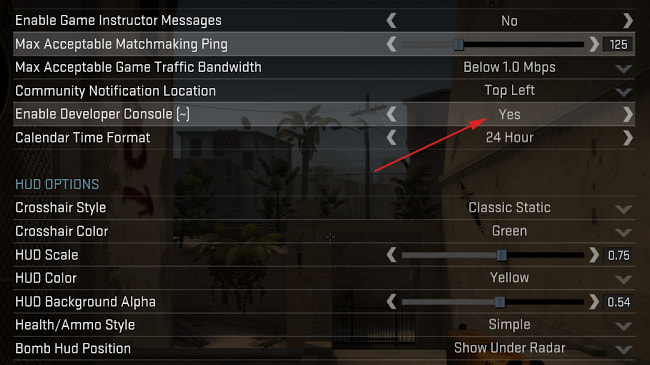 To make CS: GO show fps, enter the command "cl showfps 1" in the terminal without the quotations. The game will start showing your framerate once you've input that.