Tom Clancy's Rainbow Six Siege is famous for its focus on environmental destruction and cooperation between players. It received an overall positive reception from critics since its release due to its tense competition and emphasis on tactics.
Part 1: How to Change Server in Tom Clancy's Rainbow Six Siege
How to Change Server in Tom Clancy's Rainbow Six Siege
There are multiple reasons that you may want to change server in Tom Clancy's Rainbow Six Siege. For example, you may want to get lower ping or play with your friends who are in a different country or region. Or you may experience a Rainbow Six Siege connection error, and you want to solve this problem by changing server.
The Rainbow Six Siege server(or data center as they call it on the official website) locations are:
Asia: Asia East, Asia South East, Japan East
Africa and the Middle East: South Africa North, UAE North
Europe: EU West, EU North
North and South America: US East, US Central, US West, US South Central, Brazil South
Oceania: Australia East
There is one more thing you should know. Sometimes the server will be officially shut down for a maintenance or update. Remember to check Rainbow Six Siege server status when you cannot log in the game.
Now you must have learned a little more about the server of Rainbow Six Siege. Next, we will provide you with 2 ways to change server in Rainbow Six Siege.
1. Use LagoFast Game Booster
LagoFast is a fabulous game accelerator acknowledged by many players all over the world. It is known for its exclusive worldwide routes and unique data transfer protocol. Because of that, LagoFast is a powerful game accelerator.
In addition, the interface of LagoFast is quite simple and clear. You can change server in Rainbow Six Siege within a few steps.
Step 1: Download LagoFast.
Step 2: Search for Rainbow Six Siege on the top of the interface.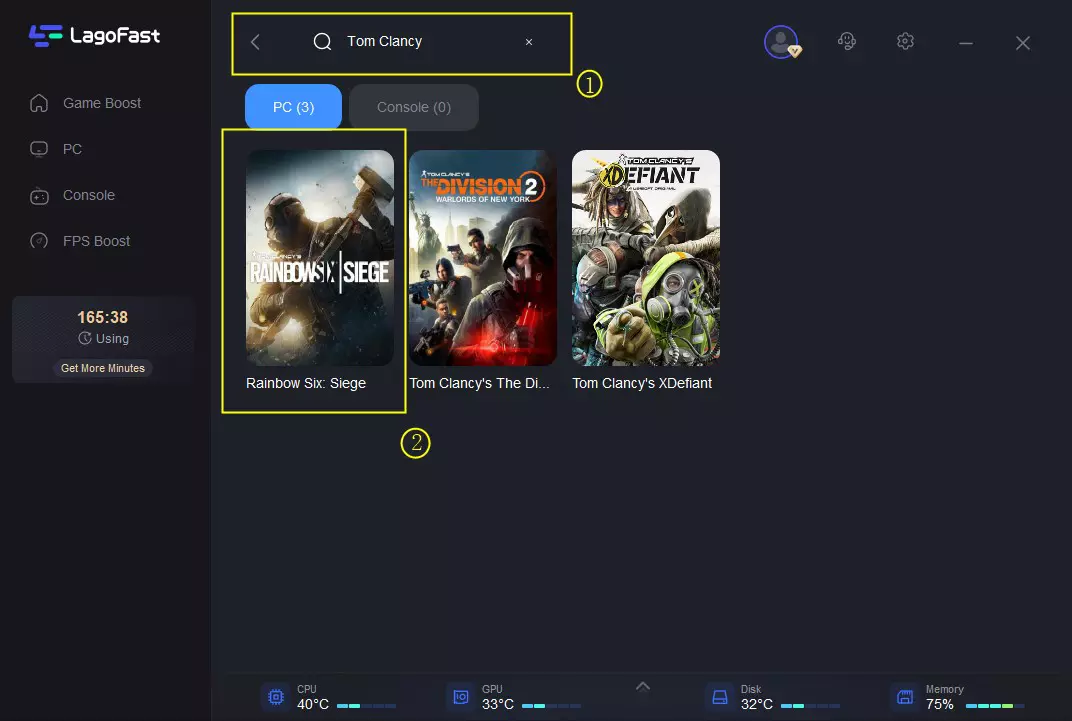 Step 3: Choose server and node.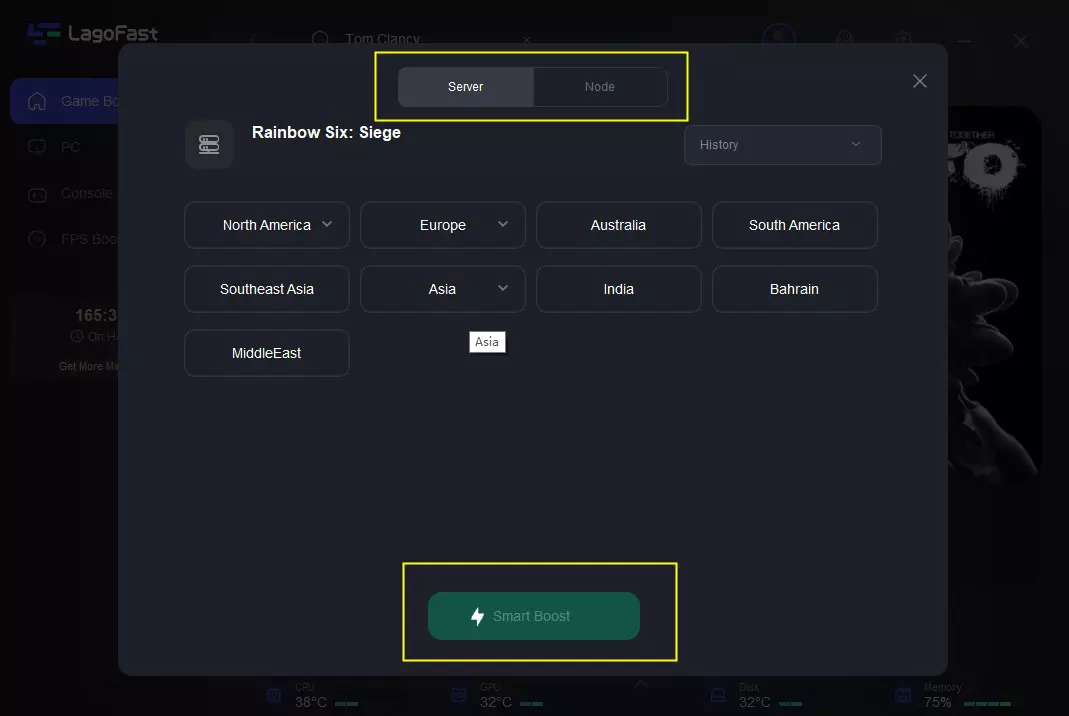 Step 4: Enjoy your game!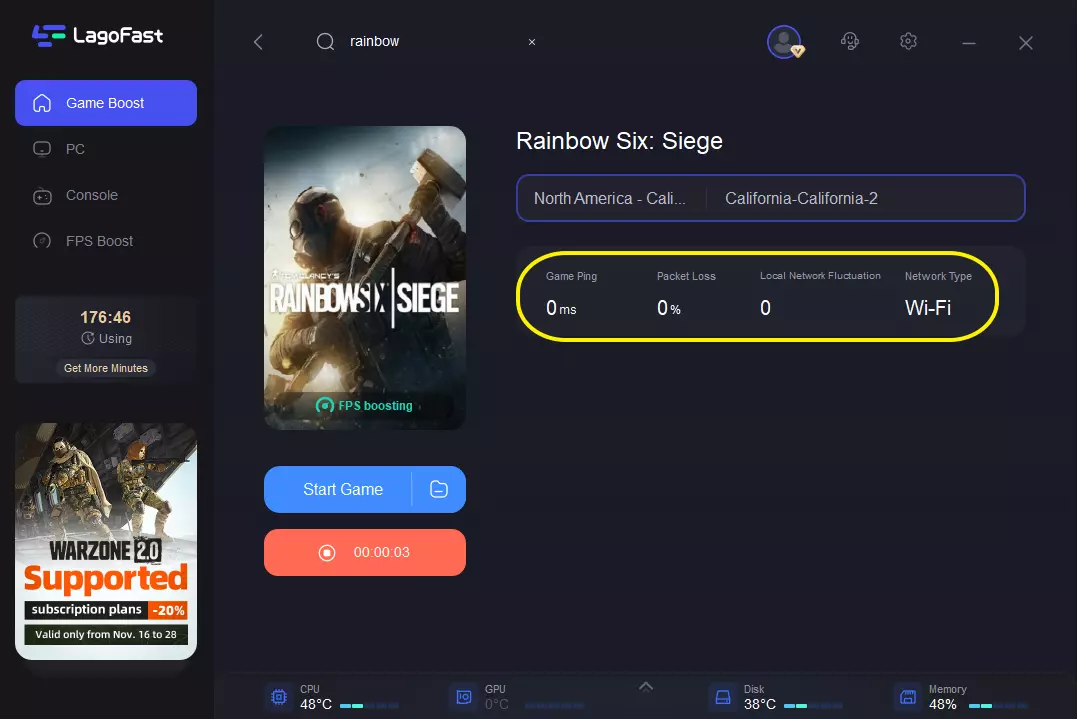 By following the above steps, you can easily change your server and enjoy your game with your friends in other countries or regions. Besides, LagoFast can also lower your ping, lag, eliminate your packet loss and boost your FPS.
Another amazing feature about LagoFast is that you can stop it whenever you want without worrying about being charged because LagoFast only charges you for the minutes you have used. This means that LagoFast is always a more economical choice for all players around the world.
Last but not least, LagoFast covers more than 60 countries and supports over 1000 games, which enables you and your friends to change server and play with each other freely. So don't hesitate any longer, download LagoFast now and enjoy your game!
2. Change server through File Explorer
Step 1: Open File Explorer and then go to Documents.
Step 2: Go to My Games → Rainbow Six Siege.
Step 3: In this file, you'll probably find folders named with numbers and alphabets. They are the profile ID your game automatically makes when you log in to an account and play Rainbow Six Siege. If you don't know which one is yours, you can just delete every one of them and then login into the game. You can then revisit the file to only see a single folder that references your profile ID.
Step 4: At the bottom of the file, there is an option that says "DataCenterHint=default". You'll see a couple of lines above, which list all the servers, such as playfab/eastasia. If you want to change your region to Australia, you can select it from the following list and place it in place of default so that now the line reads as:
DataCenterHint=playfab/australiaeast
All the server are:
playfab/australiaeast
playfab/brazilsouth
playfab/centralus
playfab/eastasia
playfab/eastus
playfab/japaneast
playfab/northeurope
playfab/southafricanorth
playfab/southcentralus
playfab/southeastasia
playfab/uaenorth
playfab/westeurope
playfab/westus
This method may be a little complex but it will also help you change server. It is worth a try.
Conclusion
In this article, we provide you with 2 ways to change server in Rainbow Six Siege. If you are looking for ways to change server, this article will solve your problem. Compared with the second method, LagoFast is definitely an easier way to change server in Rainbow Six Siege. Download it now!