Depending on the exciting story and fantastic graphs, Diablo 3 appeals to more and more people around the world. In the course of enjoying the game, Diablo 3 disconnection issues attract masses of fans. When players are exposed to issues like Diablo 3 not working or Diablo 3 lost connection, they seek fixes urgently. When the Diablo 3 game connection has been lost, the article can tell you why we can't connect Diablo 3.
Part 1: Factors Contributing to Diablo 3 Lost Connection
Part 2: How to Fix Diablo 3 Can't Connect Issues
Part 3: Other Ways When Diablo 3 not Working
Factors Contributing to Diablo 3 Lost Connection
In Diablo 3, players can choose between five different classes, each with a unique set of spells and skills. They can also take on countless demons, monsters, and powerful bosses throughout the adventure, gaining experience, abilities, and items of magical power. Most of the other fighters chose to bury the terrible memory, to free their minds from fear. In Diablo 3, players return to the Sanctuary and once again fight to the death against a variety of demonic monsters. Players can play as one of five classes as they explore new and old areas of the Sanctuary, acquiring powerful items, spells, and skills to fight countless demons and defend the Sanctuary world from the terror that breeds it.
In order to fully experience the fun of the game, many players influx into Diablo 3. However, some of them suffer from Diablo connection lost. The reasons cause that multiplayer can't connect to Diablo 3 are as follow:
Network problems: Diablo 3 needs a good network connection to run properly. If the network connection is unstable or there are packet loss problems, the game connection may fail.
Diablo 3 Server maintenance: Sometimes the game server needs to be maintained or updated, and the player cannot connect to the Diablo 3 server or Diablo 3 server down.
Account problem: If the player's account is abnormal or blocked, it may cause the failure to connect to the game server.
Firewall issues in Diablo 3: If a player's computer or network has security software such as a firewall, it may prevent the game from connecting to the server.
Diablo 3 version incompatibility: If the game version is too low or too high, you may not be able to connect to the game server.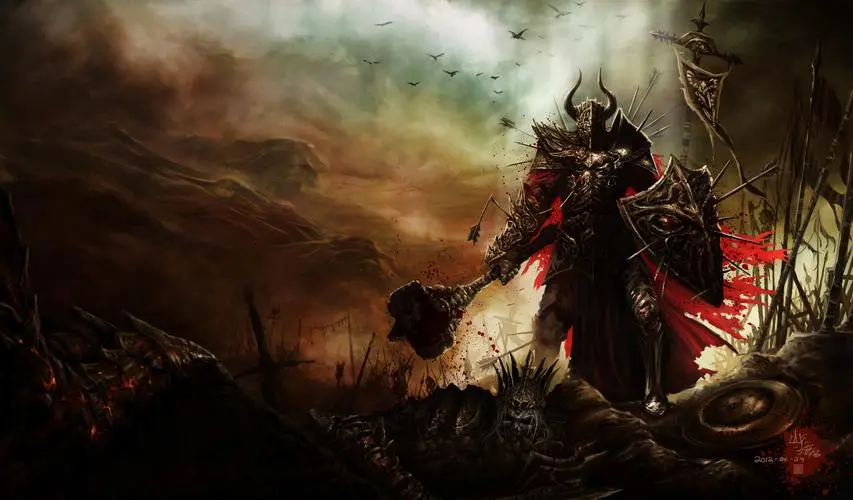 How to Fix Diablo 3 Can't Connect Issues
After understanding the causes of connection failure, it is not difficult to find that network problems have a great impact on the success rate of connection. Imagine if your server is located too far away from the official Blizzard server or server node of your choice, long transfers can cause Diablo 3 lag and other issues. Here I recommend LagoFast for you strongly. With 8-year-history, LagoFast works on checking and resolving those inevitable disconnection issues in Diablo 3. After clicking the button, you will no longer faced with Diablo 3 high ping. It offers a self-developed game data transmission protocol. This self-developed advantage means it can increase the players' network speed without other network interference. By placing nodes between servers, the product greatly reduces the distance between server connections and maximizes network speed in Diablo 3. You may worry that whether a perfect product like it charges for too much. In fact, the price for it is user-friendly.
It has a Pay-Per-Minute plan. The following features are also the reasons why LagoFast is worth your choice.
The features of LagoFast are as follows:
Offer enough function for the

Diablo

series without latency

Provide the

best wireless connection

and protect players' privacy

Convenient and model page

With stable performance and efficient data transmission

Avoid

Diablo high ping

Support 1000+ games, such as Lost Ark, Overwatch 2, etc.
Follow the following steps if you want to fix disconnection issues in Diablo 3.
Step 1: Download LagoFast
Step 2: Type 'Diablo 3' in the Search library and click related button.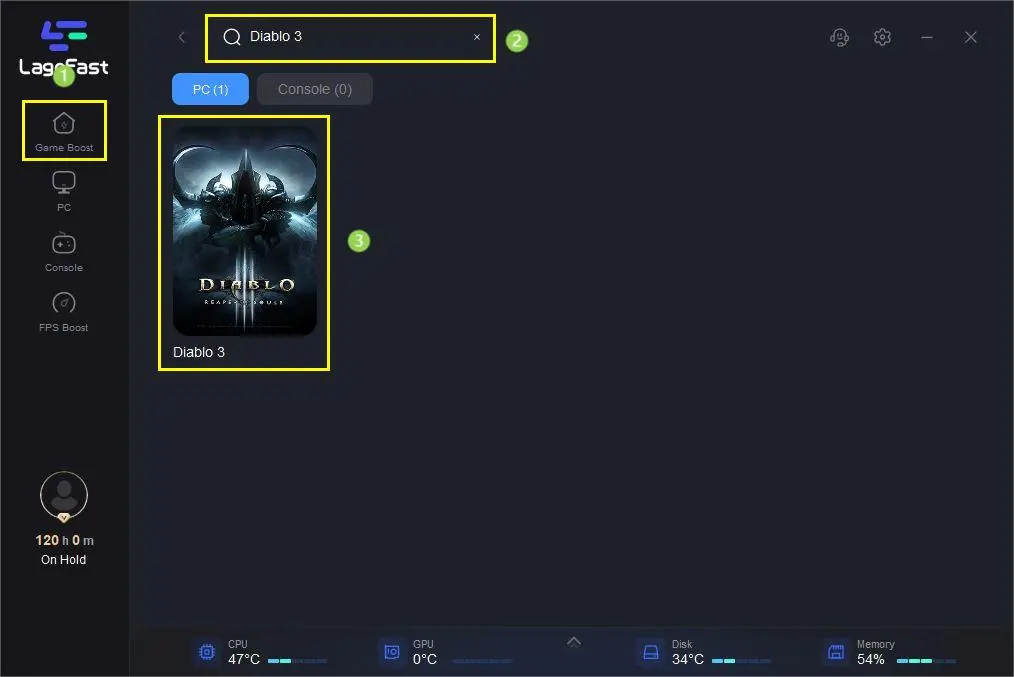 Step 3: Change the server in Diablo 3. Maybe the easier than before or less latency.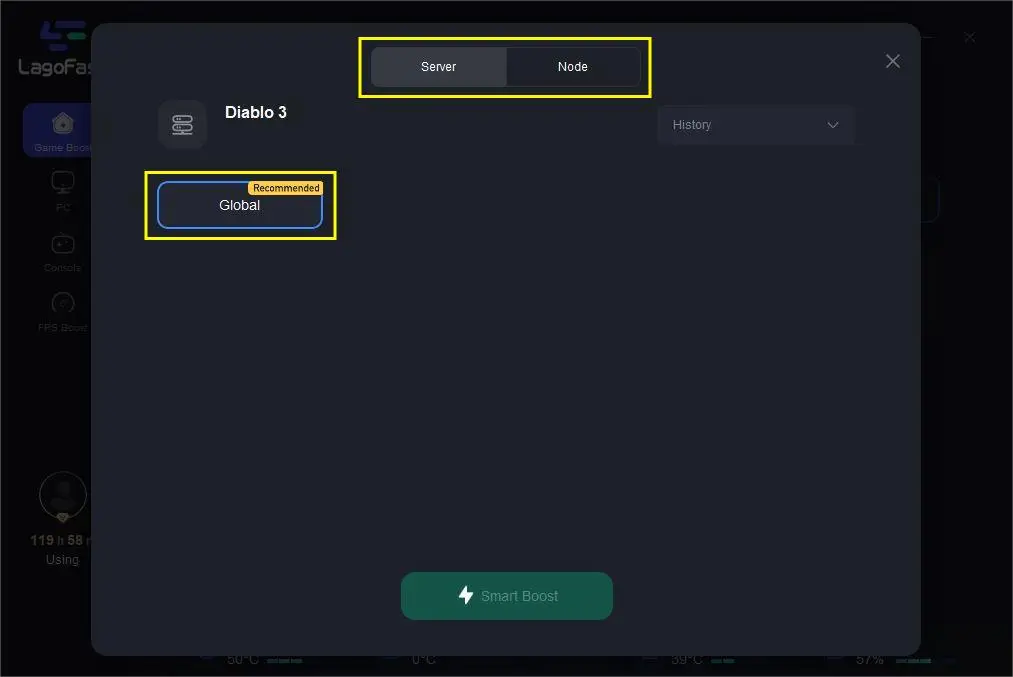 Step 4: Then you can see ping rate and status of packet loss after Diablo 3 connection boost.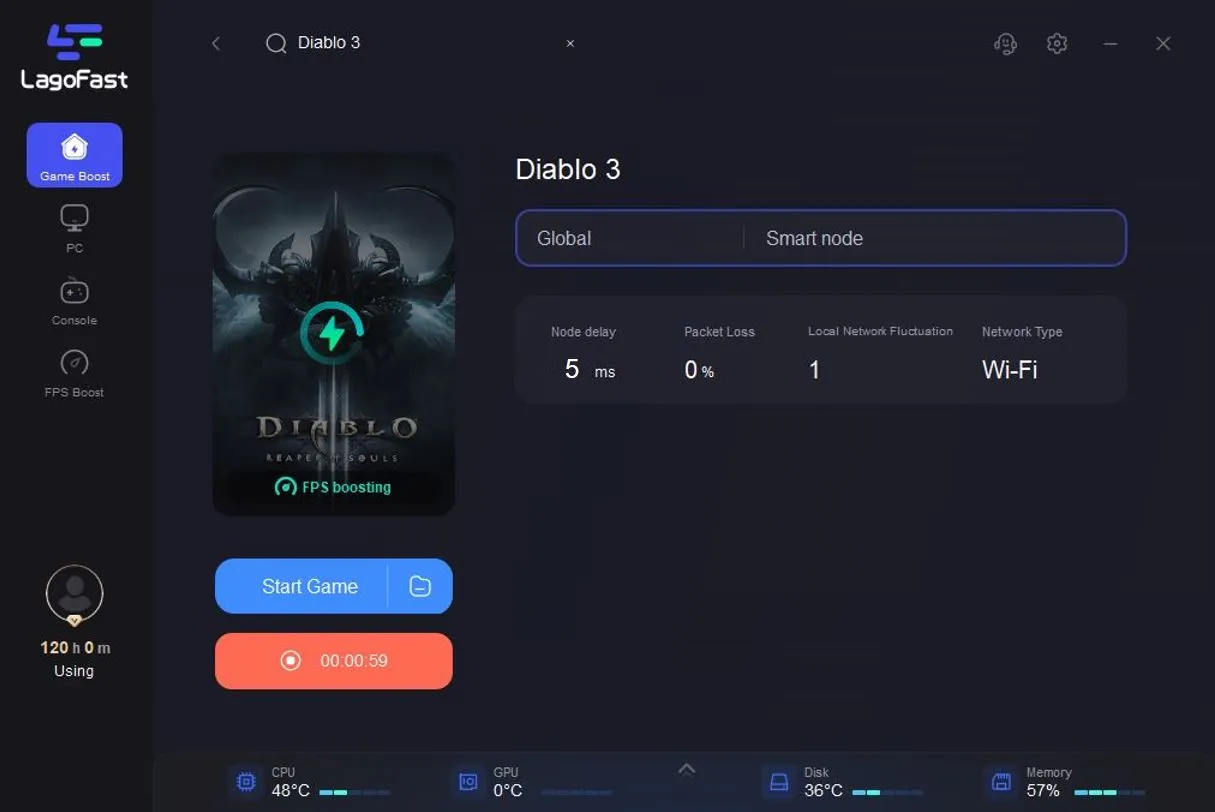 Other Ways When Diablo 3 not Working
If your Diablo 3 not working or server down, here are some ways you can take into account.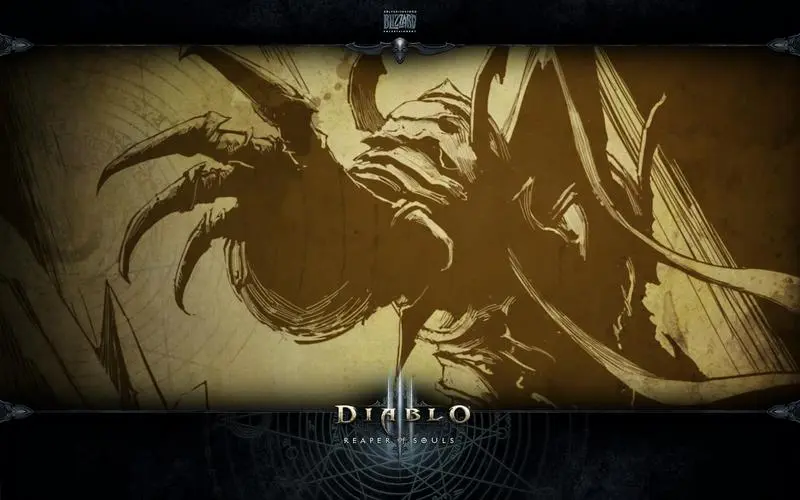 Restart your game: Take the Windows system as an instance. Reset your network devices to make sure your router hasn't become flooded with data. Release and renew your IP and flush your DNS to resolve any network conflicts. Update your drivers to resolve any compatibility issues. If you're using a wireless connection, optimize your internet connection to rule out a connection issue. Try closing background applications to resolve any software conflicts.
Advanced Troubleshooting: Check your network configuration to find any issues with your firewall, router, or port settings. If you're using a VPN, try removing it. Disable any proxies that may interfere with the login module. Run a security scan to remove any viruses or malware infections. Disable or temporarily uninstall any security programs, which may mistakenly identify the login module as a security threat.
Old firmware on your modem and router can cause issues with complex game connections. Visit the manufacturer's website for instructions on how to apply firmware updates.
Check the game version: Check that your game version is up to date. If it is not up to date, you may not be able to connect to the game server. Try updating the game.
Check firewall and antivirus software: If a player has security software such as a firewall on his computer or network, it may prevent the game from connecting to the server.