LagoFast can fix World of Warcraft server lag and do a World of Warcraft ping test.
LagoFast: An Excellent World of Warcraft Ping Enhancer
LagoFast is an excellent World of Warcraft ping enhancer to help you reduce ping. It's easy to use and you don't need any configuration with it. Gamers can connect at a fast speed with only one tap. Having focused on game boosting for over 8 years, LagoFast is very professional in fixing World of Warcraft server lag and doing a real-time World of Warcraft ping test. Many professional e-sport players are using it as LagoFast performs well in reducing game ping and packet loss. The World of Warcraft ping enhancer provides specific boosting solutions according to gamers' physical locations and games' matchmaking modes and server features. If you are wondering how to check World of Warcraft ping, you can also do an accurate World of Warcraft ping test in real-time during gameplay by LagoFast. When the distance between your location and the game server is large, World of Warcraft server lag can frequently happens, particularly in peak time like weekends and evenings. LagoFast can automatically match the optimal routes for you. This allows you to have a low and stable ping at all times.
World of Warcraft, also known as WoW, is an MMORPG produced by Blizzard Entertainment. The story of World of Warcraft begins at the end of Warcraft 3: The Frozen Throne. It is available on macOS and Microsoft Windows. The game has 13 races for all gamers to choose from, which are divided into two opposing factions: Alliance and Horde. Based on the race of the player, different professions can be pursued. Another 10 allied races need to be unlocked by players after reaching the corresponding achievements, such as Warrior, Mage, Warlock, Shaman, etc. The game has PvE and PVP modes and supports up to 40 people in teams. In this type of game, running the game smoothly is very important to the performance of players and their team.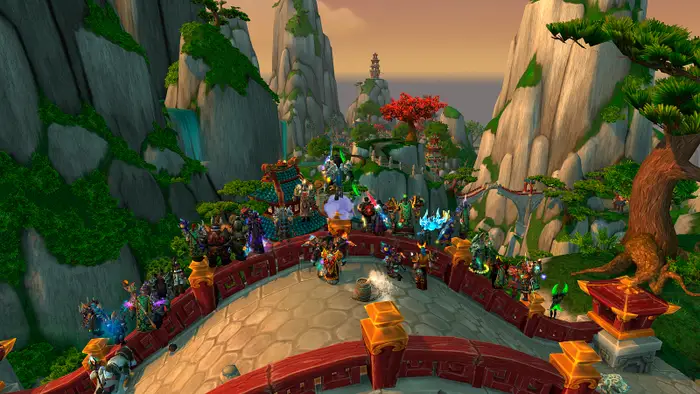 LagoFast: A Perfect World of Warcraft Ping Enhancer
World of Warcraft server lag is a very common issue for players. It usually makes players experience screen freeze, stutters, and even quit the game unexpectedly. Using a professional World of Warcraft ping enhancer can help fix this serious problem. So how to get rid of servers laggy in World of Warcraft? LagoFast can help you do a World of Warcraft ping test and reduce World of Warcraft server lag to the minimum by providing the optimal routes for you to reduce the hops between you and the game server. This way, you can enjoy the game smoothly. These are the main features of LagoFast:
Lower ping in World of Warcraft

Fix World of Warcraft server lag

A professional World of Warcraft ping enhancer

Customized solutions for thousands of online games including World of Warcraft

Intelligently match optimal routes from the globe