Bloodhunt low FPS fixer LagoFast serves as your strongest backup by effectively fixing low FPS, reducing lags, and solving in-ga
Bloodhunt Overview
Low FPS can cause a big inconvenience in gaming, Bloodhunt is no exception. No matter how thrilling the game is, as long as low FPS occurs, the players will no longer enjoy the game anymore. Fortunately, Bloodhunt low FPS fixer LagoFast can give you a targeted solution to alleviate low FPS, lag, and various errors.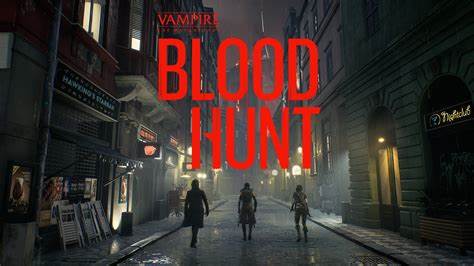 Bloodhunt is an exciting free-to-play battle royale game set in Prague, developed and published by Sharkmob, where a ruthless war between vampire clans is raging. Use your supernatural abilities to hunt down and outwit your opponents. Gear up, consume potent blood to increase power, defy gravity to strike from anywhere, and rule the night! In Bloodhunt, you can grow to be the ruthless dominance; customize your character as you wish from countless outfits and hairstyles; choose your preferable supernatural ability to fight; ally with your friends or make new friends in-game. At first, the project was deemed strange by PC Gamer and Destructoid for combining the battle royale genre and the Vampire: The Masquerade setting, with PC Gamer calling it "baffling to fans and non-fans alike." However, Game Informer called it intriguing and full of potential, and PC Gamer thought the game could turn out well given the development staff's experience.

No matter how amazing and attractive the game is, if it cannot run well on your computer, then there's only disappointment and frustration left. After Bloodhunt's release, many players have given feedback like Bloodhunt low FPS, constant lag, different errors, etc. These problems are somehow difficult to solve by players themselves, but it's just a piece of cake if the Bloodhunt fixer LagoFast has been used. LagoFast is the expert in the field of boosting FPS, reducing lag, and fixing errors. It has its independently-developed game data transmission protocol, helping players to allocate the best routes. The worldwide distributed servers make sure every player around the world can enjoy Bloodhunt without low FPS, crashing, and loading errors.
What Can LagoFast Do to Fix Bloodhunt Low FPS?
Bloodhunt low FPS has been complained about by many players. To solve this unpleasant problem, we may have to figure out how it occurs. Firstly, it always has something to do with the network. An unstable network or low network speed can cause constant lag spikes, which means Bloodhunt low FPS, Bloodhunt lag, and different Bloodhunt errors will soon come along. Secondly, it can be the unsuitable settings of your computer that influence the CPU and GPU's performance. Lastly, it can also be due to unnecessary background applications. Even though players know the reasons for Bloodhunt low FPS, it's still difficult for them to handle it themselves. LagoFast can help players get rid of it easily and efficiently.
Bloodhunt low FPS fixer LagoFast has been digging into optimizing players' in-game experience for 8 years. It has its own game data transmission protocol and globally distributed servers. Players' security and privacy are ensured while having the best game experience in Bloodhunt. Besides, LagoFast can help players automatically change the power settings to enhance CPU and GPU performance. With all these technologies, Bloodhunt low FPS fixer LagoFast can give players a big promise to battle and survive in Bloodhunt without concern.
The features of LagoFast are as follows:
Independently-developed game data transmission protocol
Worldwide distributed servers
Security and privacy are guaranteed.
Adjust PC settings automatically
Boost Bloodhunt low FPS
Avoid Bloodhunt lag, crashing, and different errors