World of Warcraft, or WoW, is set in a fictional universe, its primary setting being the planet of Azeroth. Outland was a second planet that was introduced in the first expansion, The Burning Crusade. Both Wrath of the Lich King and Cataclysm significantly altered numerous other continents by destroying some and revealing new ones. Northrend, the icy northern continent of Azeroth, was added in Wrath of the Lich King. Pandaria, the southern continent that had previously been concealed by a persistent mist cover, was added in the subsequent expansion, Mists of Pandaria. The planet of Draenor, an alternate history version of Outland before its partial destruction, was introduced in Warlords of Draenor. The Broken Isles, a network of islands near the Maelstrom in the midst of the Great Sea, and the shattered planet Argus, the Burning Legion's headquarters, were both seen by adventurers during the Legion expansion. Kul Tiras and Zandalar, two new island continents, were inserted into the heart of Azeroth as part of the seventh expansion, the Battle for Azeroth. With the most recent expansion, Shadowlands, a realm made up of five main zones—Bastion, Maldraxxus, Ardenweald, Revendreth, and the Maw—was introduced.
Players create a playable character in the game using a variety of starting options, including the character's race and class. The main gameplay mechanics involve completing quests, dungeons, raids, and other in-game tasks in order to earn rewards that can be used to upgrade one's character and equipment and enable one to take on harder missions, dungeons, and raids. Players can engage in player-against-player combat in big groups, small-team competitions, or solo encounters.
But recently there are always players who keep responding wow can't connect to the game server. One of the worst things that may happen while playing an online game is a connection problem, and World of Warcraft is no exception. As an experienced player of wow, I recommend using LagoFast to solve world of warcraft connection issues, a professional wow issue fixer, which can also solve packet loss and ping issues.
Part 1: How to Fix World of Warcraft Connection Issues
Part 2: Why My WOW Can't Connect to Game Server?
Part 3: Other Methods of Fixing World of Warcraft Connection Issues
How to Fix World of Warcraft Connection Issues
Most wow connection issues are due to slow network speeds, causing a series of problems, such as wow stuck on logging in to the game server and loading timeouts. Since LagoFast has a strong development team and a great game data transfer protocol that ensures seamless gameplay, users may put their trust in it. Over the course of its more than 8 years in the industry, it has helped hundreds of thousands of game players by resolving a number of common challenges in online games. It resolves problems like high ping, low FPS, extreme latency, and others by changing your PC settings and being well-versed in this area. With the exception of Wow, LagoFast offers more than 1000 games, and more than 60 nations can access it because of its huge global server network. More importantly, it's an inexpensive VPN called Pay-per-Minute. It offers a risk-free trial for those who are unsure.
Benefits:
Pay-per-minute service

Support for over 1000 games

Easy installation and usage

Decrease in ping and lag for Wow

More than 8 years of advancing gaming experience.
As the best wow VPN, LagoFast can help you solve all kinds of problems. In the next, I will show you how to use it to fix connection issues.
Step 1: Download LagoFast.
Step 2: Search Wow in the Search Box and select it in the search result.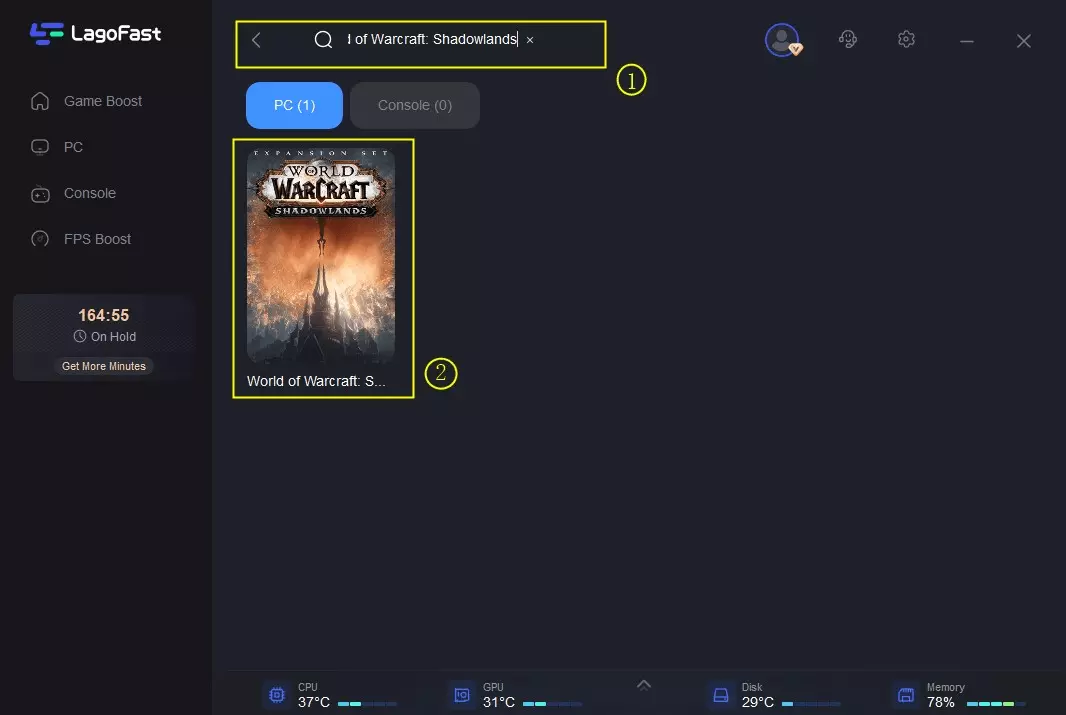 Step 3: Choose the server that matches wow.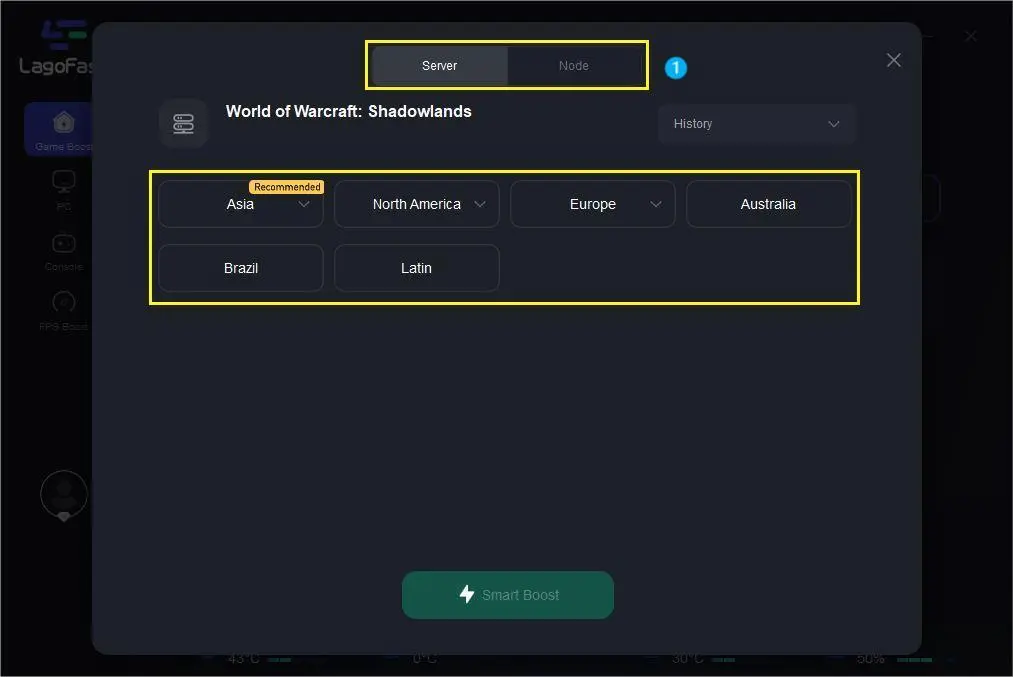 Step 4: Click on the Boost button and start boosting. Here, you can see your real-time ping & packet loss rate.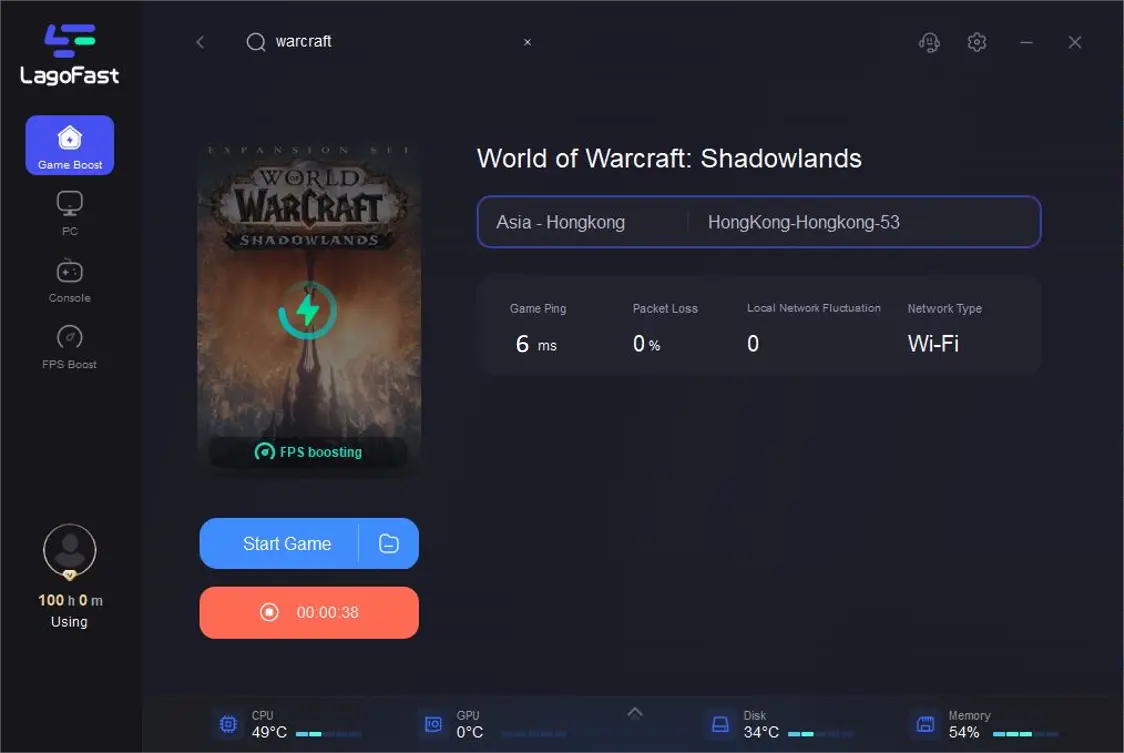 Why My WOW Can't Connect to Game Server?
Some users wonder why my wow can't connect to the game server. If you are currently dealing with the problem indicated above, take a look at the potential reasons for the problem listed below.
Problems with the server. The "unable to access online services" error is one of the most typical connection problems in Wow and is almost always caused by a server-side problem. If you encounter this problem on your computer or game console for a brief period of time, the best course of action is to wait until the servers have returned to their regularly scheduled operating state.

Data corruption in the game. Many players claim that after deleting their Wow game data, the error message "unable to access online services" was resolved for them. These players are from different online communities. The game may not function properly because some of these profiles or accounts may contain game data that has been altered.
Other Methods of Fixing World of Warcraft Connection Issues
Here are other methods that can solve wow connection failure, just in case.
View the status of wow server. Keep up to date with the latest developments in the forum. World of Warcraft servers are almost always live, but occasionally, they do experience glitches. Knowing wow server status can help you plan your gaming sessions. For the latest information on server maintenance and other important in-game news, check out the World of Warcraft Support Forum. Whenever an important event requiring server downtime approaches, Blizzard will add an entry to the list above. The developer also refreshes the page with the information if the server is down due to an unexpected server outage.

Be sure you install the latest recent device drivers. To play games like Wow, your device drivers must be up to date. Your internet connection can be impacted by an out-of-date or broken network device driver. In addition to decreased game performance, using an outdated graphics driver might cause crashes and other problems.

Switch on your router and modem. A solid network connection is one of the most important requirements for a seamless and fun gaming experience in any console game, including Wow. So, verify your network connection if you're experiencing problems connecting to the Wow server. It might help to remove the power cables from your modem and router, wait at least 30 seconds, and then replug both connections. Launch Wow after you're back online to see if it can now connect to the server. Change to a linked connection, such as Ethernet, if at all possible. A cable connection is more dependable than WiFi because stability is so crucial when gaming.
That is all about the way to solve wow can't connect to game server issues. Try it out now and have a wonderful gaming!