Call of Duty: Warzone 2.0 is a battle royale video game. This free game is developed by Infinity Ward and Raven Software and it is part of CoD: MW2. Warzone 2 players compete with each other in a continuously shrinking map, trying to be the last player(s) standing.
However, despite the fact that Warzone 2.0 is a successful game, from time to time some players find Warzone 2 disconnected from steam. This is extremely annoying and frustrating.
Why is Warzone 2 Disconnected from Steam?
One of the reasons why Warzone 2.0 is disconnected from Steam is server maintenance. Thus, when you find your Warzone 2 disconnected from Steam, you should first check the server of Call of Duty: Warzone 2.0 to make sure where the problem is.
How to Fix Warzone 2 Disconnected from Steam?
If the server of Warzone 2 is not under maintenance, then the problem probably lies in your network connection. But don't worry about it. There are several ways to fix it. Check them out!
1. Try LagoFast to enhance your network connection.
LagoFast is a revolutionary game accelerator. It is known for its unique LFP protocol and worldwide exclusive routes. LagoFast is able to deal with all kinds of game issues easily, including Warzone 2 disconnected from Steam.
In addition, the interface of LagoFast is quite clear and understandable. Within only a few steps, you are able to troubleshoot the issue.
Step 1: Download LagoFast and log in.
Step 2: Search for Warzone 2.0 on the top of the interface.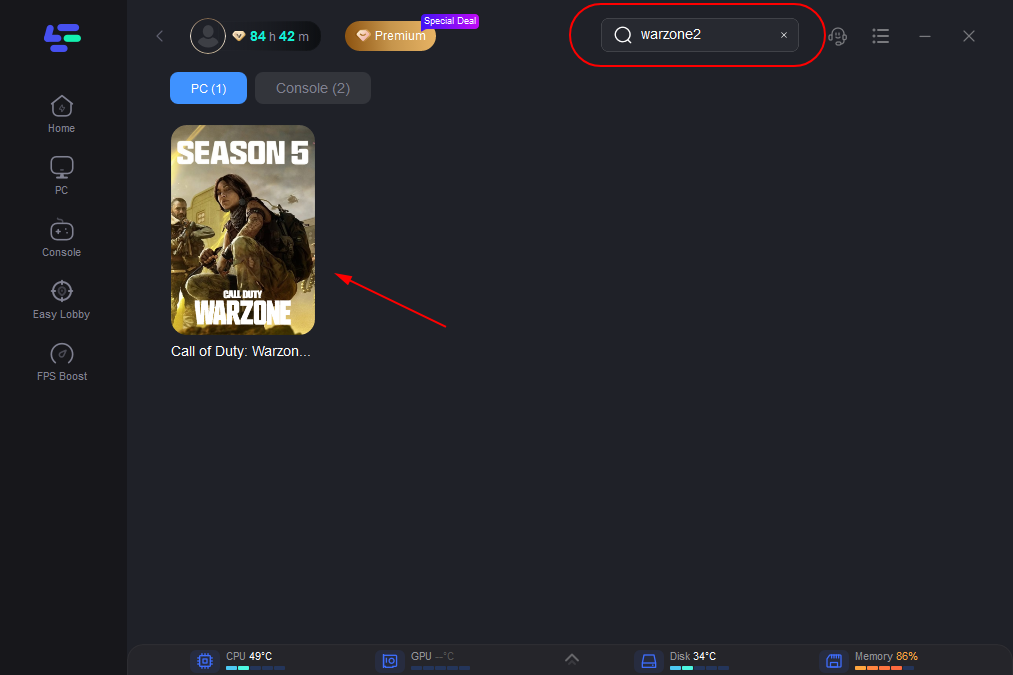 Step 3: Choose server and node.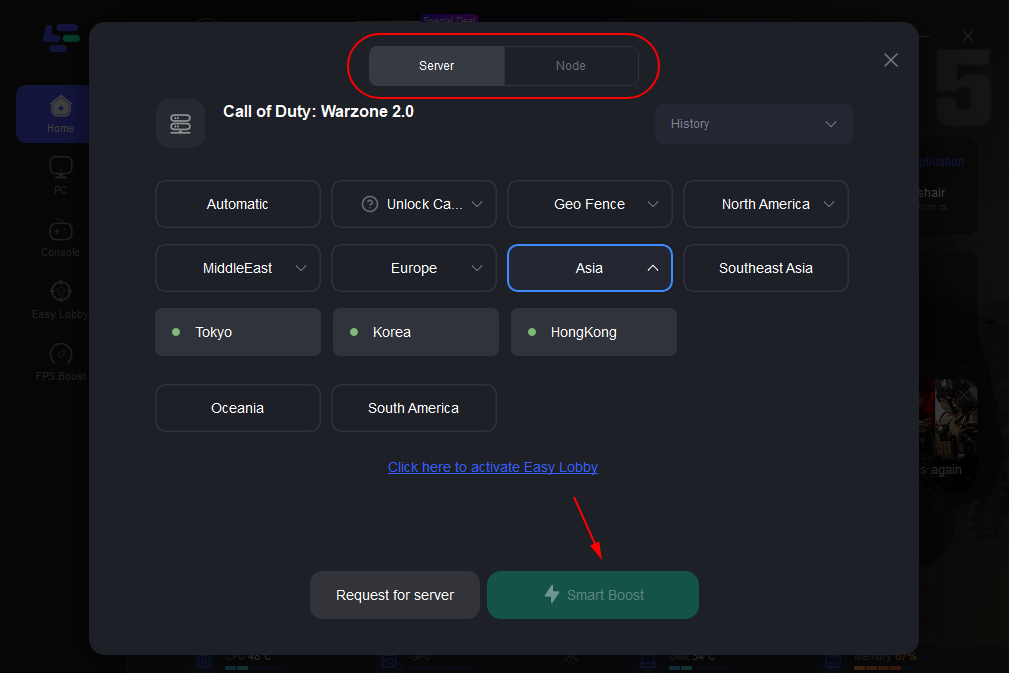 Step 4: Enjoy your game!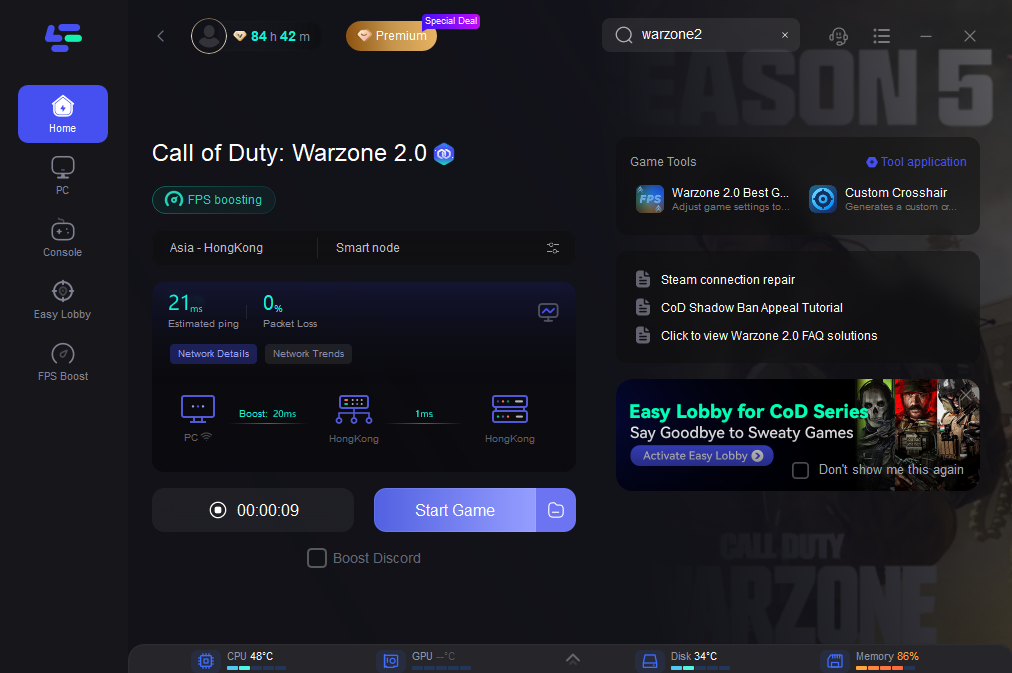 The above steps are able to help you solve all kinds of problems, including low FPS, high Ping, packet loss, lag spikes, etc. For some games, you can also get bot lobbies service, or to say, easy server service with the help of LagoFast.
Lagoast covers more than 60 countries and over 150 cities worldwide. What's more, it supports more than 2000 online games. Wherever you are, whatever game you play, you can use LagoFast to help you!
In addition, LagoFast is user-friendly software. It only charges users for the minutes they actually used. Players can stop the acceleration whenever they want without being charged for extra money. LagoFast does have consideration for all its users.
Don't hesitate to download LagoFast now! It does make a difference!
2. Clear DNS Cache.
You may not know that the DNS Cache may interfere with your network connection and has a negative influence on it. The DNS Cache can lead to CoD disconnected from Steam issue. Follow the steps to clear DNS Cache and solve the problem, disconnected from Steam Warzone 2.
Step 1: Open the Windows Start Menu by pressing the Win key.
Step 2: Search for the command prompt in the Windows Search Box by typing "cmd."
Step 3: Right-Click on the command prompt and click on Run as administrator.
Step 4: Copy and paste the following commands into the Command prompt while making sure you press enter after each command:
ipconfig/flushdns
ipconfig /release
ipconfig /renew
netsh Winsock reset
Step 5: Restart your computer and then Relaunch the game to see if this fixed the error.
This method is also helpful when you run into network failure in other games. It can refresh your computer and possibly make it perform better. Have a try!
3. Verify the integrity of your game files.
You can try to fix Warzone 2 disconnected from Steam by verifying the integrity of game files in Steam. This method may be also useful when you face other game issues. You can give it a try. But you should know that the verification may take a while.
Step 1: Open your Steam and click on the "Library" section.
Step 2: Right-click your game and select "Properties."
Step 3: Click on the "Local Files" tab.
Step 4: Click on "Verify Integrity of Game Files."
Step 5: Steam will then compare the game files to the original files.
Step 6: Steam will download and replace all missing and corrupted files.
Step 7: Relaunch your Steam and launch your game again.
By doing so, Steam will repair your game. Under certain circumstances, the issue should be fixed. But if the problem lies in the network connection, this method may not work. Anyway, it is worth a shot.
Conclusion
In this article, we explained why Warzone 2 is disconnected from Steam and provided you with 3 ways to fix this issue. I believe the first method is the most efficient. Download LagoFast and have a try! It will not let you down!