V Rising is a perfectly created vampire survival game where you have to survive against others and complete a few missions. The game has very famous because of its gameplay and amazing set of graphics. Although the game was originally crafted to run on both low-end and high-end hardware, many users have been facing a lot of V Rising Low FPS problems with the same.
For those clients, you can follow our V Rising FPS Boost Improvement. Guide for Low-End PC and PC which will help you boost performance and increase FPS as well.
Part 1: How to get a reliable FPS booster?
Part 2: V Rising FPS Boost and Increase Performance on PC
Part 3: How to update the latest Game Driver?
How to get a reliable FPS booster?
LagoFast with a self-developed game data transmission protocol can offer you the best gaming experience without any transmission error. LagoFast can obviously increase the player's internet speed. At the same time, LagoFast is easy to use and affordable. Even if when players can't afford the monthly subscription price, they can find a user-friendly Pay-per-Minute plan. Compared with the same-rank products, LagoFast also has the lowest monthly plan. LagoFast is one of the best game data transmissions.
The features of LagoFast are as follows:
Well-developed and professional
Self-developed game data transmission protocol
Offer a Warzon easy lobby
Provide a Pay-per-Minute plan
Lowest monthly plan compared with products
To use LagoFast:
Step 1: Download LagoFast.
Step 2: Click the "FPS Boost Setting" and to start Boost.
Step 3: Open "System Services" and Disable the all which is highlighted.
Step 4: And Click "GPU Settings" and Enable GPU Boost.
V Rising FPS Boost and Increase Performance on PC
V Rising is a beautiful survival game. But the animations and visuals are stunning, but this means that just on older Machines. Let's see how to fix these issues.
Follow these steps to V Rising FPS Boost and increase performance.
Game Mode
Game Mode is an important process to enable requirements. Search Game Mode in your Window Search Bar. Open the Game Mode Bar and enable the Game Mode while you are on your PC.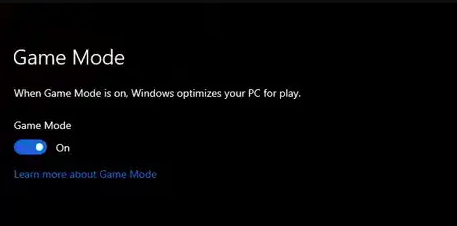 Which is better Game mode On or OFF?
If you are using low-end hardware then Game Mode may improve your performance.
But, if you are on high hardware, with more CPU and a GPU, it will be able to run multiple processes without negative consequences on this hardware, you don't know well between the difference. Game Mode can do more than boost your frames in video games that's why it's important to enable Game mode if you are on low-end hardware.
Disable the Xbox Game bar. Xbox can cause lots of issues for a lot of people, and then performance will be well. Xbox Game bar is one of the top Game Mode Bar and turns off the background recording. Make sure that now game mode has been enabled.
Hardware Accelerated GPU Scheduling
Hardware Accelerated GP is a new feature in Windows 10-May-2020.
If you have an Nvidia card with a 1000 series, search the Graphics Settings in the Windows search bar. Here you will find hardware-accelerated GPU Scheduling and enable it. This shouldn't just be done for V Rising, do it for every game you play. This will make a huge difference. It's very important to enable this because this process helps you in every game.
Windows can help auto-optimize the games for better FPS and stability in the game by taking the advantage of on-chip GPU chips. In most cases, this will increase your game's FPS by more than 20%.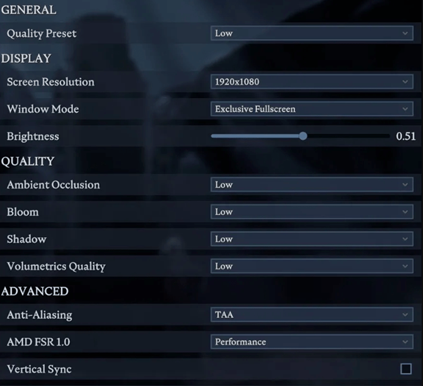 P: Quality: in the Quality section, you can configure and manage the texture, and graphics settings to boost the game's performance.
· Ambient Occlusion: Low
· Shadow: Low
· AMD FSR: Performance
· Depth of Field: Enabled
· Cloth Quality: Medium
· Cloth update rate: Low
· Volumetrics quality: Low
After changing these settings, restart the game and notice the good performance.
P: How can I speed up my GPU?
· Turn ON or OFF in Hardware Accelerated GPU Scheduling in the Settings
· Open Start Menu and tap on the settings cog icon.
· In Settings, click on System and open the Display tab.
· Under the "Multiple Display" section, select "Graphics Settings"
· Turn ON or OFF in the Hardware Accelerated GPU Scheduling option.
· and after that, restart the system.
How to update the latest Game Driver?
it's really important to update game drivers. Whatever Graphics Card that you might be using, make sure that it is updated and patched to the latest. This assists with the general performance and in addition to with the strength of a few new impending games. There may be an update implied only for V Rising.
For Nvidia users, open Geforce Experience and just check for updates. It's going to search for a while, and then you can go ahead and download the latest game drivers. Do this for AMD even for Intel graphics and for others.
Sometimes, updating your graphics driver can fix performance bottlenecks and improvements that make games run faster - and in test to 102% for some games.
Choose or Customize a Power Plan / Energy Profile

This is especially for laptop users. You can go ahead and check your battery settings, and then see the energy profile. Make sure, you choose High Performance as it will put all the RAM and CPU, GPU usage toward your game. Never use Power Saver if you want high and better performance in your game. You can find it in the Control Panel or click the bottom button where you are seeing the Battery option.
Intelligent standby list cleaner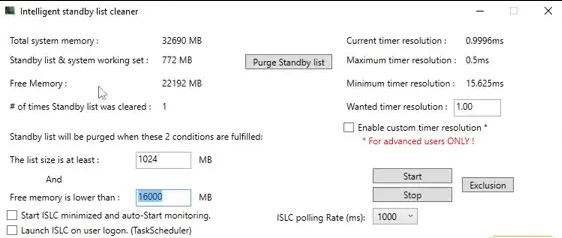 An intelligent standby list cleaner will monitor and clear the memory standby list when is 1GB. It was designed to solve the V Rising Low FPS problems of stuttering in games when using Windows 10 or Windows 11. It is easy to use. The interface of the Intelligent standby list is simple to use.
This is the most for some old machine's hardware as it helps a lot. This process will help you to reduce the stuttering in older PCs.
Image Scaling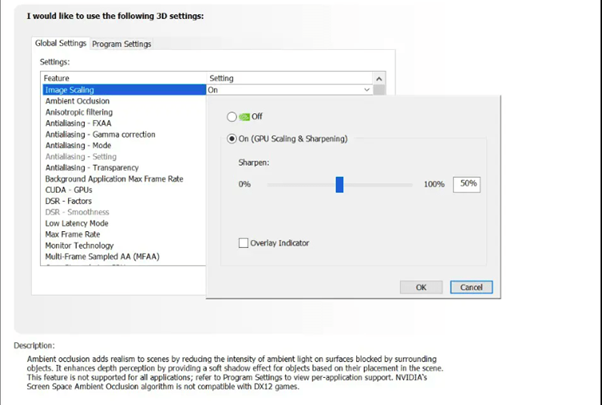 Image scaling is best to boost a little when you are playing a game. You can do this directly through GeForce Experience (NVS). Look for the image scaling option and to choose 80%.
if it's not here, then open the Nvidia Control Panel and look for Manage 3D Settings. You will see it on the right side and can do it manually this way, you can easily do it on AMD as well.
If you do want to go in deep, Overclocking allows you to run your processor at higher clock speeds than originally intended. Actually, overclocking makes your computer feel snappier. And if you need further information then check your hardware specification clearly and manage for Gameplay.
P: Does Image Scaling improve FPS?
Just enabling one setting in-game, users get an AI-upscaled image that decreases GPU demand and increases FPS. Yes, Image Scaling absolutely improves V Rising FPS Boost.
Game Option
If you want to improve performance, make sure to go as low as possible.
Check your options and see if you don't have to sacrifice too many visuals for more V Rising FPS drops. But if not, putting everything on the low isn't too bad either.
The resolution should be native. This is the best thing for your PC to make the V Rising FPS booster stable and improve CPU, GPU, and RAM usage.
Change Process Priority
Windows allows users to set different priorities for the different important software and for tools. And this priority helps them to better focus on that software or on that tools and on that program which is important for you. You can easily change the process priority to low to high or high to low, which will reserve maximum CPU resources for the game and will result in smooth gameplay.
Here, the process to change the priority
Just open the Task manager from the bottom or press the key CTRL+SHIFT+ESC.
Which is an important software for you, click the right button from the mouse to set priority high or low as per your requirement.
Once you have to change the priority, the result of that software or game will be smooth.
End Resources Intensive Task
Many players running the games and software at the same time. If you have low-end hardware then must you face V Rising Low FPS problems, when you are running games and software at the same time.
But if you want to run the game (V Rising FPS booster) smoothly then must remove all other games and software and focus on one game which is important at that time.
End all the software before running the game, the best option is to restart your PC before running any game, as it will clear the memory and cache as well.
If you have high-specification hardware then you are not facing those types of problems.
Conclusion
In the end, V Rising FPS Boost optimization guide for low-end PCs and laptops. Please note that if you have a high-specification PC, you can run the game easily at maximum capacity. But if you have a low-end PC or even a mid-range PC, you should stick to the moderate game (V Rising FPS cap) graphics and performance. Thus, you will be able to enjoy the gameplay without any additional issues. Hope you understand and have cleared your doubt.