Sons of the Forest is a survival video game developed by Endnight Games and published by Newnight. As a sequel to the 2018 video game The Forest, Sons of the Forest is set on an island inhabited by cannibals. Players need to survive in such an environment.
However, some players may experience Sons of the Forest lag from time to time, which is extremely annoying for those who want to enjoy their game after having a long day.
What is Sons of the Forest so laggy?
Lag means latency between the user and the server. Simply put, if you have Sons of the Forest lag, your game would not be as smooth and fluent as usual.
Normally, lag occurs because the Internet connection in your house is not stable enough to support intense gaming. Thus, basically, we should try different methods to enhance the network connection or repair the game/computer and fix Sons of the Forest Lagging.
How to reduce lag in Sons of the Forest?
Many players may wonder how to reduce lag in Sons of the Forest. Don't worry. We will provide you with several ways.
1. Subscribe to LagoFast to get professional help.
You may not know about LagoFast, a revolutionary game accelerator. It is known for its unique LFP protocol and worldwide exclusive routes. These two characteristics enable it to provide professional help to players in trouble, including Sons of the Forest lag fix.
LagoFast is able to fix all kinds of game issues, including lag spikes, packet loss, low FPS, high Ping, server down, etc. LagoFast may be the answer to how to reduce lag in Sons of the Forest. Besides, it has a simple and clear interface which is quite easy for everyone to use.
Within just a few steps, you can fix Sons of the Forest lagging pc easily.
Step 1: Download LagoFast from its official website.
Step 2: Search for Sons of the Forest on the top of the interface.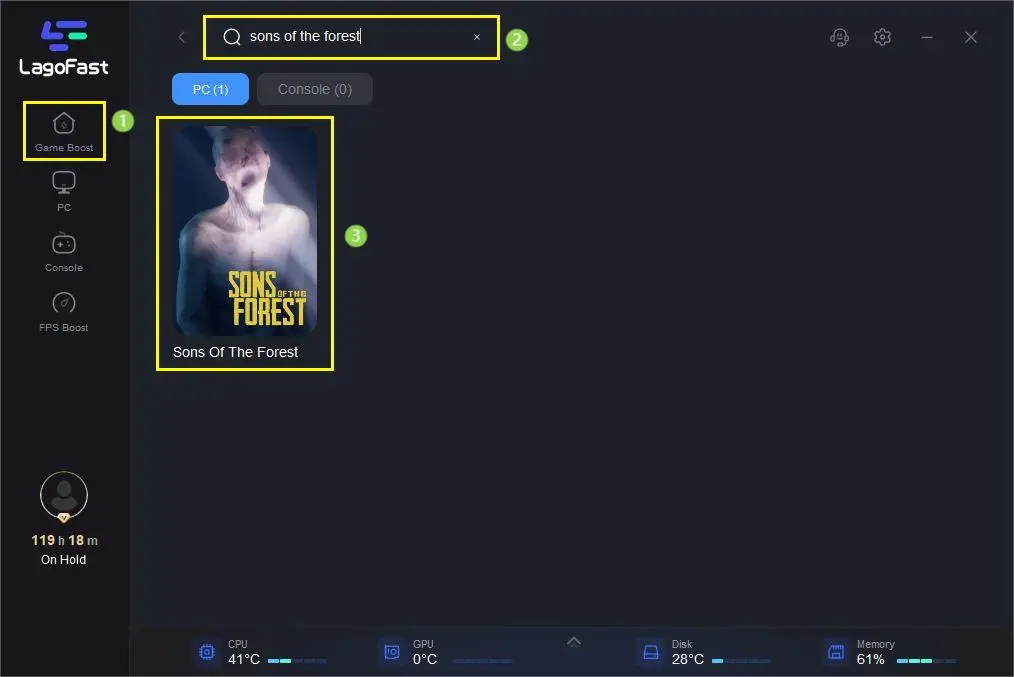 Step 3: Choose the server and node.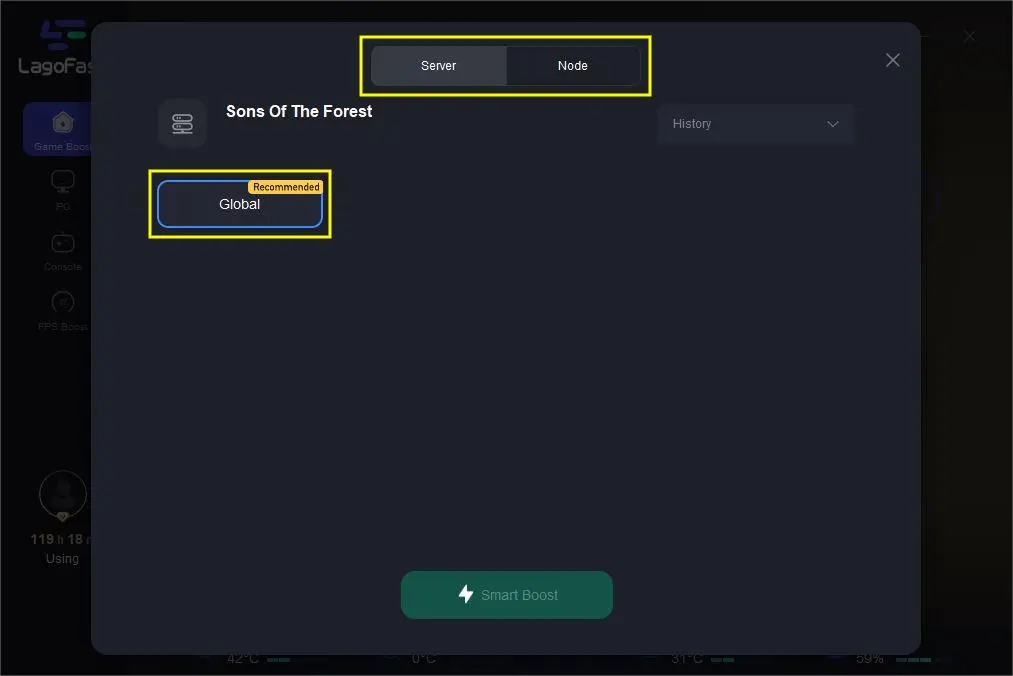 Step 4: Enjoy Sons of the Forest with no lag!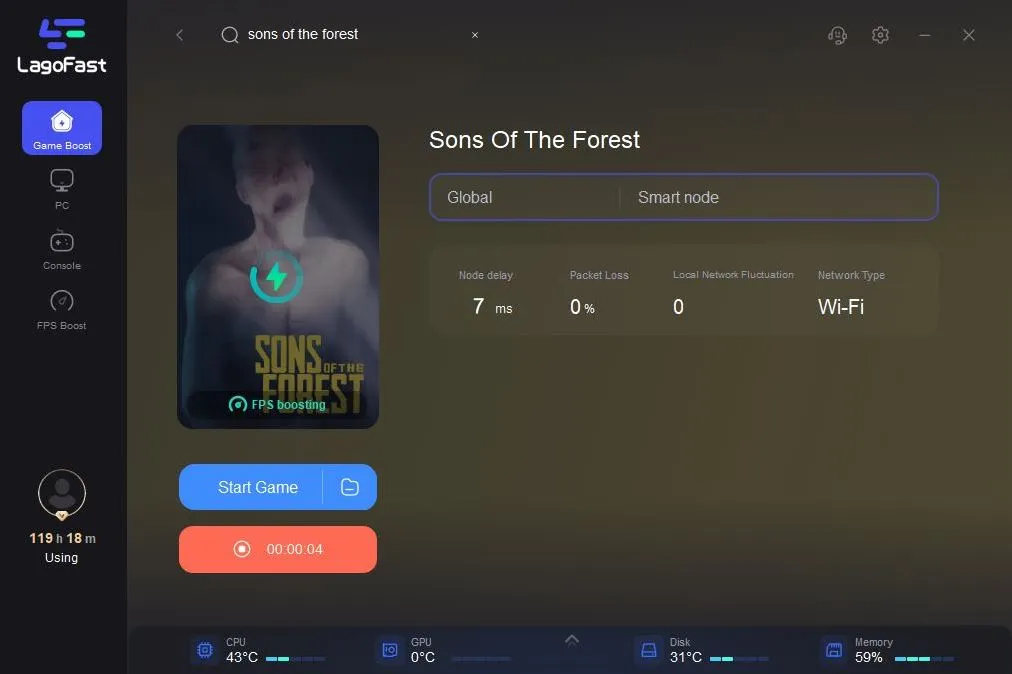 In addition, LagoFast has consideration for all its users. For instance, LagoFast only charges for the minutes that players actually use. This feature makes LagoFast a much better and more economic choice for players from around the world.
2. Update graphics drivers.
The graphics drivers are closely connected with the performance of a computer. If you update graphics drivers periodically, your computer may perform at its best level. Here are steps you should follow when you want to fix Sons of the Forest lag by updating graphics drivers.
Step 1: Right-click on the Start Menu to open up the Quick Access Menu.
Step 2: Click on Device Manager from the list.
Step 3: Now, double-click on the Display Adapters category to expand the list.
Step 4: Then right-click on the dedicated graphics card name.
Step 5: Select Update driver > Choose Search automatically for drivers.
Step 6: An update will automatically download and install the latest version if available.
Step 7: Once done, make sure to reboot your computer to change the effects.
This method is worth a try and it is good for your computer and all your games on it. Hopefully, this method will solve your problem.
3. Disable fullscreen optimizations.
Changing some settings on your computer may also lead to a positive result on Sons of the Forest and fix Sons of the Forest lagging. Disabling fullscreen optimizations may have such a positive effect. You can have a try!
Step 1: Locate the Sons of the Forest game directory.
Step 2: Find and right-click on the Sons of the Forest.exe file.
Step 3: Click on the Compatibility tab to select Properties.
Step 4: Checkmark the "Disable Full-Screen Optimizations" box.
Step 5: Now, click on the "Change high DPI settings" button.
Step 6: Checkmark the "Override high DPI scaling behavior" and select "Application" from the drop-down menu.
Step 7: Click on Apply and then OK to save changes.
This method proves to be helpful according to some Sons of the Forest players. It is worth a try. Maybe it will help you with Sons of the Forest lagging.
Conclusion
Sons of the Forest lag is extremely frustrating for players. But with the 3 methods we provided with you in this article, it should not be a problem. I suggest you try method 1 first because it really helps. Don't hesitate to download LagoFast now and enjoy your game!