Dead Island 2 is a popular action role-playing game that will be released on April 21, 2023. It is developed by Dambuster Studios and published by Deep Silver. Dead Island 2 is different from its predecessor because it takes place in the cities of Los Angeles and San Francisco.
What is Dead Island 2 lag and why did that happen?
When you play such a game that has attracted so much attention, you do not want it to be laggy. But from time to time, Dead Island 2 lagging issue occurs.
In video games, lag means the delay or latency between the action of the user and the reaction of the server. To put it in a nutshell, if Dead Island 2 lags, you will feel that your game is not smooth anymore because the server cannot send its reaction back.
If you are facing a Dead Island 2 lag issue, there might be something wrong with your Internet connection. Maybe it is overloaded or something. But don't worry, we will provide you with 3 ways to fix Dead Island 2 laggy issue.
1. Subscribe to a game accelerator, like LagoFast, to improve your network.
If you want to know how to reduce lag in Dead Island 2, LagoFast is definitely what you should download.
LagoFast is a revolutionary game accelerator for all players from all over the world. It has won a reputation for its worldwide exclusive routes and unique LFP protocol. LagoFast is a famous doctor for all game issues. Dead Island 2 lag spikes could not bother it at all.
LagoFast is also famous for its easy-to-use feature. Within 4 steps, you are able to fix the Dead Island 2 lag issue.
Step 1: Download LagoFast from its official website.
Step 2: Search for Dead Island 2 at the top of the interface.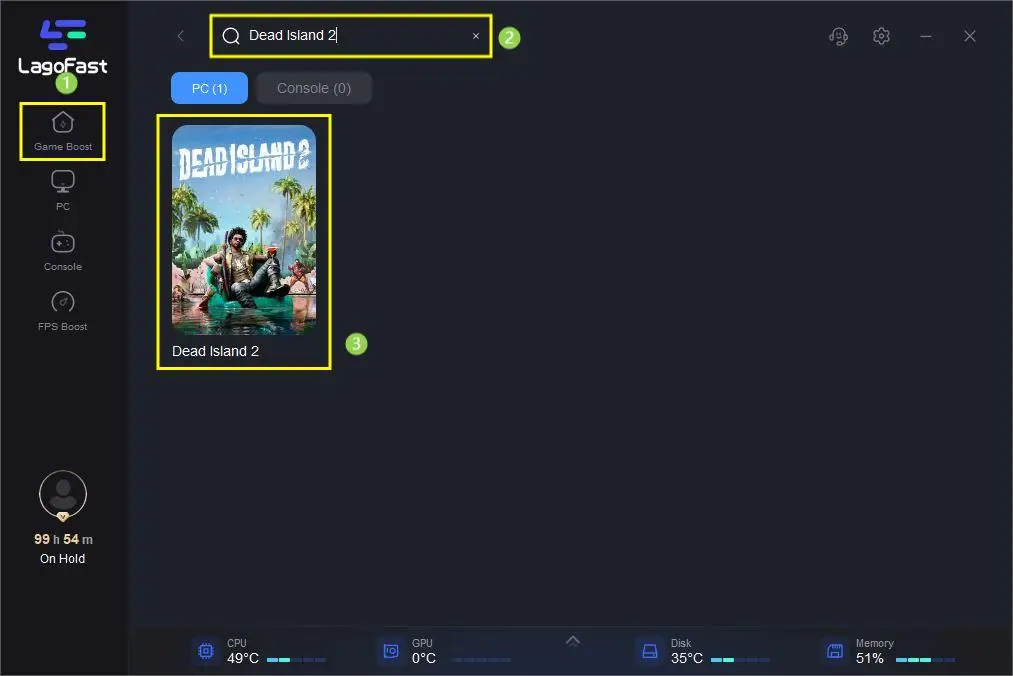 Step 3: Choose the server and node.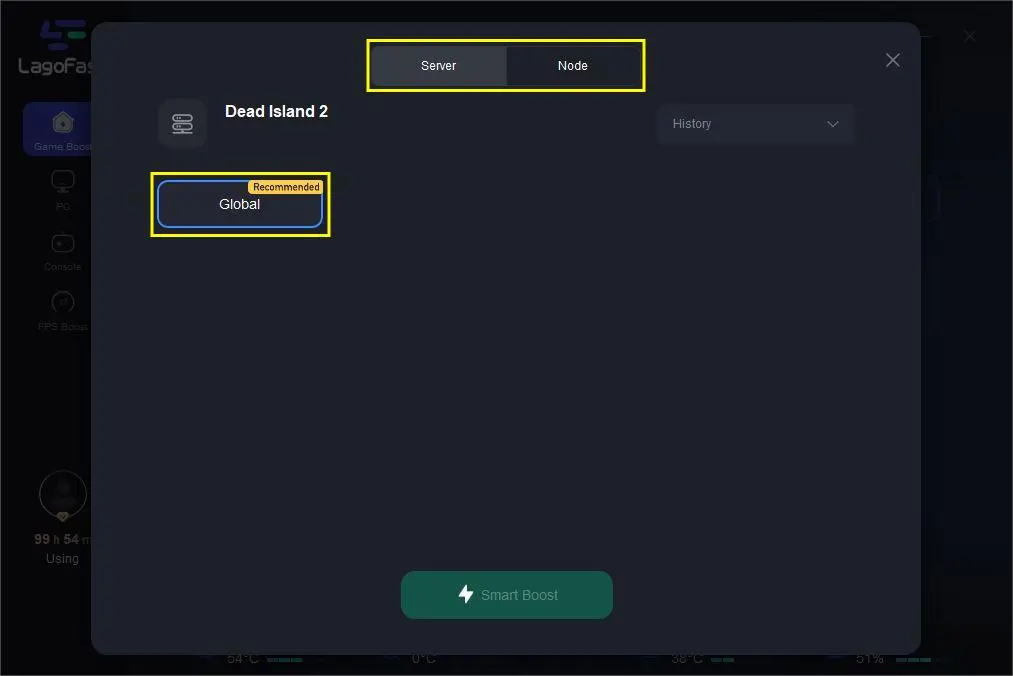 Step 4: Enjoy your game without lag!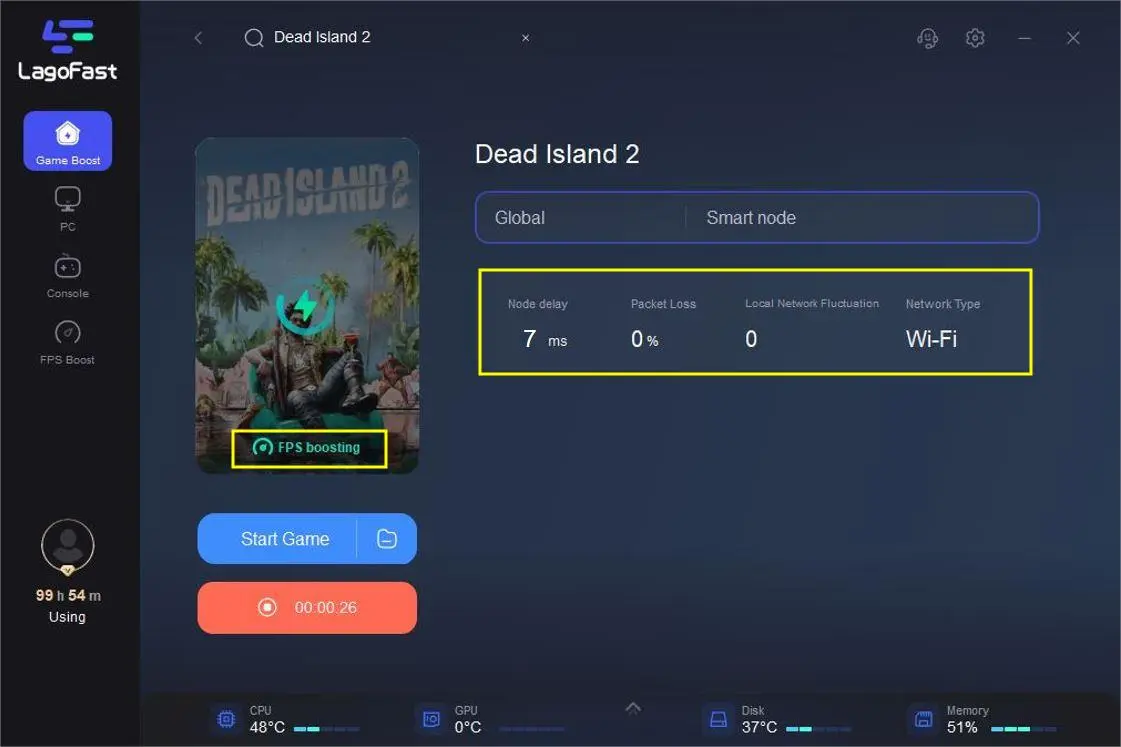 In addition, LagoFast has consideration for its users. For instance, users can stop acceleration whenever they want without worrying about being charged. LagoFast only charges you for the minutes that you actually used. That means LagoFast is always an economic choice for all the players.
LagoFast supports more than 1000 games and covers over 60 countries. You can accelerate almost every game you like wherever you are. Once you download LagoFast, you can always count on it.
Don't hesitate and download LagoFast now! I believe that Dead Island 2 lagging issue will disappear with the help of LagoFast!
2. Check your computer.
If you are experiencing Dead Island 2 lag problem, you can follow the steps to check your computer and solve it.
Step 1: Force Restart The Game: The game components might not have been loaded properly, so the game is not working properly on your system. You can open Task Manager and right click Dead Island 2 to end it.
Step 2: Upgrade The RAM: You can also upgrade the RAM on your system to troubleshoot the problem. When you upgrade your RAM with more than 8GB of RAM, the game will get more than enough resources to run properly, by which the issues will be resolved.
Step 3: Clean Temp Files: Those who have not deleted the temp files for a long time might also face the issue. If you don't know, the temp files contain the startup files of the system and the apps. Thus, we suggest you Open Run by pressing Windows and R, typing %temp%, then select all and delete.
Step 4: Restart Your PC: You can also try restarting the PC to resolve the lagging issue. There are chances that the issue might be occurring due to the issue of startup files. Thus, in this case, you have to restart the PC so that the minor bugs on the system might be fixed and you can resolve the issues you are facing with the game.
Hopefully, this method will help you with your Dead Island 2 lag issue.
3. Update the outdated drivers.
The outdated drivers may be a reason for Dead Island lag spikes. It is unlikely that the game would run properly on your computer if your drivers are outdated. So you can try to update your drivers. Here is how to do it:
Step 1: Open the Device Manager.
Step 2: Select the Display Adapters.
Step 3: Right-click on the graphics drivers.
Step 4: Select Update Driver.
Step 5: Wait for the completion and restart your computer.
This method might solve your lagging issue. You can have a try.
Conclusion
If you are looking for ways to address Dead Island 2 lag, this is exactly what you should read. I suggest you try LagoFast because it really helps. LagoFast can also deal with low FPS, packet loss and server down. Don't hesitate! Download it now and give it a shot!