With great anticipation among players, Halo Infinite has been released for a while. However, fans have constantly reported that there is serious Halo Infinite lag while gaming. Halo Infinite lag can be due to latency, FPS drop, and stuttering issues. To help players get rid of it, on this page, I'll tell you what is Halo Infinite lag, why is there a lag in Halo Infinite, and how to fix it. If you're interested, read on!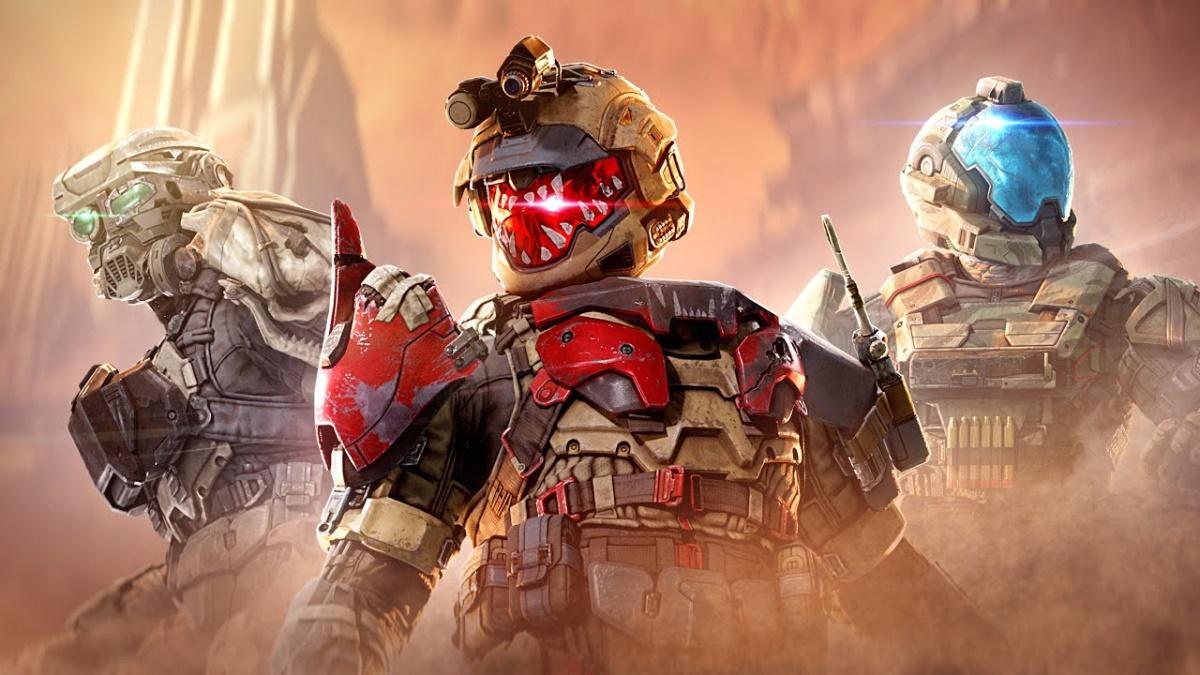 Part 1: What is Halo Infinite Lag?
Part 2: Why does Halo Infinite Lag Happen on PC?
Part 3: 5 Fixes to Solve Halo Infinite Lag
Part 4: Other Related Questions
What is Halo Infinite Lag?
First thing first, to find out the fixes for Halo Infinite lagging, it is important to understand the meaning of lag.
Lag is a curse for online gaming, but what exactly is it? The time it takes for a packet of information to travel across a network from the sender to the receiver is referred to as latency. We always prefer to call it lag, especially when it is noticeable. The less lag you experience, the less noticeable it is lag. The more lag you experience, the longer it takes a packet to cross the network.
To be more understandable, the glitching or stuttering you feel in gaming and the latency after you shoot someone can be called lag. In shooter games like Halo Infinite, lag is a common as well as tricky issue. Therefore, except for knowing the meaning of lag, we also have to know better about the causes of Halo Infinite lag on PC.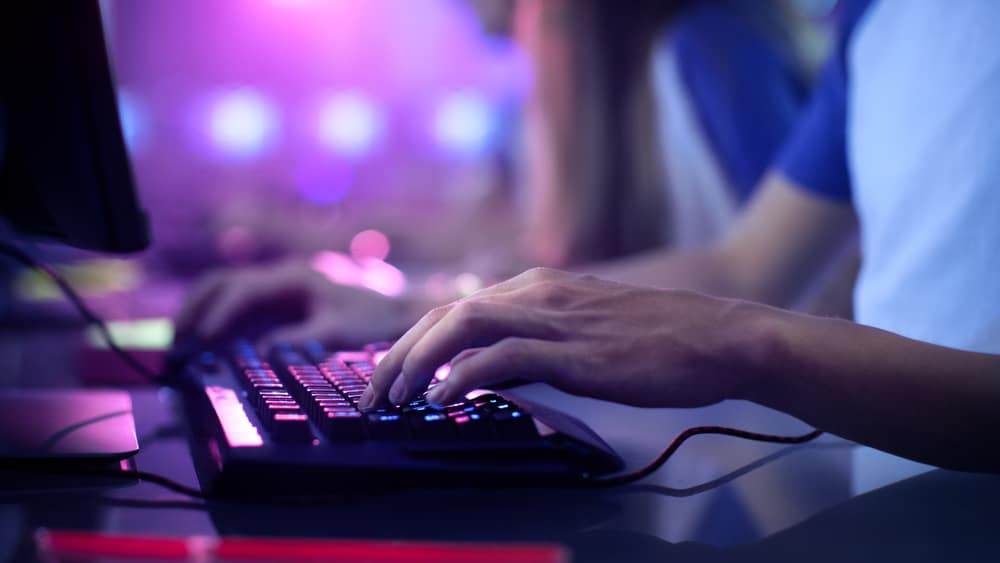 Why does Halo Infinite Lag Happen on PC?
So now we've understood that Halo Infinite lag is some sort of latency issue, but what causes lag and why is there Halo Infinite lag on PC? I've listed some of the most possible reasons for it:
Cause 1: An underperforming CPU
High CPU usage, which can lead to lag or even spikes in lag, can be brought on by an outdated, overheated, or slowly-operated CPU. In a nutshell, the CPU for a PC is like the heart of a human. The better it performs, the faster and smoother your PC runs.
You must perform a CPU stress test (free for Intel CPUs) and keep an eye on your AMD CPU using AMD's System Monitor to make sure it is functioning properly if you want to be sure that your computer's CPU is operating at full capacity.
Cause 2: Lack of RAM
Your computer may restart erratically, display a blue screen, or perform poorly if it has corrupted or insufficient RAM. Additionally, the system memory is unable to handle processes and services as required if RAM is damaged or corrupted. This causes a lag on your computer and of course, while gaming in Halo Infinite.
Cause 3: something wrong with your Internet connection
Halo Infinite Lagging, in some way, is a kind of connection issue. Therefore, it definitely has something to do with a poor network connection or troublesome network.
The internet is undoubtedly a crucial factor for gaming. But the lag in Halo Infinite can be caused for a variety of reasons, including poor signals, shaky lines, gateway problems, disconnections, and slow up- and download speeds.
The majority of the time, this occurs when installed software is downloading or uploading data while your OS is attempting to update or send data to the data center.
Additionally, an unstable connection like WiFi can greatly increase the possibility of lagging, while many gamers are used to playing games with WiFi nowadays.
Cause 4: an outdated graphics driver
Except for the above-mentioned causes, lag issues in Halo Infinite can also happen because of an outdated driver. The most important component of the gaming experience is the graphics card because it renders 3D graphics and calculates in-game physics. Therefore, you're very likely to face Halo Infinite lagging if the graphics driver is outdated or of low quality.
5 Fixes to Solve Halo Infinite Lag
After discussing the meaning of lag and the causes of Halo Infinite lag, it is time for us to reach our final goal —— fix it. Here are the 5 most effective fixes I've gathered for you.
Fix 1: Use a lag reducer LagoFast
When someone asks how to reduce lag in video games like Halo Infinite, the first thing that pops up in my mind is the very lag reducer —— LagoFast.
LagoFast is the expert in optimizing gamers' in-game experience, including fixing lag, reducing high ping, and boosting FPS. It has more than 8 years of experience and has received praises from worldwide players. Moreover, LagoFast has such a fair price. It not only provides a free 7-day service for new users but also supports Pay-per-minute. Users can stop charging whenever they want.
The features of LagoFast are as follows:
Support Pay-per-minute & 7-day free trial.
Capable of and experienced in fixing Halo Infinite lag.
Effective in reducing high ping, boosting FPS, and other game issues.
More than 8 years of experience
Self-developed technologies
Here's how to use LagoFast to reduce and fix Halo Infinite lag:
Step 1: Download LagoFast.
Step 2: Type Halo Infinite in the Search box and click on it among the result.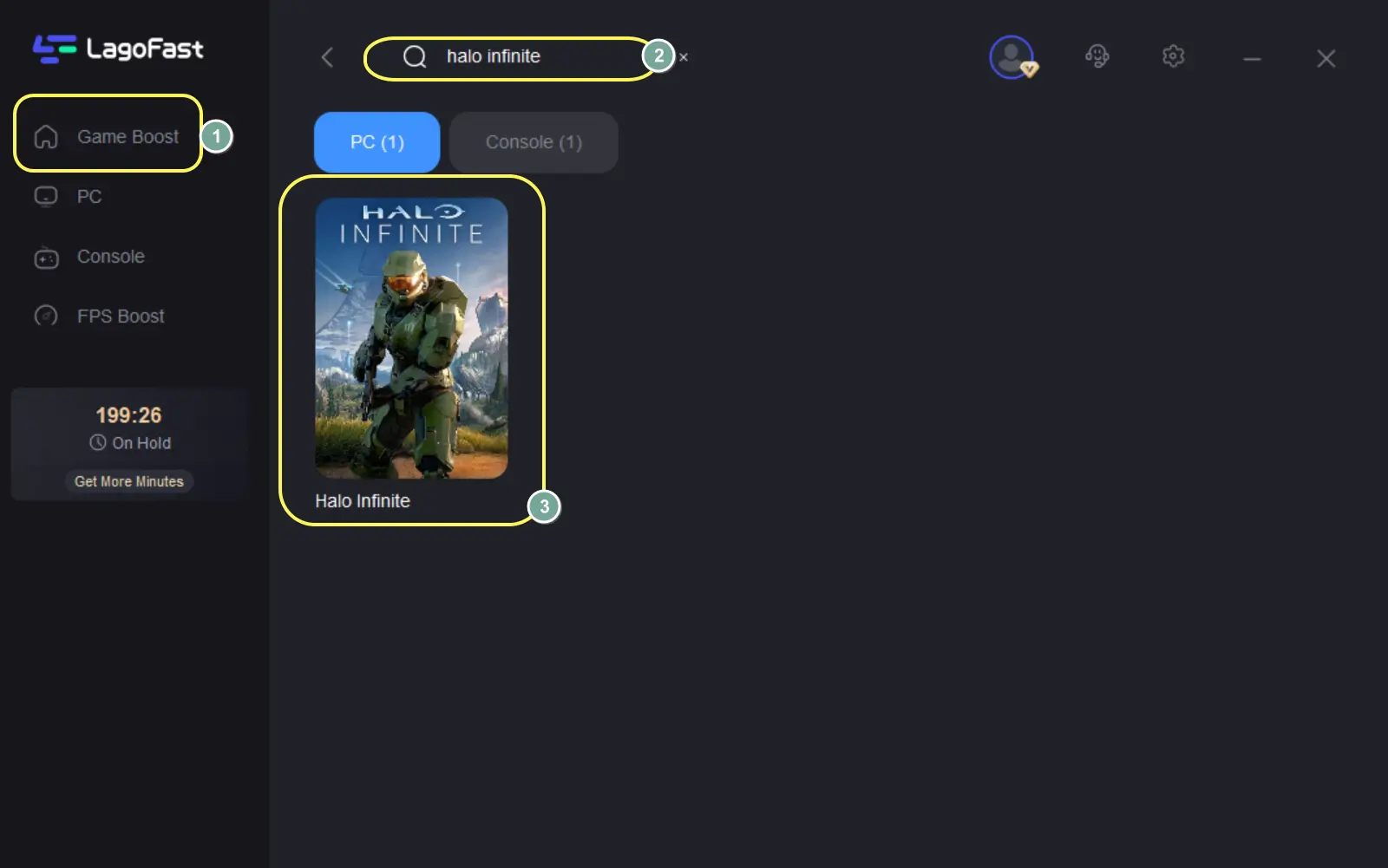 Step 3: Click on the Boost button to start optimization.
After doing so, LagoFast will automatically verify whether there are lag, high ping, or FPS drop issues while running Halo Infinite. If there are any issues, it'll fix them.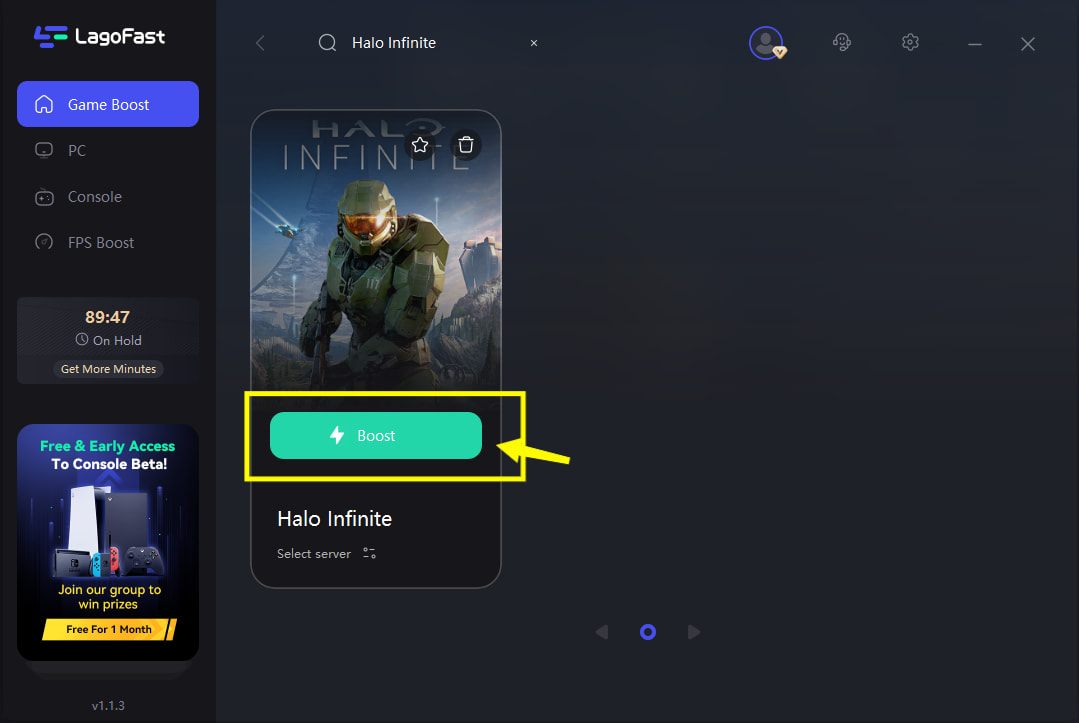 While boosting Halo Infinite, LagoFast will also show you a real-time ping rate & packet loss rate on the page.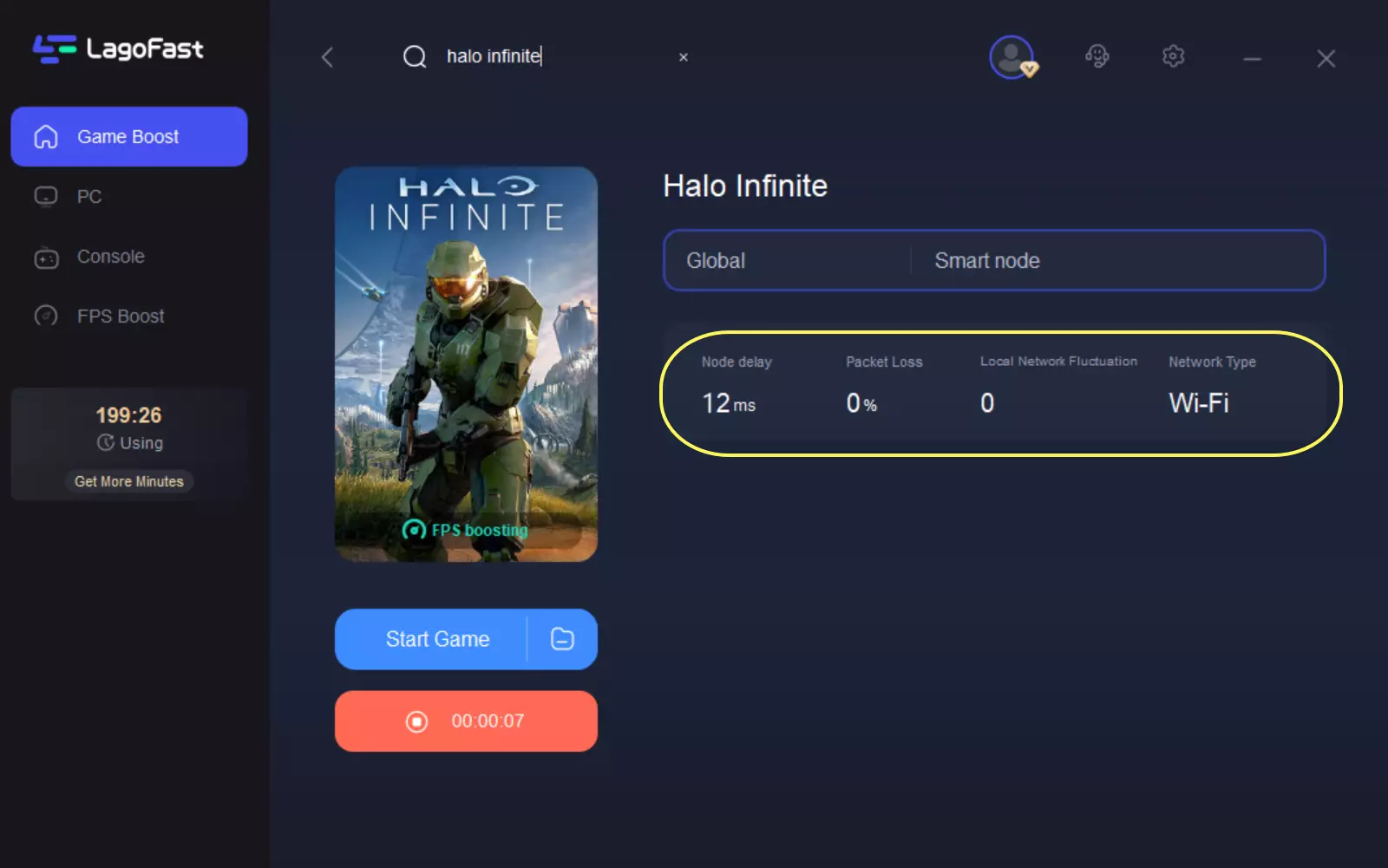 Fix2: Check your PC configuration
Halo Infinite lagging can also happen as a result of an incompatible PC configuration. If your specification doesn't fit the minimum requirement of Halo Infinite, then it is possible to face lag issues. Here are the minimum and recommended requirements, do a self-check to see whether your PC fit them or not.
Minimum Requirement
CPU: AMD FX-8370 or Intel i5-4440
RAM: 8 GB
OS: Windows 10 RS3 x64
Video Card: AMD Radeon RX 570 or Nvidia GeForce GTX 1050 Ti
Pixel Shader: 5.1
Vertex Shader: 5.1
Free Disk Space: 50 GB
Dedicated Video RAM: 4096 MB
Recommended Requirement
CPU: AMD Ryzen 7 3700X or Intel i7-9700k
RAM: 16 MB
OS: Windows 10 19H2 x64
Video Card: Radeon RX 5700 XT or Nvidia RTX 2070
Pixel Shader: 5.1
Vertex Shader: 5.1
Free Disk Space: 50 GB
Dedicated Video RAM: 8192 MB
Fix 3: Change to a wired network connection
We've known that in-game lag issues can be caused by a poor or unstable network connection. And nowadays people are always using WiFi because it's more convenient. However, along with its convenience comes high instability. If there is nothing wrong with Halo Infinite's game server, then lag issues are usually caused by using WiFi. Therefore, the key to solving it is to change your network connection from WiFi to a wired connection. Ethernet, for example, is a perfect choice. By using ethernet, your upload speed will be guaranteed, which means fluency and smoothness in-game.
Moreover, to have a faster network speed, you can contact your ISP and ask them to broaden your bandwidth.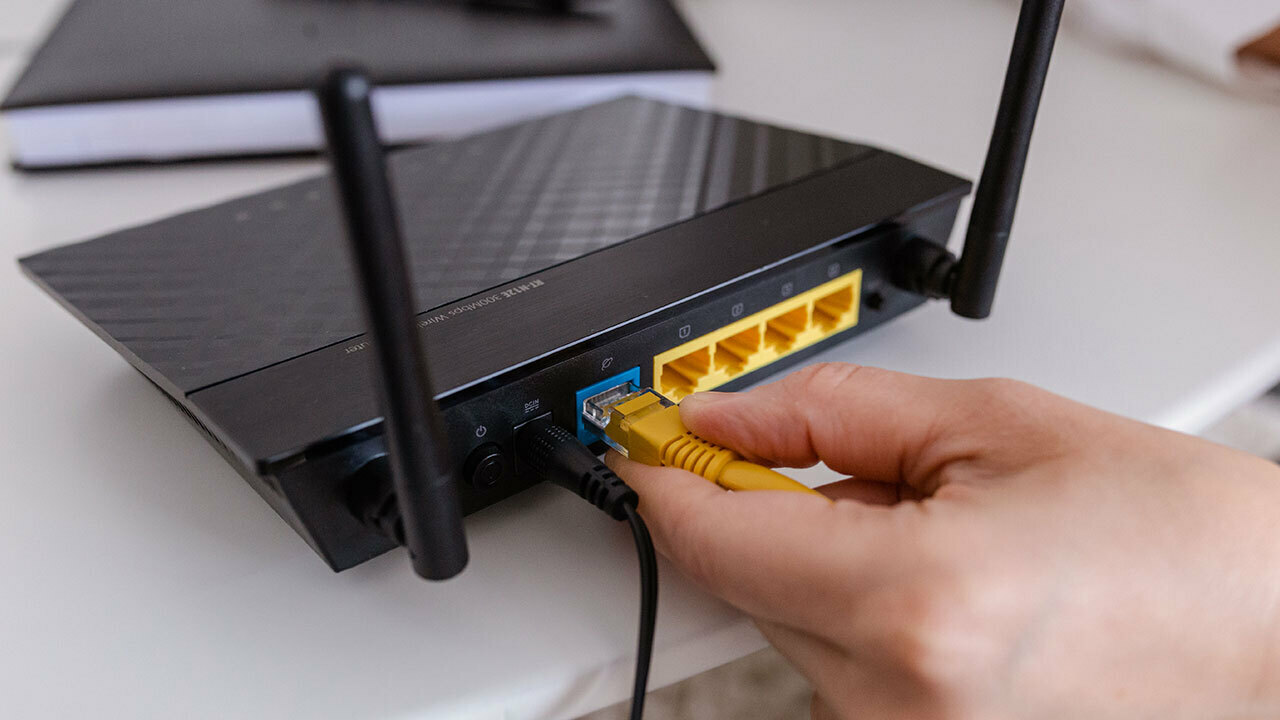 Fix 4: Change the graphics settings
Sometimes, lagging appears as stuttering. You can fix this by simply changing your
graphics settings to the performance mode. By doing so, your graphics performance can be increased hence a smoother in-game experience.
To do so:
Simply go to 'Halo Infinite'
Then Navigate to 'Settings'
Select 'Visual'
Click on 'Graphics Quality'
Turn on 'Performance'
Fix 5: Check on Halo Infinite patches & updates
If you are facing Halo Infinite lagging, don't immediately blame yourself, because sometimes it's not your fault. In some cases, lagging is a common issue, then it can be an in-game bug that should be fixed by Halo Infinite itself.
Therefore, don't forget to check the latest patches and updates that are released by Halo Infinite. The lag issues are very likely fixed in these new versions.
Also, lagging can also be caused by a corrupted game file. Try reinstalling Halo Infinite to see if it works.
Other Related Questions
What is Halo Infinite input lag?
Aside from low FPS and stuttering, input lag is a major issue that can ruin your entire gaming experience. The time between when you trigger an input controller (such as a mouse or keyboard) and when its effect is visible on the monitor screen is known as input lag or latency in video games. A different definition of input lag is the interval of time between the GPU sending a frame to the monitor and the monitor actually displaying it.
Milliseconds (ms) are used to measure input lag, though it can occasionally be expressed in frames as well. In casual games like Minecraft and Animal Crossing, input lag is not that noticeable, but it makes a big difference in competitive games like Halo Infinite and PUBG. You should always keep your Halo Infinite input lag at a low level because competitors with lower input lag can have a big advantage over you.
What are Halo Infinite lag spikes?
In general, players can modify their playstyle in response to severe lag. Many players engage in online gaming with a latency of more than 100 or even 150 milliseconds. They are taught to anticipate a second of delay and lead their shots at moving targets.
But if a player is accustomed to playing with a latency of 50 ms, their performance will suffer if the latency keeps spiking from 50 ms to 150 ms, even if it does so for a brief period of time. The same is true for response time.
Lag spikes are sudden increases in latency or response times to extremely high values. If you abruptly feel jitter or stuttering while playing Halo Infinite, then you're probably experiencing a Halo Infinite lag spike.