Epic Games publishes and develops Fortnite, a multiplayer online battle royale game. It has three modes, the co-op shooter survival game Fortnite: Save the World, in which up to four players fight zombie-like creatures that can build fortifications; the free-to-play battle royale game Fortnite Battle Royale, which supports up to 100 players; and the free-to-play sandbox game Fortnite: Creation, in which players create their own islands. The Battle Royale mode is one of the most popular. In this mode, up to 100 players are airdropped onto an island where they must find weapons and equipment. Each player begins with no weapons and only a pickaxe. Players can demolish buildings and other objects with the pickaxe to collect building materials. But, like any other video game, Fortnite suffers from lag, and many players complain: Why is my Fortnite lagging? Following that, we'll go over the main causes of Fortnite lag and how to fix it. And we highly recommend LagoFast as your best gaming assistant.
Part 1: How to Fix Fortnite Lag?
Part 3: Why is My Fortnite Lagging?
How to Fix Fortnite Lag?
Fortnite is extremely popular. Over 100 million people have signed up for the game, which means tens of thousands of people could be online at any time. While this adds to the game's enjoyment, it also means that such a large number of players can lead to overcrowded servers, causing the game to lag. Following that, we'll show you how to resolve the Fortnite lag issue.
Use LagoFast – the best Fortnite assistant: If you're frustrated by not knowing how to fix your Fortnite lag, LagoFast should be your first choice. It was created by a team with over 8 years of professional experience and is capable of solving all types of game problems flawlessly. Allow me to persuade you with the following arguments: To begin with, it can improve your gaming network problems by utilizing industry leading data transfer protocols, and its powerful compatibility can solve a wide range of tricky network conditions. Second, LagoFast displays real-time network diagnostics while connecting you to the network node with the lowest ping value. Then, with exclusive routes in over 60 countries, you can use LagoFast anywhere, anytime. Don't waste your time with free game boosters that require countless file downloads and time-consuming operations! You'll be on your way to the championship in just four steps!
Here is the summary of LagoFast features:
Free trial
Support Pay-Per-Minute, wallet-friendly!
More than 8 years of data transmission experience
Easy to use, boost with only one-click
Exclusive routes in over 60 countries
Start boost Fortnite in only 4 steps:
Step 1: Download LagoFast.
Step 2: Type " fortnite" in the Search box and click it.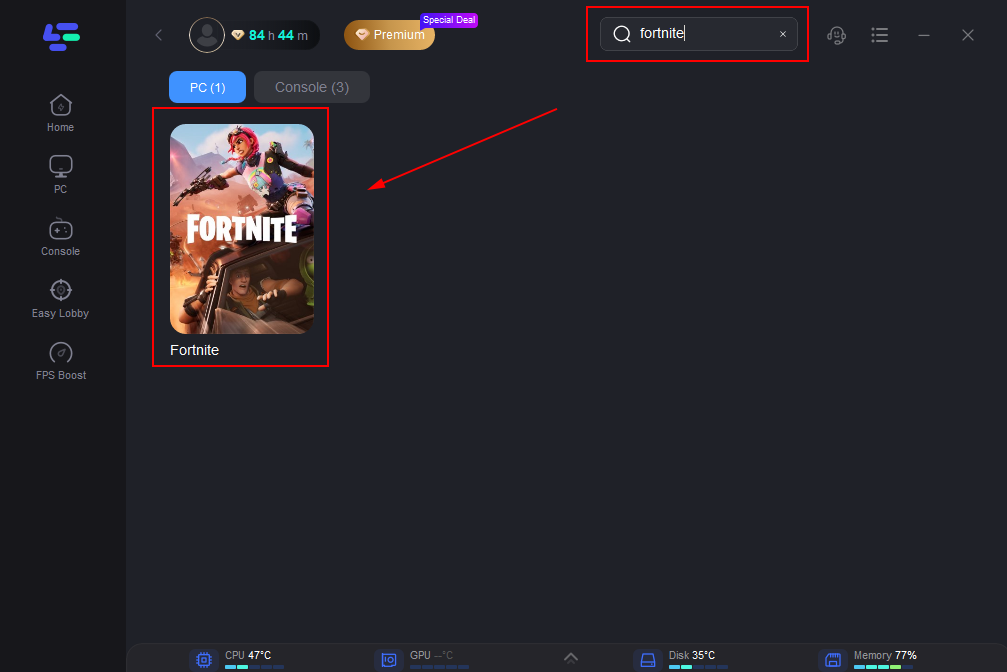 Step 3: Choose the server.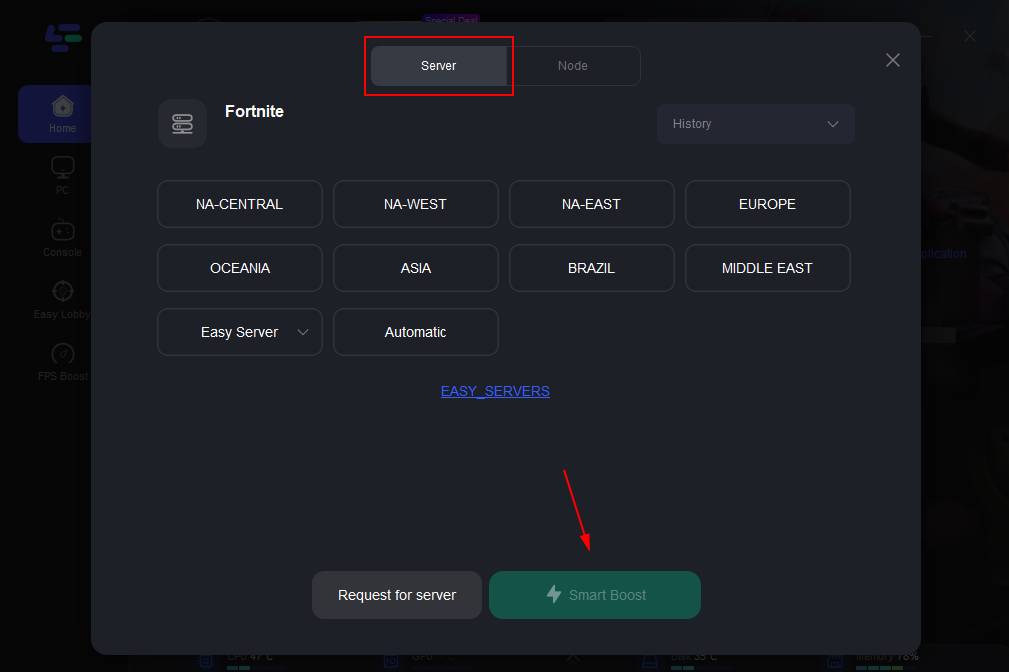 Step 4: Only you should do is click the Boost button to start boosting.
This page displays your real-time ping rate and packet loss rate about Fortnite.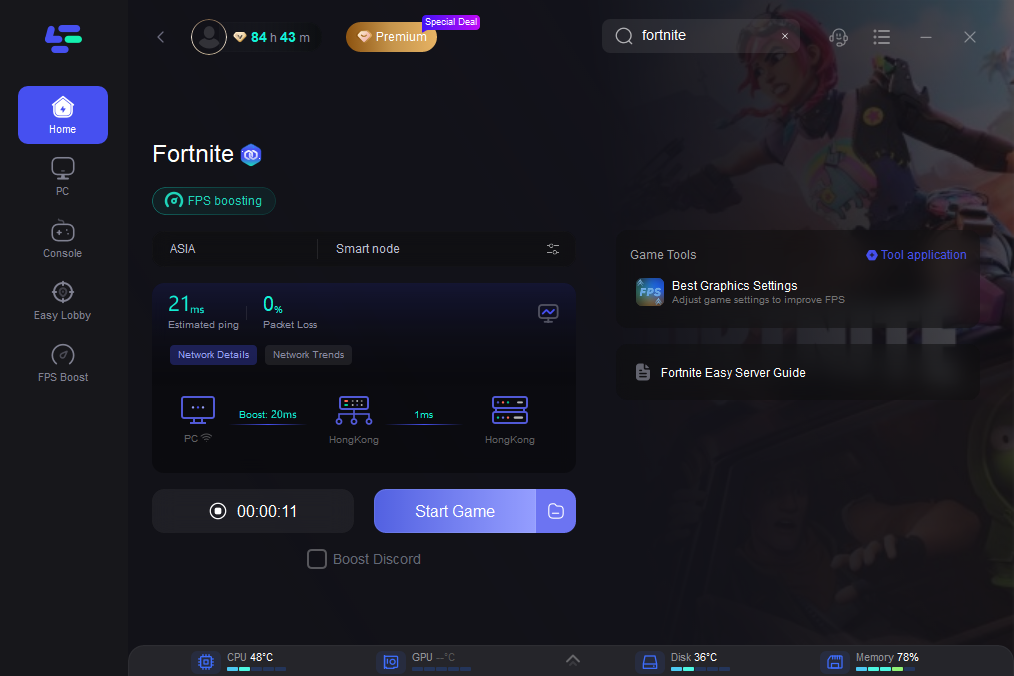 What's more, you can click the FPS options according to your own needs to get a game that suits you better. To accomplish this:
Step 1: Select the FPS Boost tab on the left of the desktop.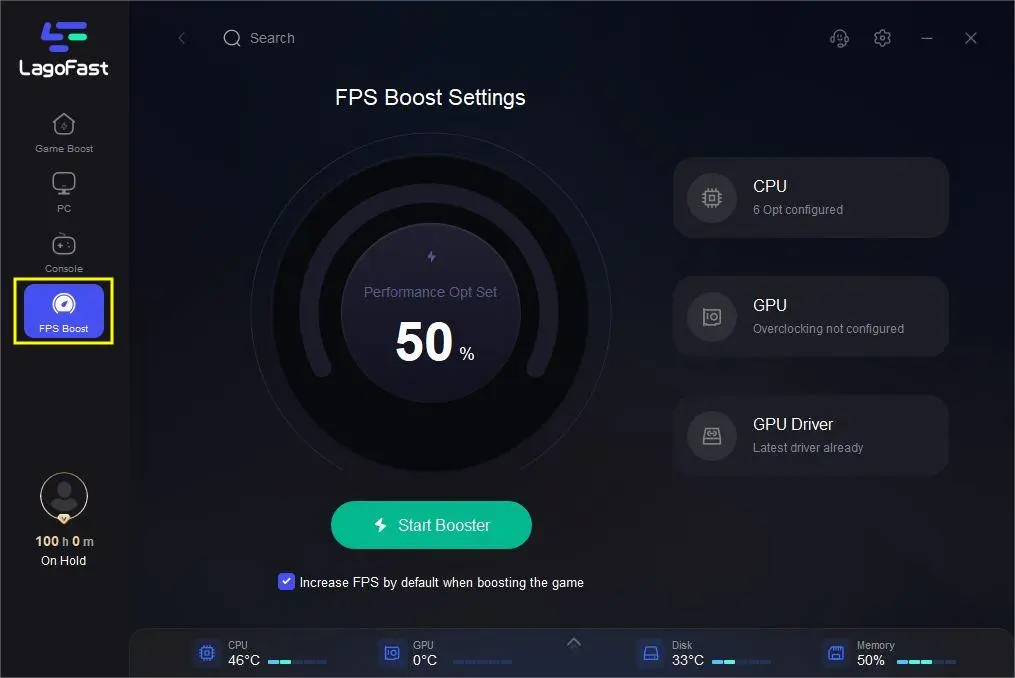 Step 2: Click on the settings according to your need.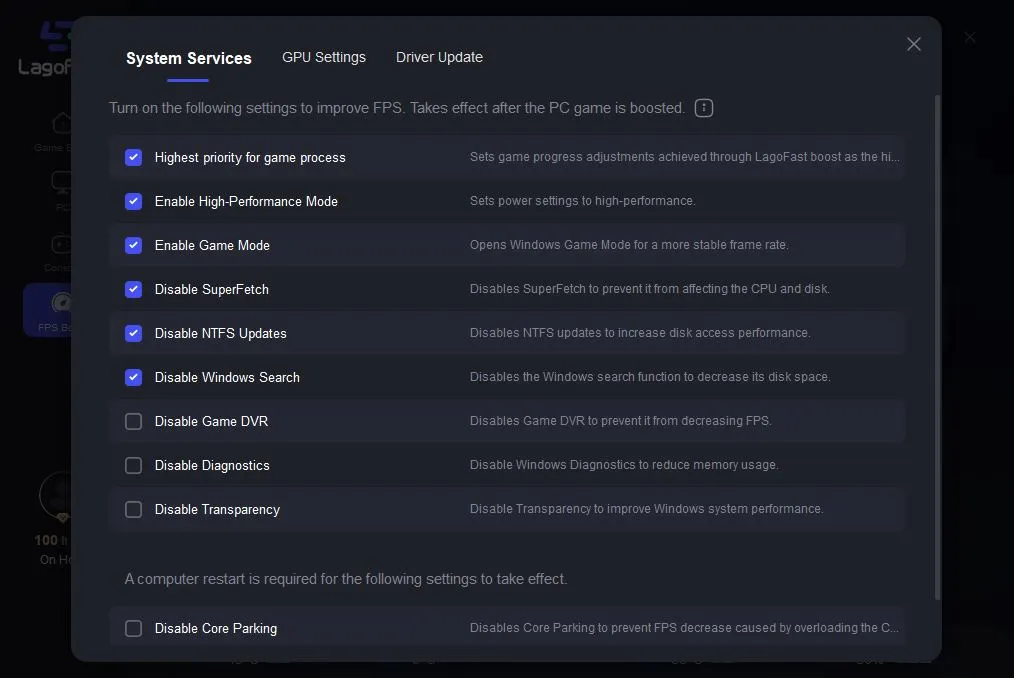 Using wired networks: We've all heard that Wi-Fi is a fantastic invention. Wireless networks, on the other hand, are easily disrupted and extremely unstable. To exaggerate, if you have a thick wall between your computer and the router, the Wi-Fi signal will become very weak. As a result, we recommend that you use a wired network connection because it is more stable and will not be disrupted. Furthermore, you are not required to share the limited network data with other devices. Fortnite lag is easily resolved in this manner.
Close background apps: Many application processes run in the background to keep your computer running properly. During the game, we also use chat software to communicate with friends and the browser to search for information. However, they all consume a significant amount of CPU resources and divert a portion of the network data. Open Task Manager and terminate those non-systematic resource-consuming application processes.
Whitelist Fortnite: Firewalls and anti-virus software scan our computers on a regular basis for malicious software. However, it is sometimes possible to overprotect and treat Fortnite as a virus, monitoring or even restricting its network activity. If Fortnite is whitelisted, this layer of restriction is removed, and Fortnite lag is eliminated.
Check the system: Game developers display the minimum system requirements along with the release of the game in order to allow players' computers to showcase their well-designed games. You can find the minimum system requirements and recommended system requirements on the game's download page. When your computer just meets the minimum system requirements, Fortnite can run properly at lower settings. And when your computer meets the recommended system requirements, the game will run smoothly with beautiful picture quality, giving you a perfect gaming experience.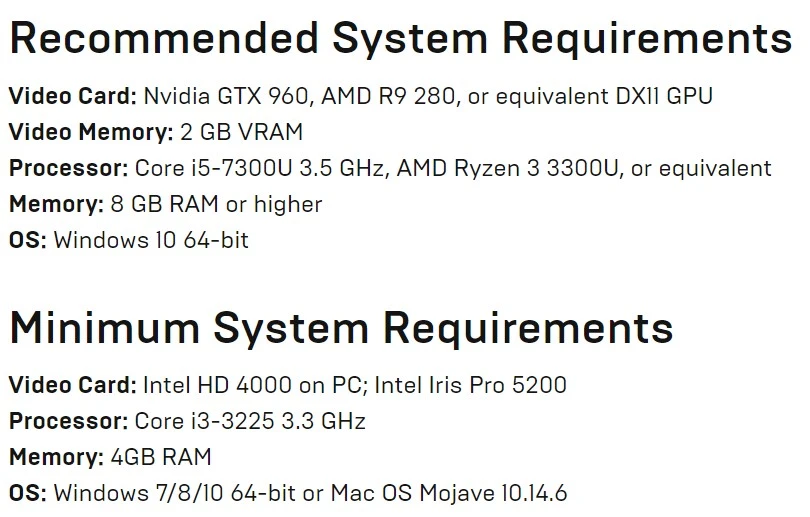 What is Lag?
What does lag mean? A lag is the time difference between the execution of a task and its result, or the slow response of a computer. In fact, high ping causes a delay or speed reduction. In video games, high latency can cause lag. It has a negative impact on game performance, causing the game to freeze or even crash. When your ping becomes so high that it interferes with other players' gameplay, the server will disconnect you. This can be caused by a variety of factors, including the central processing unit (CPU), graphics card (GPU), or lower system components (RAM).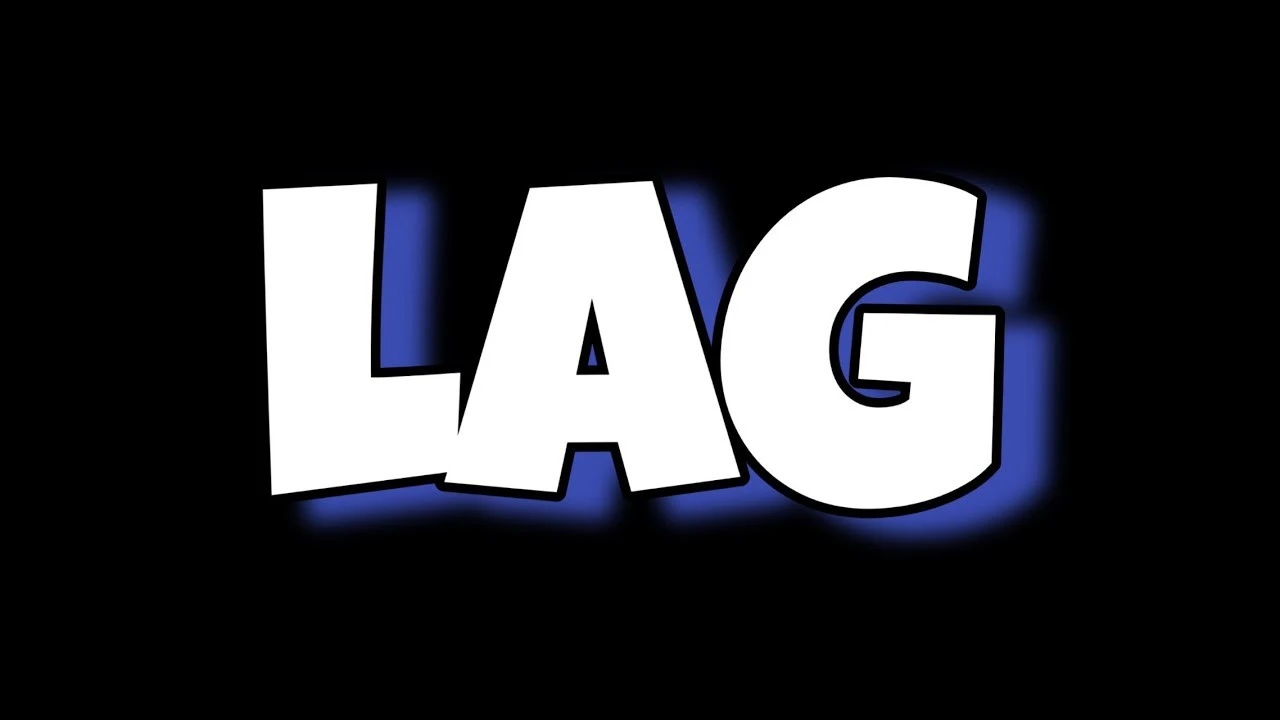 Why is My Fortnite Lagging?
There are many reasons that can cause Fortnite lag, possibly computer hardware problems, such as RAM and CPU problems, or software problems. We have listed some of the common causes of lag.
Low upload speed: The download speed is how quickly you can get data from the server, and the upload speed is how quickly you can send data to the outside world. For online games, upload speed is more important, and the ping value is affected by it. When internet service providers discuss network speed, they frequently mention download speed, but the maximum upload speed is often much Firewall settings: When the game is flagged as potentially dangerous software, the firewall checks the packets sent and received by the computer, wasting a lot of time. Although these times are measured in milliseconds, they can also slow down Internet connection speed, causing Fortnite lag.
Too far from the server: The physical distance between your computer and the server may be considered a key factor influencing game smoothness. For example, players who attempt to connect to a server in another country have a higher ping value than players who connect to a server in their own country.
Network driver issues: Network driver is responsible for all network related network issues. So when your network driver is too old, too old or missing, Fortnite will lag or fail to connect to the network properly.