Minecraft is a seminal sandbox game, one of the world's most unique and inventive games. Players in this game have access to a wide range of props that they can use to construct or survive. This game has gained popularity all around the world because it offers players an infinite environment to explore at their leisure. The main goal of the online game is to provide players the freedom to explore, engage with, and alter a world that is dynamically generated from several cubes of 1 m3. Gathering ores, battling dangerous animals, and gathering other in-game resources to create new cubes and tools are all included in the game. On several multiplayer servers or single-player maps, an open game option enables players to construct structures and artistic works. However, many in-game issues like low FPS or FPS drop are complained about by players of Minecraft. This article will introduce you to the top-rank FPS booster LagoFast for Minecraft.
Part 1: Why Do You Need an FPS Booster for Minecraft?
Part 2: LagoFast —— The Best FPS Booster for Minecraft
Part 3: Other Recommended FPS Booster for Minecraft
Why Do You Need an FPS Booster for Minecraft?
Increasing your Minecraft FPS and reducing network lag are the two main changes you should concentrate on making if you want to play Minecraft to its fullest potential.
Both goals are great. Your game will have fluent animation and smooth images thanks to an FPS boost: Gameplay that is jerky and slow is over. Less latency, on the other hand, means that when you're playing online, your mouse clicks and inputs are registered without any discernible delay.
How then do you get Minecraft to operate smoothly on your computer? By optimizing your video and software settings, repairing a shaky internet connection, and updating the necessary hardware.
However, these are hard to achieve by yourself. This is why you need a professional FPS booster for Minecraft. It can help you automatically boost Minecraft FPS on PC and eliminate unwanted FPS drops.
LagoFast —— The Best FPS Booster for Minecraft
If you ask me what is the best FPS booster for Minecraft, my answer will always be LagoFast for its professionality and stability. The 8-year experience of LagoFast has given it the capability to solve all kinds of in-game issues for players and offer them the ultimate FPS boost service. Why is LagoFast so confident and has made the way to becoming the best FPS booster? The reason is that LagoFast has made a great effort to independently develop a unique game data transmission protocol and an advanced FPS boost function. Moreover, it has a Pay-per-Minute plan and a free trial for new users. The monthly plan is also the lowest among the same-level products.
The features of LagoFast are as follows:
More than 8 years of experience
Give players better Minecraft FPS
Unique game data transmission protocol
Easy-to-use & Effective
Support a Pay-per-Minute plan & a free trial
Supports 1000+ popular games.
Here's how to use LagoFast:
Step 1: Download LagoFast.
Step 2: Click on "FPS Boost" on the left side.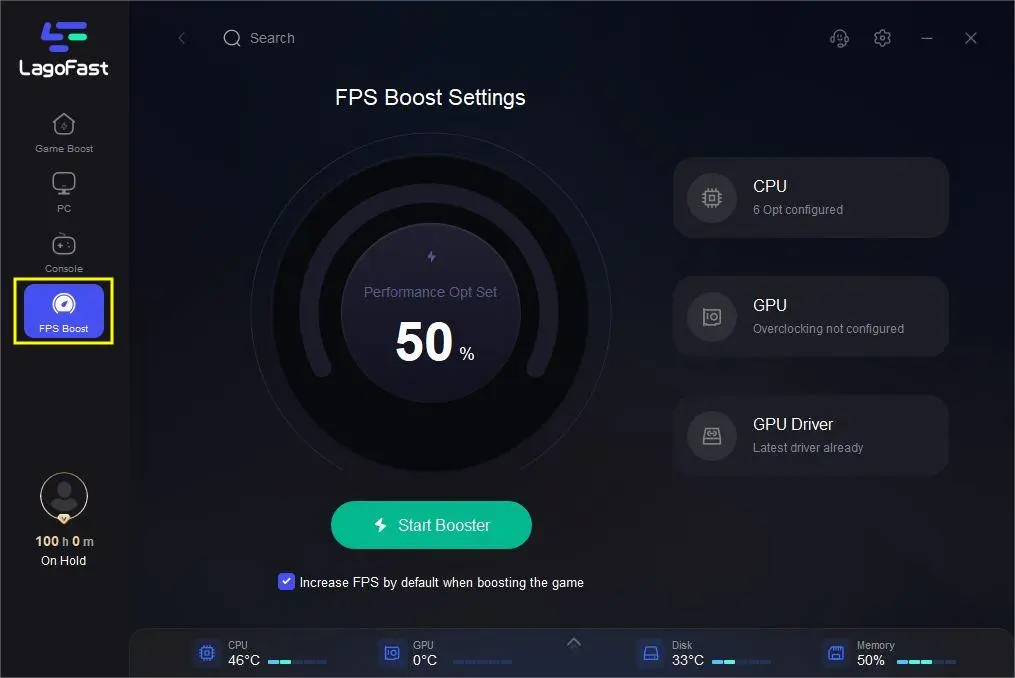 Step 3: Click "CPU Optimization" on the FPS Boost page and choose the settings that you want to open.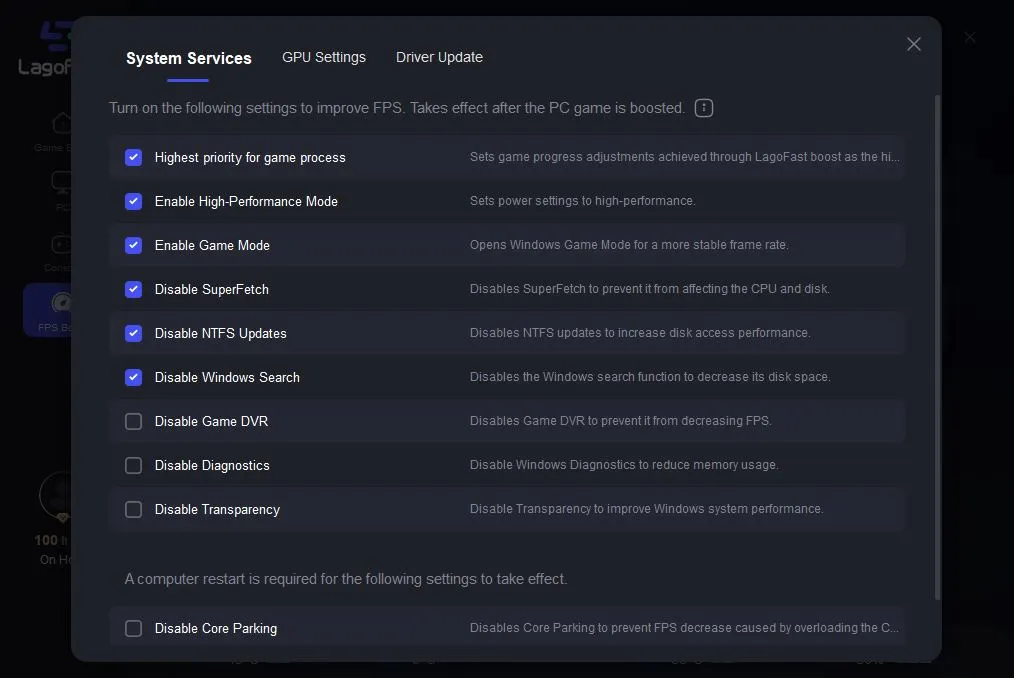 Step 4: Click "GPU Settings" on the FPS Boost page.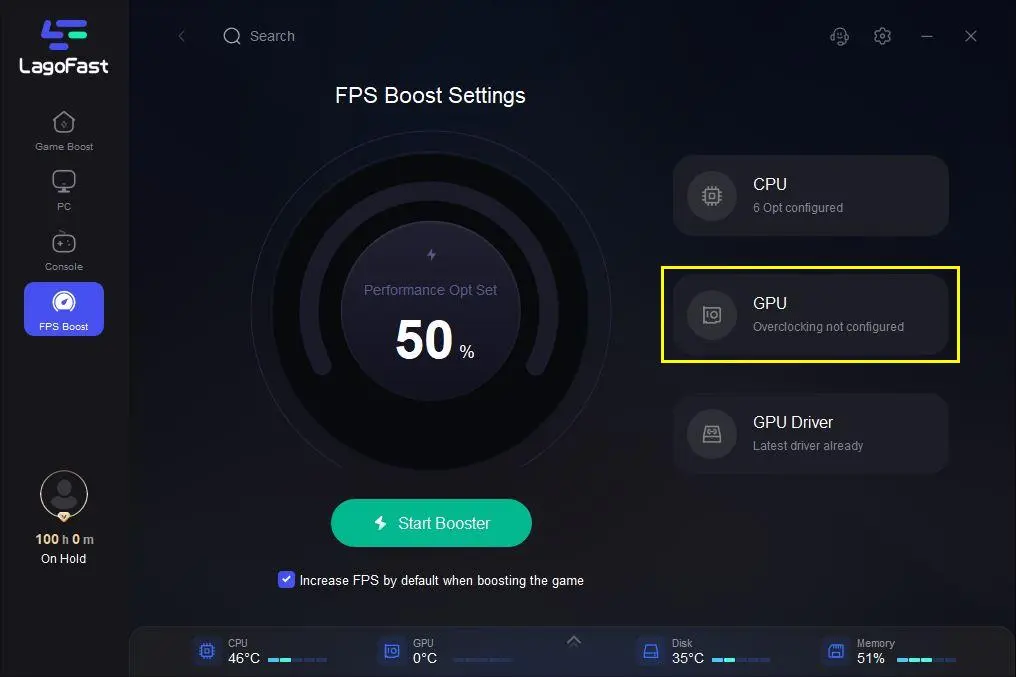 Step 5: Slide to choose your overclocking level in the first bar and tick "Enable GPU Boost" in the second bar.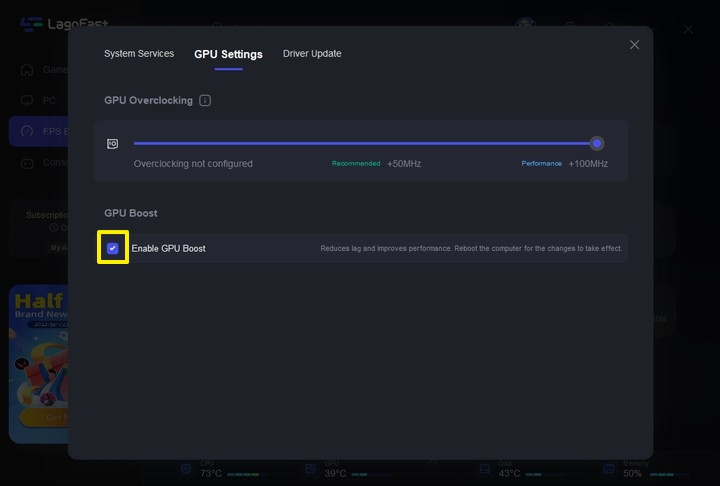 Step 6: Click "GPU Driver" on the FPS Boost page to check your GUP Driver updating version.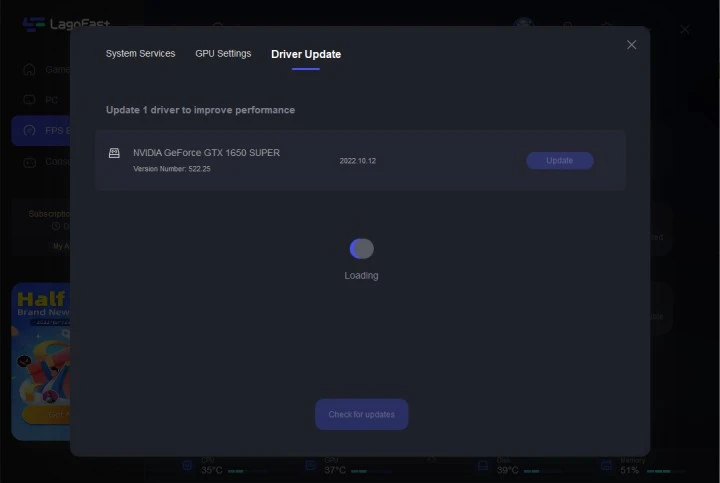 At last, you need to return to the FPS Boost page, and clicking "Start Booster" is OK.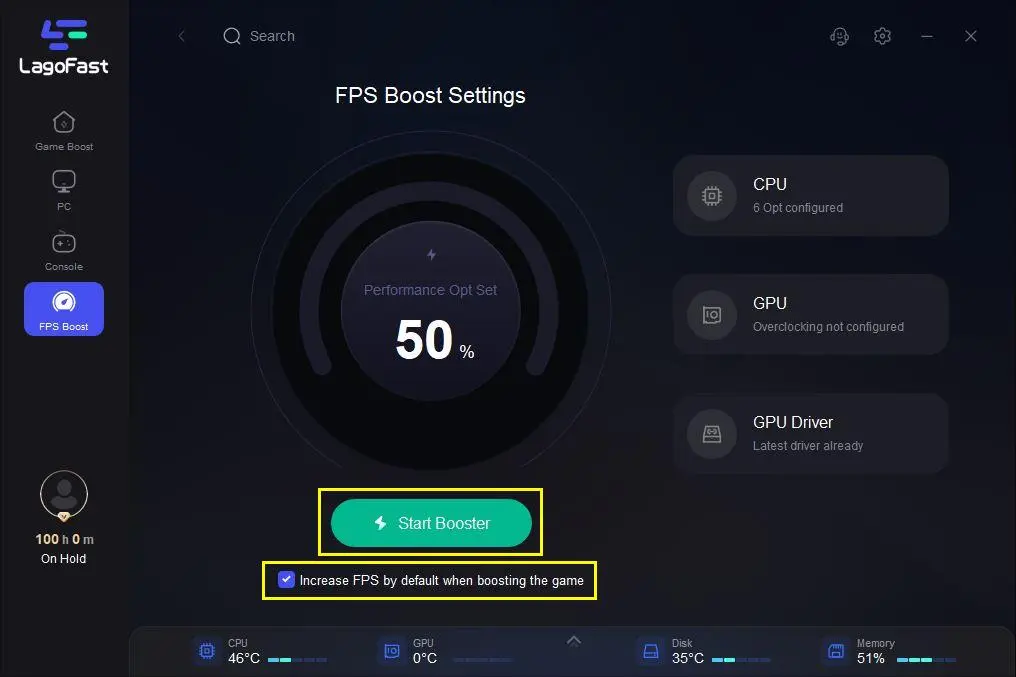 To get to know more about why is Minecraft so laggy, check this article.
Besides, you can also use the Game Boost function of LagoFast to optimize your Minecraft in-game performance.
To do so:
Step 1: Download LagoFast.
Step 2: Search Minecraft in the Search Box and Select Minecraft in the search results.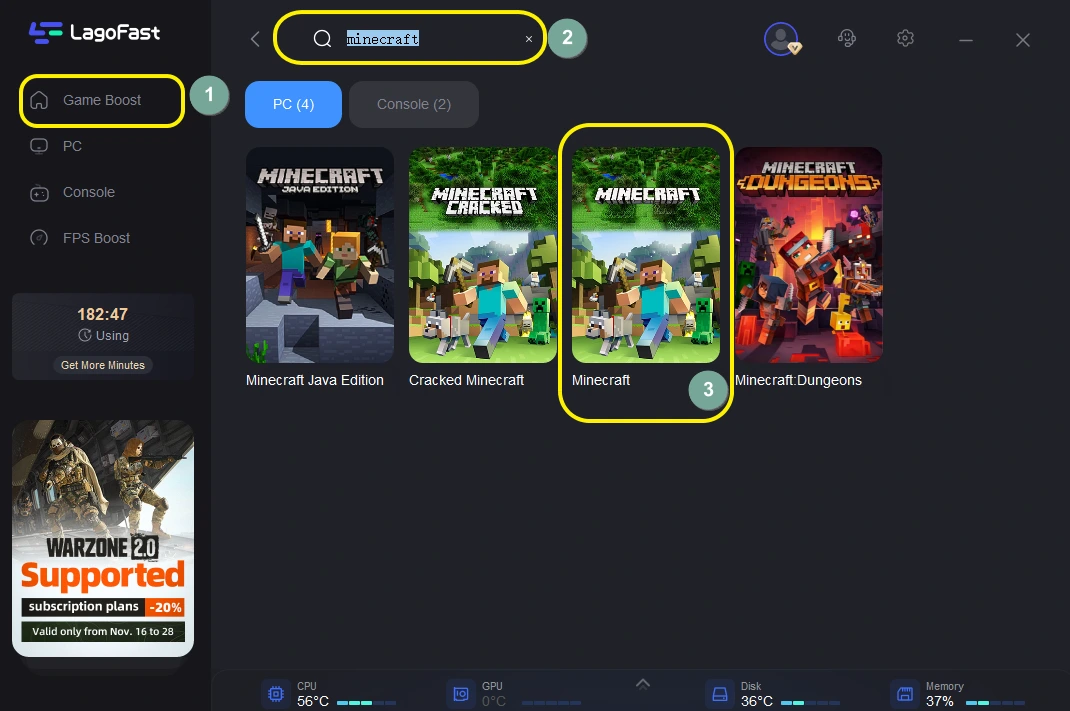 Step 3: Click on the Boost button to start optimizing. (You can also monitor your real-time ping & packet loss rate on this page, which are highly connected to FPS performance.)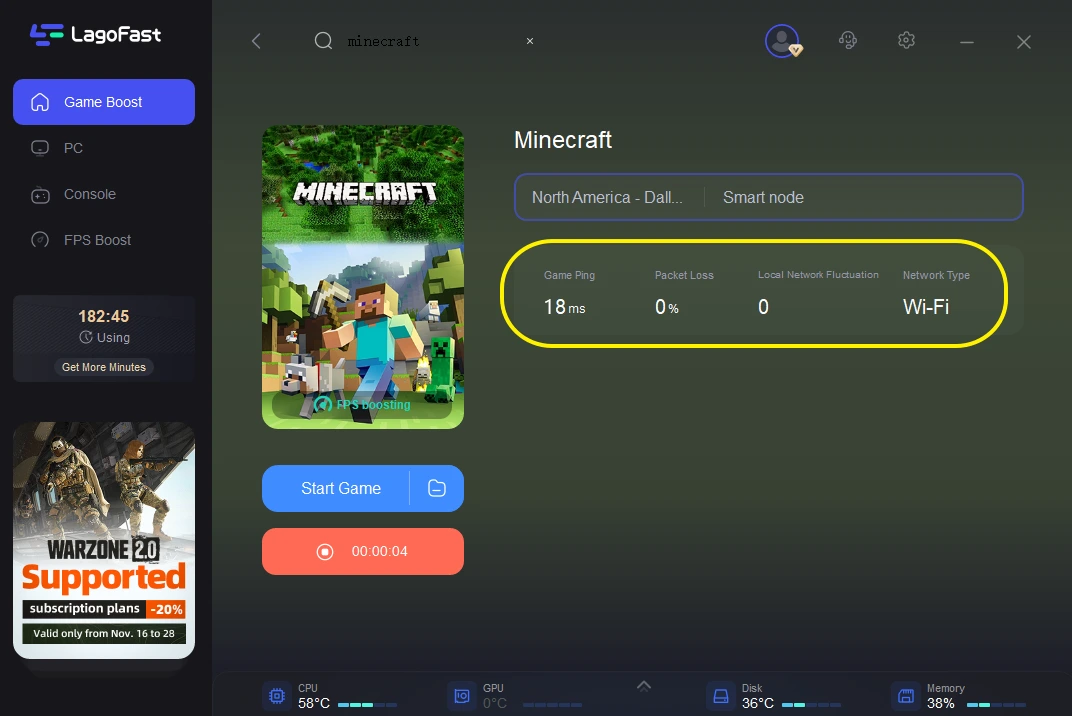 Other Recommended FPS Booster for Minecraft
Except for LagoFast, there are also some other FPS boosters that are worth a try. I'll introduce them to you one by one in the following part.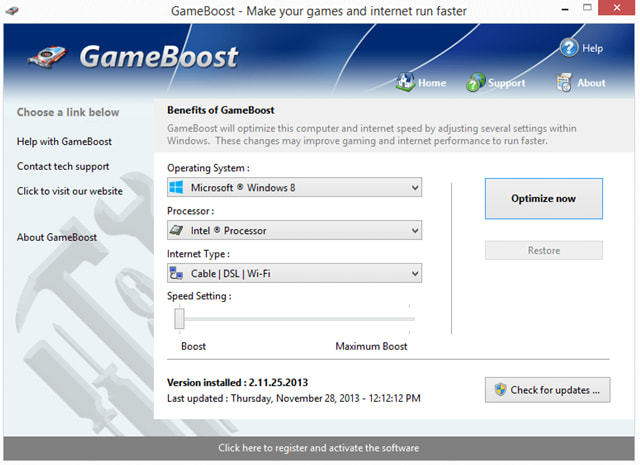 PGware's GameBoost has a straightforward and easy-to-use UI. By controlling and removing background processes, it aids in enhancing the PC's overall performance. Higher frame rates are provided, and it enhances gaming overall.
It lacks several essential capabilities, though, including a dedicated defragmenter and driver updater, which are practically required. GameBoost is among the top game boosters for Minecraft in 2022 if you can live with a few drawbacks.
Pros:
Boost in-game FPS
Automatically close up background apps
Cons:
Unable to defrag the system
No Driver Updater
Doesn't improve network speed
Price: Free

In the gaming industry, Razer is a well-known name that creates high-end gaming products. Razer boasts of its software, "Cortex is fantastic for someone that doesn't have a monster PC!" because it was created to optimize system performance.
Razer Cortex is a powerful free FPS Booster for Minecraft. It comes with a variety of tools to manage background activities and clean up rubbish and leftover files to improve system efficiency and PC gaming.
The software is fun to use because of its modern graphical interface. Unquestionably, one of the top game boosters on the market is the Razer Cortex.
Pros:
Free to Use
Automatic garbage cleaning
Excellent Graphical Interface
Effective Control of Background Investigations
Cons:
Does not defragment the system.
Only accessible on Windows
Price: Free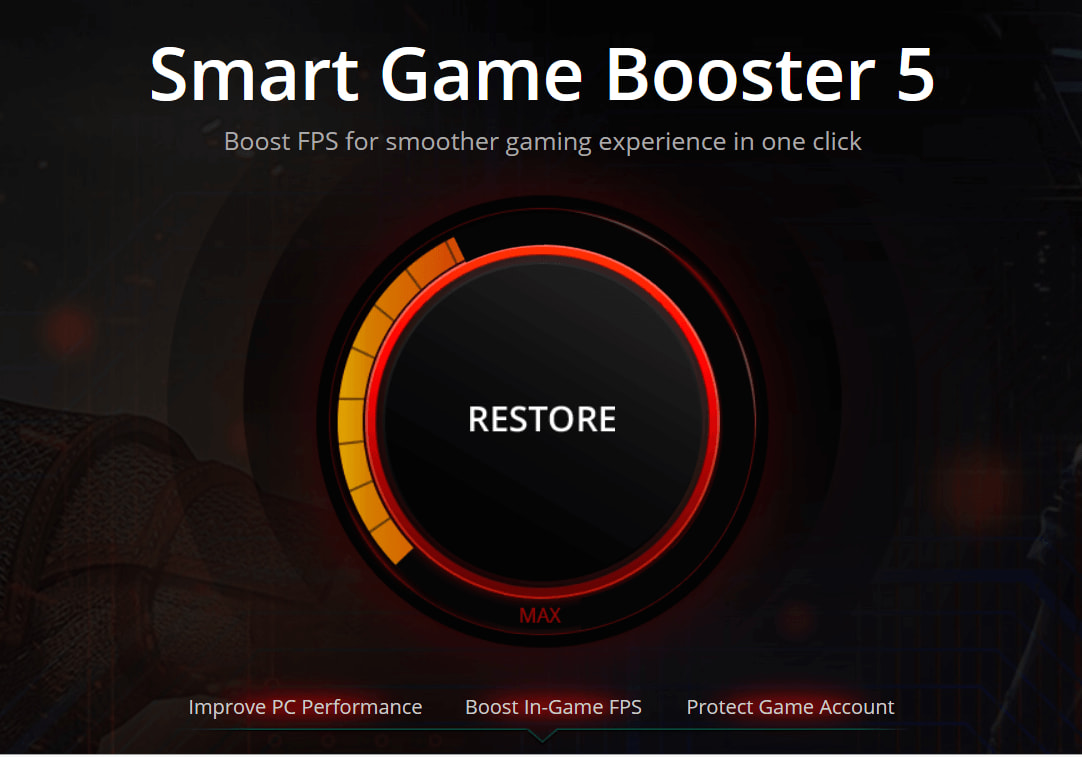 The software on the list that provides the most information is likely Smart Game Booster. It offers a number of features that can enhance your understanding of your device and help you maximize its performance for the best possible gaming experience.
Your PC is automatically optimized by deleting unnecessary RAM and streamlining background tasks to significantly increase your frame rate. Furthermore, it offers a number of additional functions, including CPU temperature monitoring, a free driver updater, the ability to overclock the CPU, etc.
Smart Game Booster is among the greatest FPS booster for Minecraft because of all these features.
Pros:
Enables the most advanced overclocking to increase FPS.
Possess the capacity to record video games.
Update drivers for free
Helps increase FPS
Using the FPS and Temp Monitor to Monitor Both
Cons:
Defragments only the game and game folder, not the entire system.
Price: Free

Another fantastic FPS booster for Minecraft is Game Fire 6. All the things that you would want to see in a game optimizer are included in this one, including optimizing background processes and freeing up RAM so as to enable you to attain higher FPS.
Game Fire 6 also offers strong customization options to optimize exactly the things you wish to optimize. It can assist you in defragmenting your computer to improve system performance.
Additionally, it has a game manager that allows you to conveniently store all of your offline and online games in one folder. With all of these incredible capabilities, Game Fire 6 is unquestionably among the finest PC FPS boosters.
Pros:
Enables defragmentation
Boosts FPS for gaming.
The Integrated game manager lets you access all of your favorite games in one location.
Managing background processes in an efficient manner.
Cons:
The Interface is not that intriguing
Price: Free/$17.95