Epic Games' Fortnite is a 2017 online video game. It comes in three distinct game mode variations that share the same general gameplay and game engine. To begin, there's Fortnite Battle Royale, a free-to-play battle royale game in which up to 100 players compete to be the last one standing. The second game, Fortnite: Save the World, is a cooperative hybrid tower defense-shooter and survival game in which up to four players fight off zombie-like creatures and defend objects with traps and fortifications they can construct. The third game is Fortnite Creative, a cooperative tower defense-shooter hybrid. However, the lag problem is very common in Fortnite. As seen in Fortnite game site. Why is my Fortnite laggy? Or what is Fortnite lag meaning? How to fix lag on pc? In this article, you can find all you want to know! And in addition to giving you information about Fortnite lag, a useful lag fixer product LagoFast will also be shown in this article.
Part 1: What Is Fortnite Lag Meaning?
Part 2: Why Is My Fortnite Laggy?
Part 3: How To Fix Fortnite Lag On Pc By Using LagoFast?
Part 4: How To Stop Fortnite Lag By Using Other Measures?
What Is Fortnite Lag Meaning?
To know better what Fortnite lag means, you can try reading the article What Is Lag Meaning? As shown in this article, lag is the delay between your input and the output on the monitor. You can imagine this situation in Fortnite: When you meet your opponent and you get into a heated clash, you hit your keyboard to hit him, but your attack shows up a few seconds later and your blood is nearly half as a result of a hit from your opponent. Fortnite lag problem could be very annoying.
Why Is My Fortnite Laggy?
Many factors could affect Fortnite lag issues. As shown in the article What Does Lag Mean? & How to Stop Lag? For example, Fortnite lag problems could be associated with high ping, packet loss, or bad network connection problems. To sum up, the Fortnite lag problem could be affected by these majors as follows:
1. Network connection: This is the biggest major reason for the Fortnite lag problem. As shown above, the lag could be associated with high ping and packet loss. Ping is the time spent on data transmission between your computer and the game server. Packet loss is referred to as the data loss on the transmission route. So, if there are the problems like bandwidth congestion, network congestion, unstable connection, and bad routing, the Fortnite lag problem will certainly appear.
2. Hardware configuration: Just as the physical requirements of athletes, if you want to run your Fortnite without lag issues, you should first make sure that your computer meets the minimum system requirements. The minimum system requirements will be shown as follows.
3. Software problems: If your game files are corrupted or outdated, maybe you will experience Fortnite lag issues.
4: Game server issues: Maybe this annoying problem is not at you! If there are some issues with the game server, like some bugs or there are too many players playing online, game lag will also occur.
How To Fix Fortnite Lag On Pc By Using LagoFast?
There are numerous steps that can be taken to resolve Fortnite lag. There is, however, a quick and simple solution: use the expert lag fixer LagoFast. It can speed up the transfer by using a proprietary data transmission protocol. LagoFast also includes international nodes and exclusive routes to address network connectivity, reducing transmission time while improving network connectivity. Before beginning the game, you could select these nodes based on your geological location.
Furthermore, unlike other game lag reducers, LagoFast launched the plan once every minute. If you do not use the product, you can cancel LagoFast's Fortnite game boost service at any time. As a result, if you don't play Fortnite every day, LagoFast is your best bet!
If you want to try using this Fortnite ping reducer product and experience the more accurate real-time ping test service. Follow these steps:
Step 1: Click the Free Trial button to download the LagoFast client and experience the Fortnite ping test service. Or go to LagoFast site to know more.
Step 2: Before running Fortnite, you just need to find the game you want to play in LagoFast and click the "Boost" button.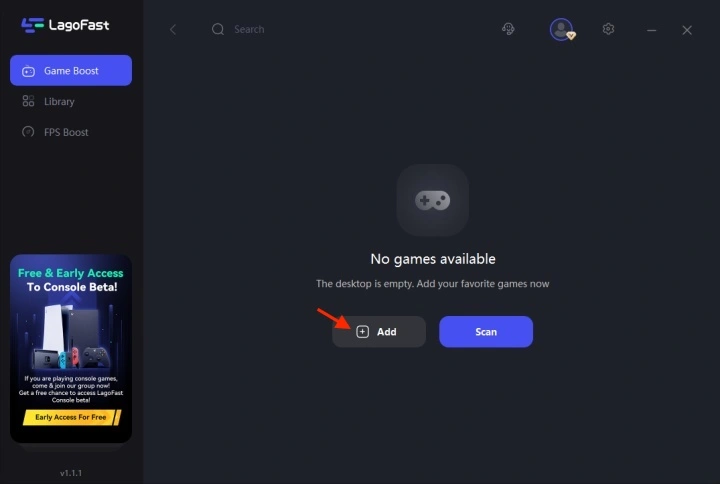 Step 3: While you are playing the game, you see the accurate ping test result. And in addition, LagoFast could also provide you with many other tests, like packet loss and local network fluctuation. And with the help of LagoFast, getting 0 ping in Fortnite is not an impossible thing.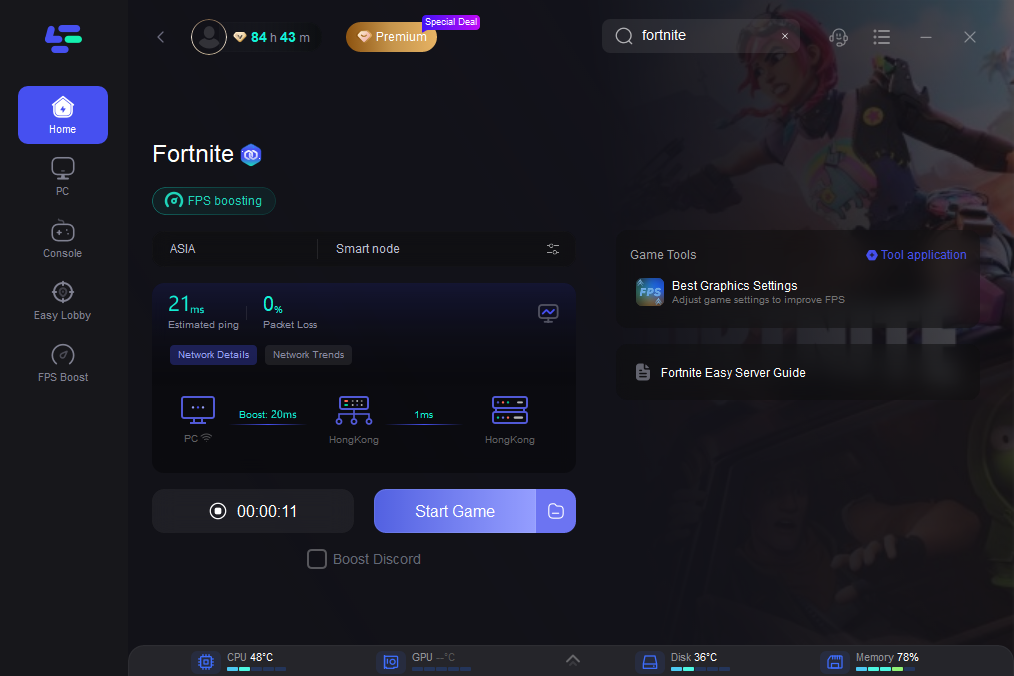 How To Stop Fortnite Lag By Using Other Measures?
Check if your computer meets the minimum system requirements
You should make sure that your computer meets the minimum system requirements. And if possible, try meeting the recommended system requirements. The Fortnite minimum system requirements are as follows:
Video Card: Intel HD 4000 on PC; Intel Iris Pro 5200
Processor: Core i3-3225 3.3 GHz
Memory: 4GB RAM
OS: Windows 7/8/10 64-bit or Mac OS Mojave 10.14.6
Background applications that are not required should be removed.
When you run a lot of background applications, your network becomes congested, and your computer's performance suffers. Close unwanted background applications, such as multiple Chrome tabs, to make room for your game and reduce latency! However, keep some essential Windows applications running in mind. Fortunately, if you want to stop Fortnite lagging, LagoFast can assist you in determining which are unnecessary and removing them.
Utilize the Ethernet wired connection.
When compared to a wireless connection, an Ethernet wired connection may be invisible to other connections, resulting in less interference. Data transfer over a wired connection would be faster and more reliable if there were no concrete walls or other impediments. As a result, switching to a wired Ethernet connection may help to resolve the lag issues.