Minecraft is focused on the premise of users making and destroying various types of cubes in three-dimensional space for their usage. In the game, players can build gorgeous structures in single or multiplayer mode, or acquire objects to explore the area and advance the game. In addition, in the creation mode, players can experience the red stone circuit and other gameplay. Mojiang also made a lot of updates to Minecraft in order to attract new users and retain the old ones. However, there are inevitably many game problems, such as lag, low FPS, and high ping. In this article, we will tell you why you will encounter lag and how to fix laggy Minecraft.
Part 1: How to Fix laggy Minecraft?
Part 2: Why do You Encounter Laggy Minecraft?
How to Fix laggy Minecraft?
There are many ways to help you solve laggy Minecraft. Either with the help of a professional game booster or by your power. Below, we have summarized some practical methods for you to help you.
LagoFast: Laggy game terminator
Because there are numerous complex causes of Minecraft lag, attempting to use our powers to tackle the problem frequently fails. So leave the hassle to the specialists! LagoFast was created by a team of professionals with over 8 years of expertise to solve all types of complicated gaming problems. Its strong compatibility can cope with all kinds of tricky network conditions and will not interfere with your use of other software or browsing other content with your browser. In addition, LagoFast delivers real-time network diagnostics and pairs you with the best network nodes based on ping levels. The exclusive routes around the world ensure that you can enjoy a quick gaming experience at any time and from any location. Free trial of LagoFast! I believe LagoFast is the best game booster to Minecraft.
Let's see the features of LagoFast:
Free trial
The only one of all game booster and game VPN with a time charging package
Fix laggy Minecraft easily
Exclusive routes around the world
Reduce ping while boosting FPS
You can fix laggy Minecraft in only 4 steps:
Step 1: Download LagoFast and register, remember to receive the free time.
Step 2: Type Minecraft in the Search box and click on it.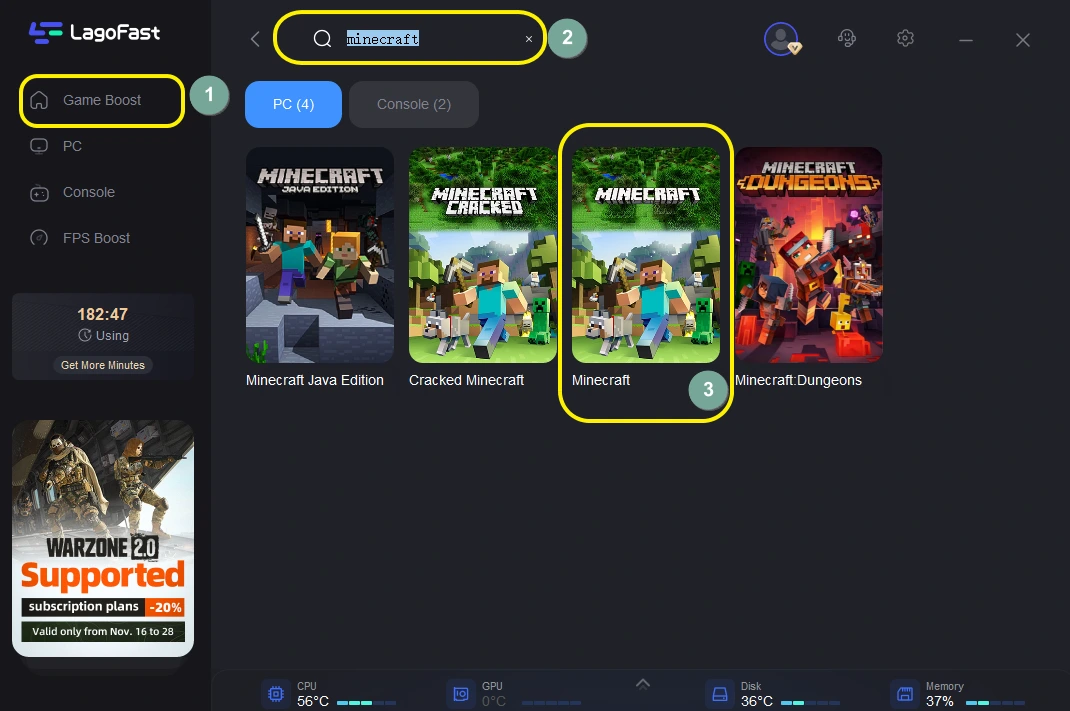 Step 3: Choose your needed server.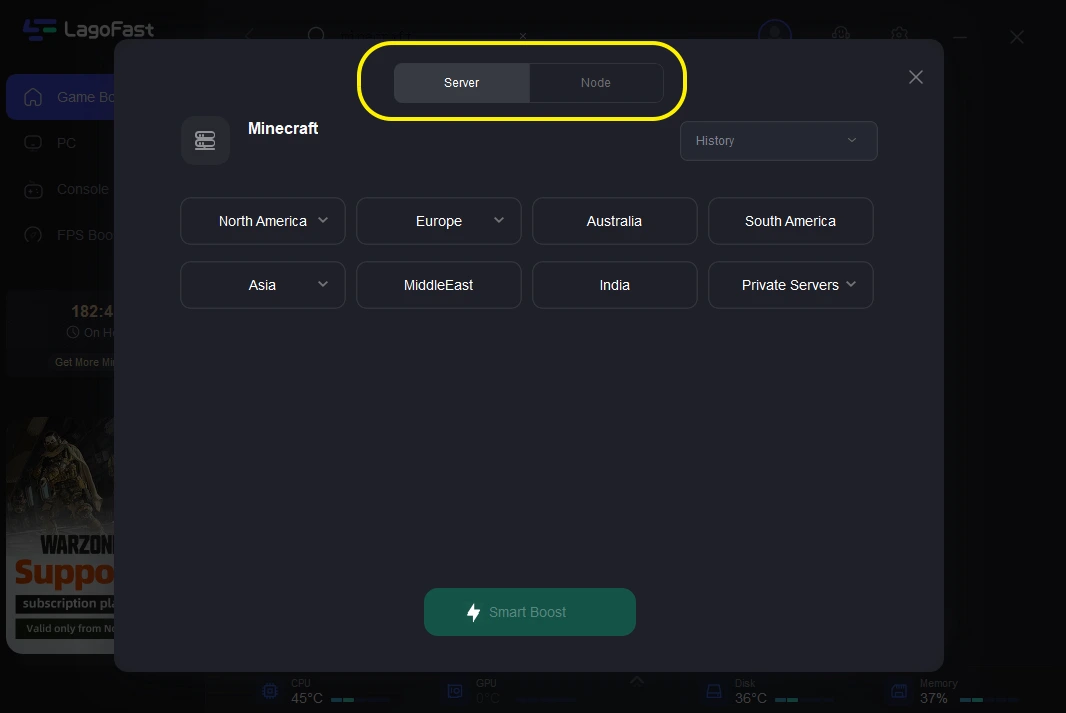 Step 4: Click on the Boost button to start boosting.
LagoFast also provides ping and packet loss detection, you can have a direct look at your real-time ping and packet loss rate which are closely connected to your FPS performance.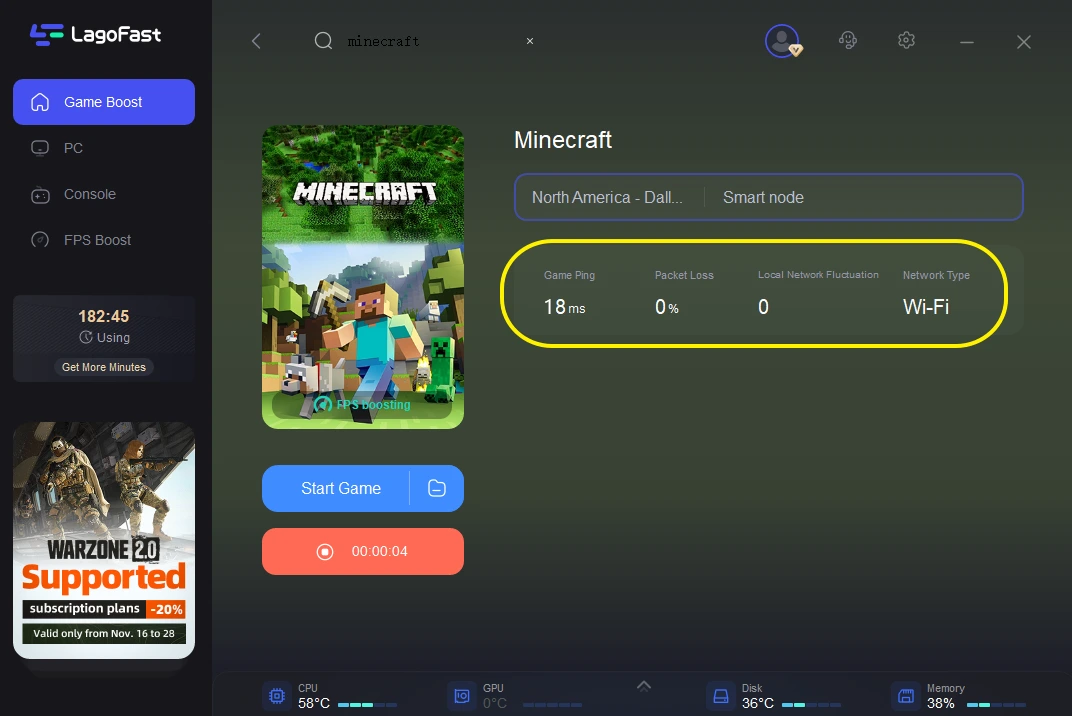 There is a specific FPS Boost service provided by LagoFast. You can adjust settings by clicking on the ones you want to turn on/off.
To accomplish:
Step 1: Select the FPS Boost tab on the left side.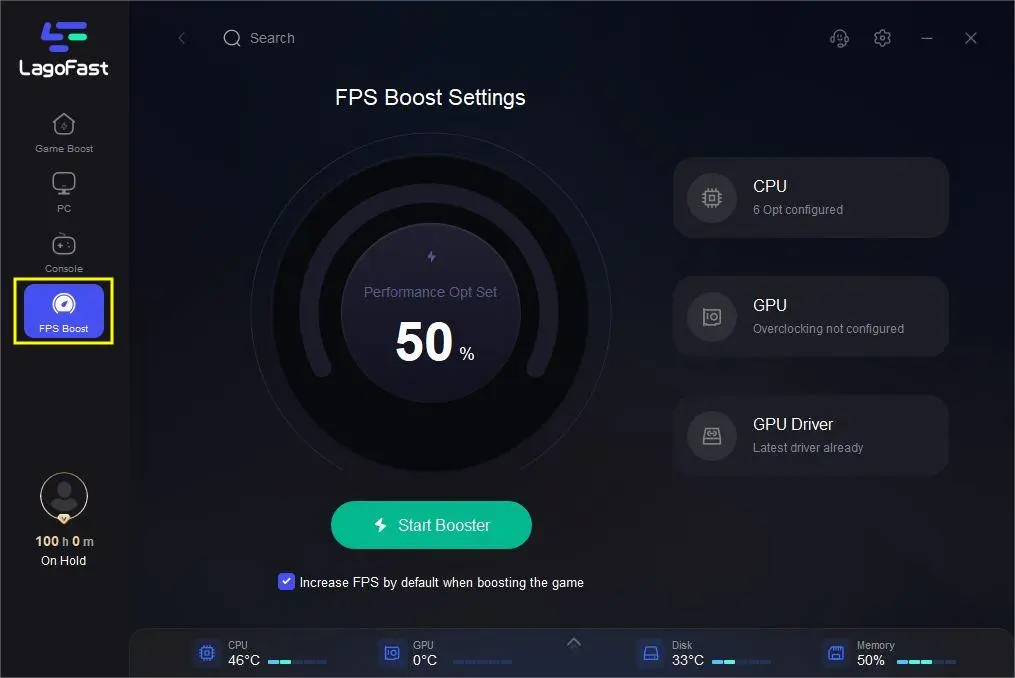 Step 2: Turn on/off the settings to boost Minecraft FPS.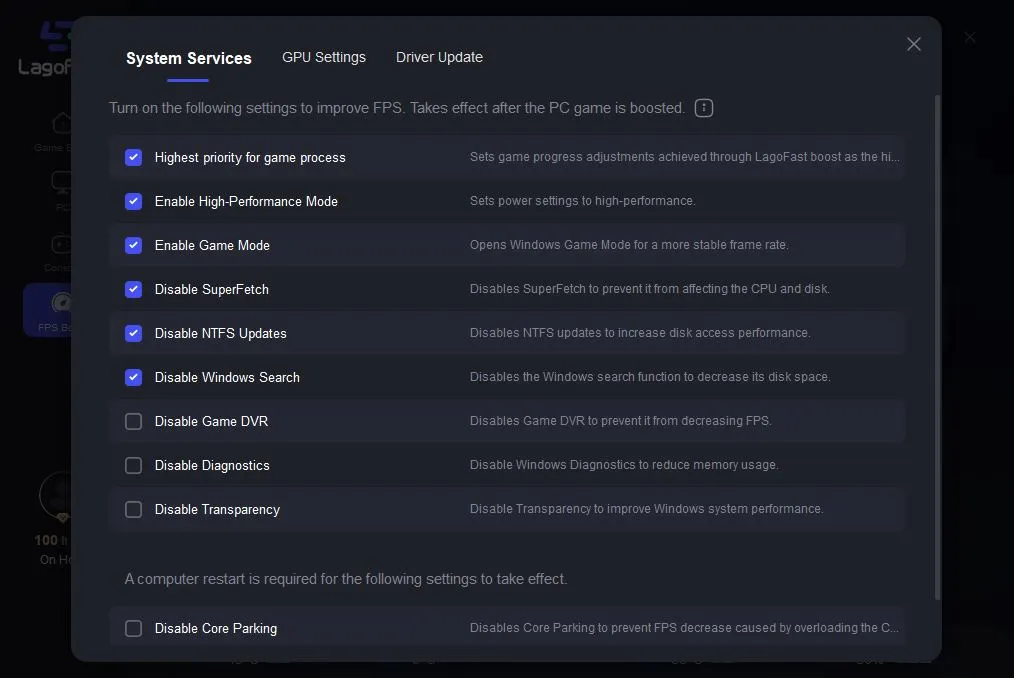 Other solutions
Close background apps: From the moment we turn on our computer, there are many application processes in the background to keep the system running properly. We also open chat software or browsers before we play games. But all these applications grab the computer's resources, and some software needs the Internet to allocate network data as well. In this case, the resources allocated to the game become less, resulting in Minecraft lag. all we need to do is to open the task manager and close those non-system level background software that consumes system resources.
Whitelist Minecraft: Our computers are protected by firewalls. However, if it misidentifies Minecraft as a threat, it scans all of its outgoing and incoming network packets, which causes significant delays. Although it appears to us that it is merely data in milliseconds, it will cause your Minecraft to run quite slowly. You may now whitelist Minecraft. As a result, the firewall will no longer check Minecraft.
Check the system requirements: Usually, to ensure that players' computers can render the game perfectly, studios release the minimum and recommended system requirements at the same time as the game is released. Although the system requirements for Minecraft are very low, you can check them just in case.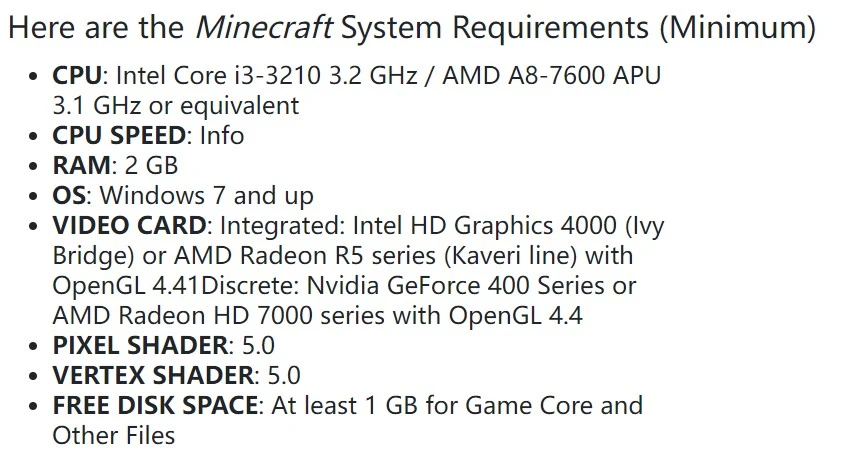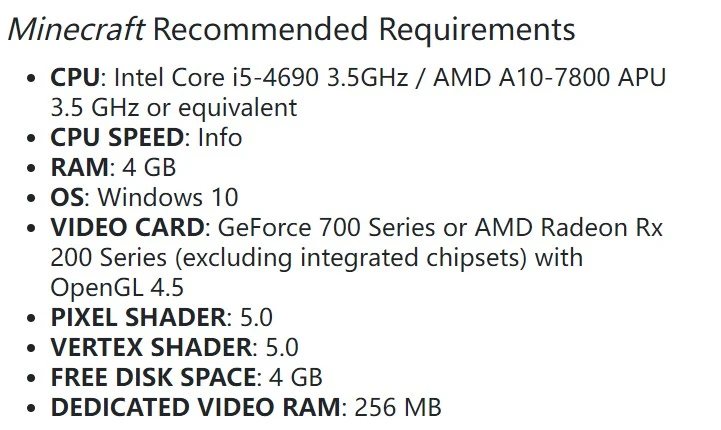 Why do You Encounter Laggy Minecraft?
Why is Minecraft so laggy? Many reasons can cause Minecraft laggy, various hardware reasons, software reasons, or too poor network quality. Below, we list the common causes that can cause lag.
Wireless internet: Wireless networks are widely regarded as the greatest invention of all time. Many devices can be connected to the same network at the same time. However, Wi-Fi is not friendly to PC users, particularly those that play Minecraft on a laptop linked to Wi-Fi. Wireless networks are highly fragile and readily disrupted. Furthermore, network traffic is restricted, and if other devices share the same network, your laptop will be assigned less broadband, resulting in Minecraft slowness.
Optimize Minecraft video settings: If you change your graphics settings to high for a better gaming experience, but your graphics card can't provide enough processing power, then Minecraft lag isn't a strange thing anymore. If you can't afford to replace your graphics card with a more powerful one, you should set a lower level of detail and lower the resolution.
Corrupted or insufficient RAM: Corrupt or insufficient RAM can affect computer performance, leading to Minecraft lag and even crashes. In addition, if RAM is corrupted, the system memory cannot handle processes and services as needed.
Outdated network drivers: The network driver is responsible for all network-related processes. This means that when your network driver is corrupted, Minecraft will lag or even fail to connect to the network because of network problems.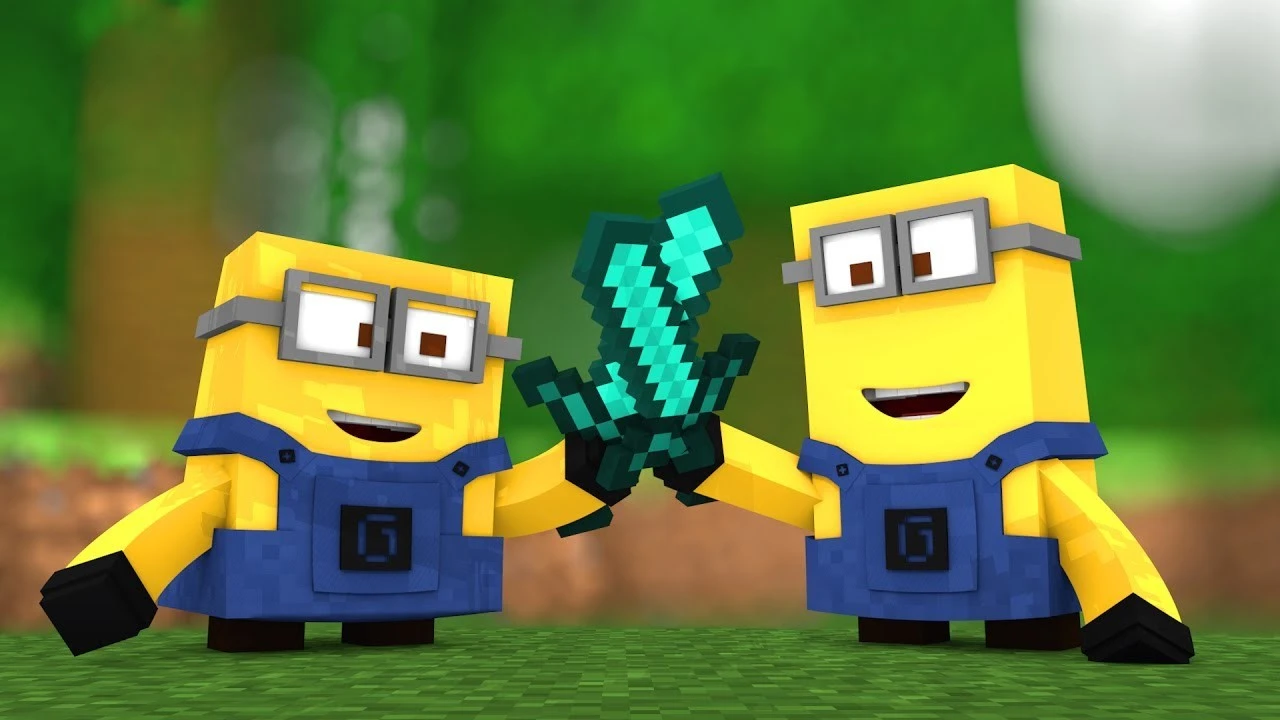 LagoFast FAQs
How Does LagoFast Work?
In summary, LagoFast is a professional product that allows global players to play smoothly and without lag by combining different game data routing technologies.
LagoFast uses its unique game data transfer protocol to distribute the optimum routes for participants, precisely identifies game traffic, and allows live streaming and music listening while playing games. Because the servers are spread out over the world, we can access the accelerated servers no matter where we are. Simultaneously, game-specific routes are used to avoid unpredictable ping. The unique game data transmission system fundamentally ensures a reliable and seamless playing experience (superfast connection, simultaneous acceleration of several servers, server switching at whim), ensuring that all players enjoy lower ping games.
What Are LagoFast and Its Product Features?
LagoFast is a game routes optimization software, specializing in resolving game lag and high ping issues for global players. We want to create the world's greatest routing optimization tool with the best user experience. LagoFast developers have over 8 years of routing optimization experience. We have provided top-rated gaming pathways to tens of millions of players. The beta version is completely free!