In the survival game Fortnite's "Battle Royale" mode, 100 players are parachuted onto a small island. A group of materials is produced, metals are saved, the constructs are raised, maintained, and bricks are placed on top of them before players engage in combat to defend them until they are sufficiently powerful. Fortnite also varies from PUBG and other gun shooting games in that it makes use of a cartoonish painting style that heightens the characters' cuteness and intimacy while also making the game more appealing to a wider audience. However, questions like 'Why is Fortnite lagging so bad' can not be ignored. If Fortnite lagging can not be fixed, you'll never be able to fully enjoy the game. That's why you should give the best Fortnite game booster —— LagoFast a try! You can also find some other effective fixes in this article.
Part 1: 4 Different Types of Lag
Part 2: What is Lag in Gaming?
Part 3: Why is Fortnite Lagging So Bad?
Part 4: How Can I Fix Fortnite Lagging?
4 Different Types of Lag
Let's look at the 4 very forms of lag formed in Fortnite so that we can categorize them according to the reasons why they are generated.
Ping lag: Ping lag occurs when a player's Internet connection is slow, resulting in high ping and laggy Fortnite. In other words, the severity of the Fortnite lag increases with the Ping value.
Block lag: Fortnite will slow down if the game scene has too many graphic elements, requiring your computer to process a lot of data before it can be output.
Chat lag: Your network must accept a huge number of messages in a little period of time due to too many people typing at once or bots sending spam to the chat box continuously. This causes Fortnite lagging as well and it's also the most typical one.
System lag: Your computer's outdated operating system or underperforming hardware is to blame for this kind of lag. As was previously said, if you have an old PC or network drive, Fortnite lagging will happen.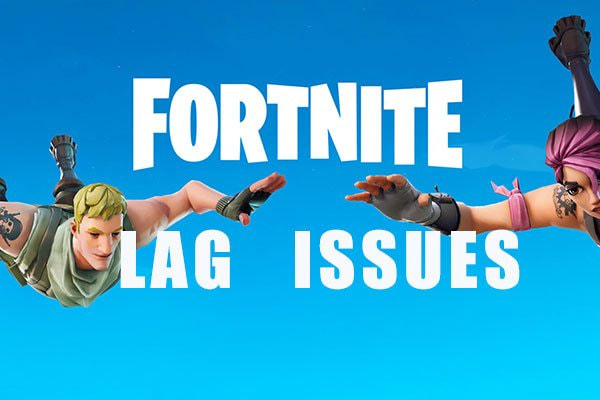 What is Lag in Gaming?
Now that we know there are 4 different types of lag, I want to particularly tell you more about the lag in gaming.
The lag in gaming can be divided into two parts: server lag and PC lag.
Server lag means that when you play Fortnite and encounter abrupt lag, it is the Fortnite server's fault, not your own PC's. Usually, the Fortnite server laggy issue can be caused by in-game bugs or a sudden shutdown of the server.
PC lag means that Fortnite lagging happens because of your own PC. Generally speaking, this kind of lag happens because of the long distance between you and the game server and the poor internet connection.
Therefore, if you have bad Fortnite lagging, sometimes it has nothing to do with your PC. All you have to do is to wait patiently for the official announcements and patches.
Why is Fortnite Lagging So Bad?
Understanding why Fortnite is so laggy is essential before discussing how to solve Fortnite lagging on PC. Because various gamers experience Fortnite lagging for different reasons. You can only figure out the most efficient way to cure Fortnite lag on your PC if you know what causes it and why it lags so much.
The most common cause of lag is a breakdown in connection between your network and the game servers. This is depicted on screen as a delay between your command input and the avatar's execution of it. An issue on the user's end, the developer's end, or a combination of both might cause lag.
The game is listed as fully operational on the Fortnite status website, however at the time this article was written, there had been multiple reports of lag. It is conceivable that Epic Games is to blame. Therefore, to maximize your chances of getting rid of Fortnite lagging, you should adhere to the following fixes.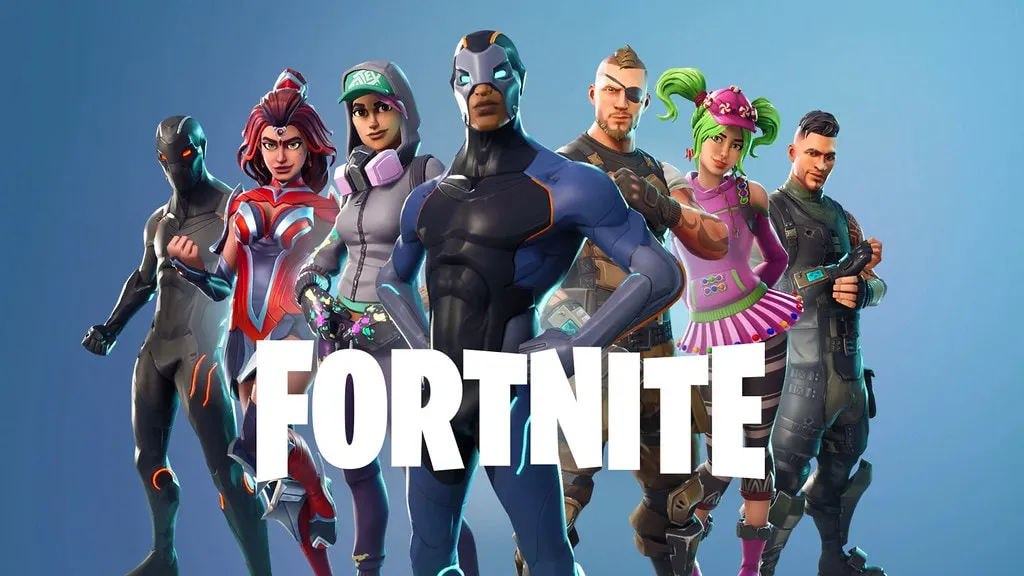 How can I Fix Fortnite Lagging?
Use the Fortnite game booster —— LagoFast!
LagoFast, a game booster & FPS booster, makes it simple to fix Fortnite lagging. It has more than 8 years of data transfer experience. As a result, it offers all-around security and can easily handle complex network situations. Don't worry if you can't use LagoFast in your nation because it has a worldwide acceleration route that offers real-time network diagnostics and accurately matches the nodes with the lowest ping values. With all these features, you won't have to worry about Fortnite lagging or how to improve your Fortnite performance any longer. LagoFast is also the only game VPN and booster with a Pay-per-Minute plan, making it more affordable and widely available.
The features of LagoFast are as follows:
Experienced in fixing Fortnite lagging
Self-developed data transfer technology
Privacy & Efficiency guaranteed
Worldwide distributed servers
Support a Pay-per-Minute plan
To fix the Fortnite server laggy issue:
Step 1: Download LagoFast.
Step 2: Search Fortnite in the Search Box and select it in the search result.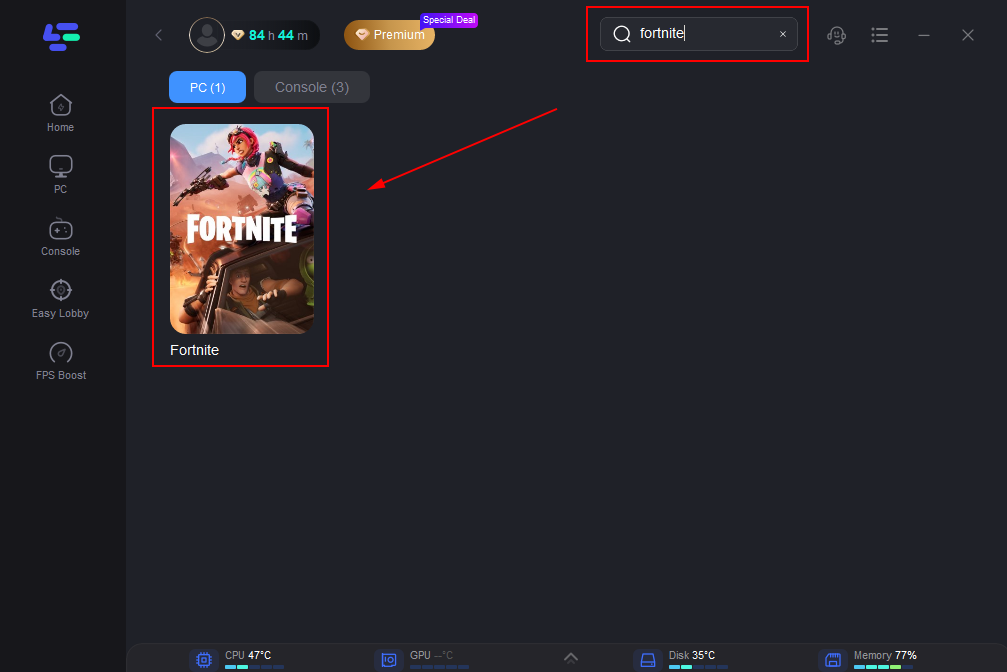 Step 3: Click on the boost button to start fixing lag. (You can also monitor your real-time ping and packet loss rate on this page)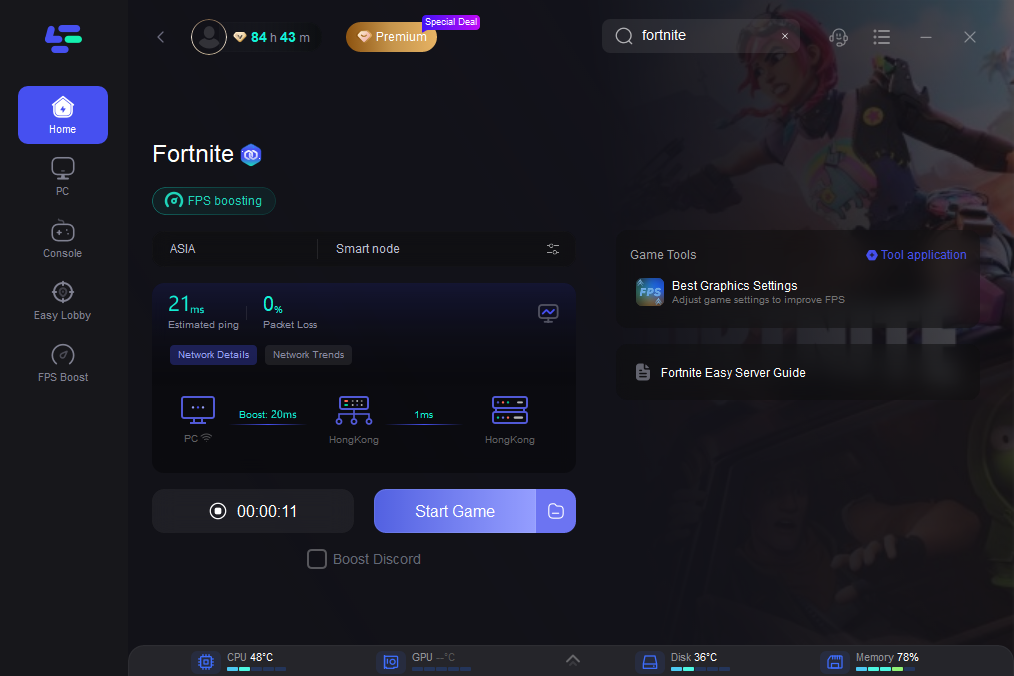 Other fixes to solve the Fortnite server laggy issue
Except for using LagoFast, there are some other fixes for you to possibly get rid of the Fortnite server laggy issue.
Check your specs: For video games like Fortnite or PUBG to load, a certain minimum system configuration is needed. Therefore, make sure your machine complies with the following requirements:
Minimum:
Video Card: Intel HD 4000 on PC; Intel Iris Pro 5200
Processor: Core i3-3225 3.3 GHz
Memory: 4GB RAM
OS: Windows 7/8/10 64-bit or Mac OS Mojave 10.14.6
Recommended:
Video Card: Nvidia GTX 960, AMD R9 280, or equivalent DX11 GPUVideo Memory: 2 GB VRAM
Processor: Core i5-7300U 3.5 GHz, AMD Ryzen 3 3300U, or equivalent
Memory: 8 GB RAM or higher
OS: Windows 10 64-bit
Update Fortnite to the latest version: To improve gameplay and fix bugs, Fortnite game updates are regularly published. Visit Steam or the game's official website to look for updates if Fortnite lagging is a problem for you. If there is a new game patch, download it and install it. Once everything is done, you can restart Fortnite and see if the lag issues have been fixed.
Update the drivers on your PC: Updating drivers can sometimes fix Fortnite server laggy issues. You can try updating both graphics and network driver as follows:
Graphics card driver:
Step 1: Press Win + R to bring up the Run window. After that, type devmgmt.msc into the box, then click OK to launch Device Manager.
Step 2: Double-click Display adapters to expand the list.
Step 3: Right-click the graphics card to update the driver. Select Automatically check for new driver software in the pop-up window. After that, follow the on-screen directions to finish the process.
Network Driver:
Step 1: Open the Device Manager.
Step 2: To open the Network Adapters, double-click on it.
Step 3: From the context menu of the network you are currently using, select Update Driver.
Step 4: Finish following the above-mentioned instructions, then restart your computer.
Launch Fortnite after updating these drivers to see how it performs.