Apex uses classic battle royale rules but adds heroic shooting, with three-player teams using characters with unique abilities known as Legends. The game takes place 18 years after Titanfall 2. The game does not feature Titans, but it does contain many Titanfall elements, features, and eggs. Critics complimented Apex Legends' gameplay, advancement system, and integration of aspects from numerous genres. Some thought it was a worthy contender to existing battle royale games. It had roughly 100 million players by April 2021, making it one of the most popular video games of all time in terms of player count. Because Apex Legends is a free-to-play game, there is a massive influx of players, resulting in overcrowded servers. In this case, we recommend a game booster called LagoFast, which can effectively solve Apex servers lagging and provide you with a more enjoyable gaming experience.
Part 2: LagoFast: Best Solution for Apex Servers Lagging!
Part 3: Other Fixes for Apex Servers Lagging
Why is Apex so Laggy?
Apex Legends has received a lot of attention since its release, and many people have given it high marks after playing it, deeming it to be a strong competitor to other battle royale games. However, Respawn Entertainment may not be prepared to receive such a high level of attention, possibly because Apex is a free-to-play game, millions of players log in to the game every day, and the current servers can't handle that much traffic, which is why Apex servers laggy. The developers are currently working on improving the server-side issues, but the best thing we can do right now is to make sure it's not a hardware or network connection issue on our PC.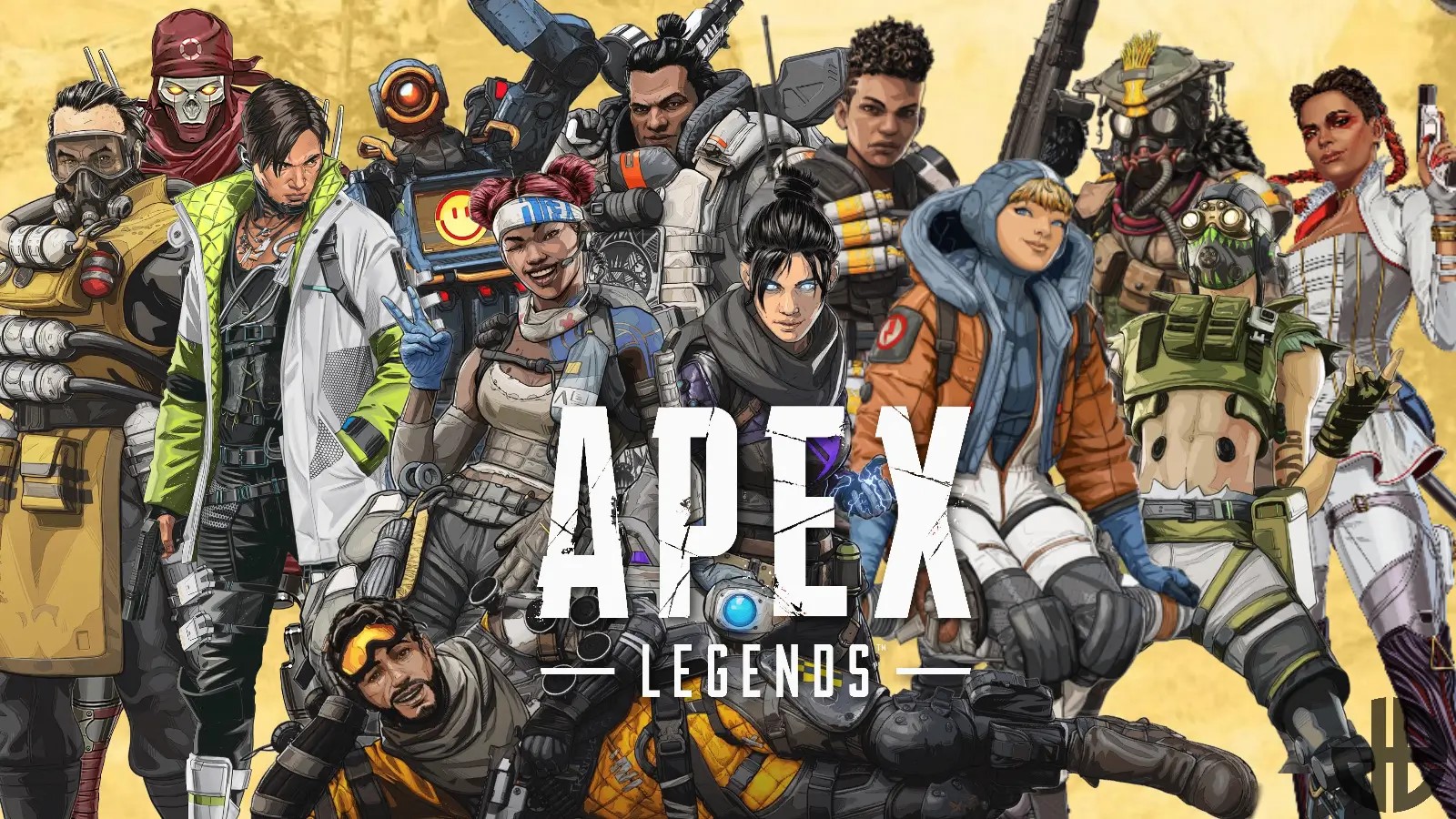 LagoFast: Best Solution for Apex Servers Lagging!
Being the last team standing when Apex lags become difficult. In that case, we must ensure that the hardware and connections keep up with the speed. So, we recommend LagoFast as your winning companion. LagoFast can provide real-time network diagnostics to ensure that you are matched with the best network nodes. LagoFast, who has over 8 years of gaming issue fixing experience, can easily handle any difficult network environment. If you are still unsure, don't worry! We also provide a free trial so you can try it before making a decision.
Let's see LagoFast features:
Free trial
Accelerated routes with global coverage
Pay per minute, more economical
Boost FPS while reducing lag
Professional game booster with over 8 years of game fixing experience
Here's how to use LagoFast:
Step 1: Download LagoFast.
Step 2: Type Apex Legends in the Search box and choose it among the results.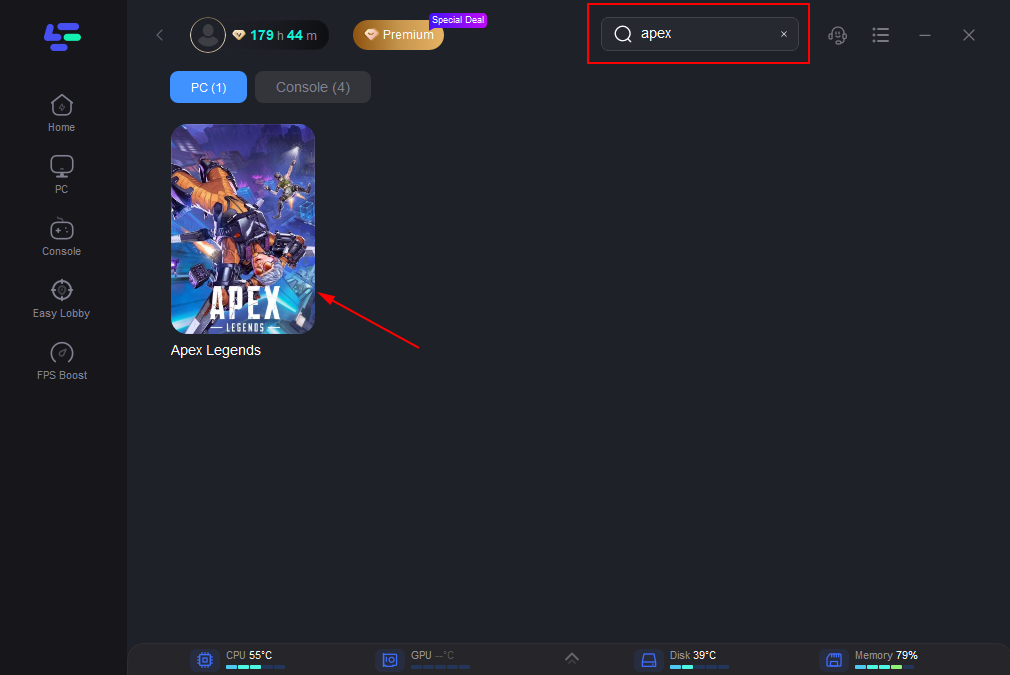 Step 3: Choose your needed server.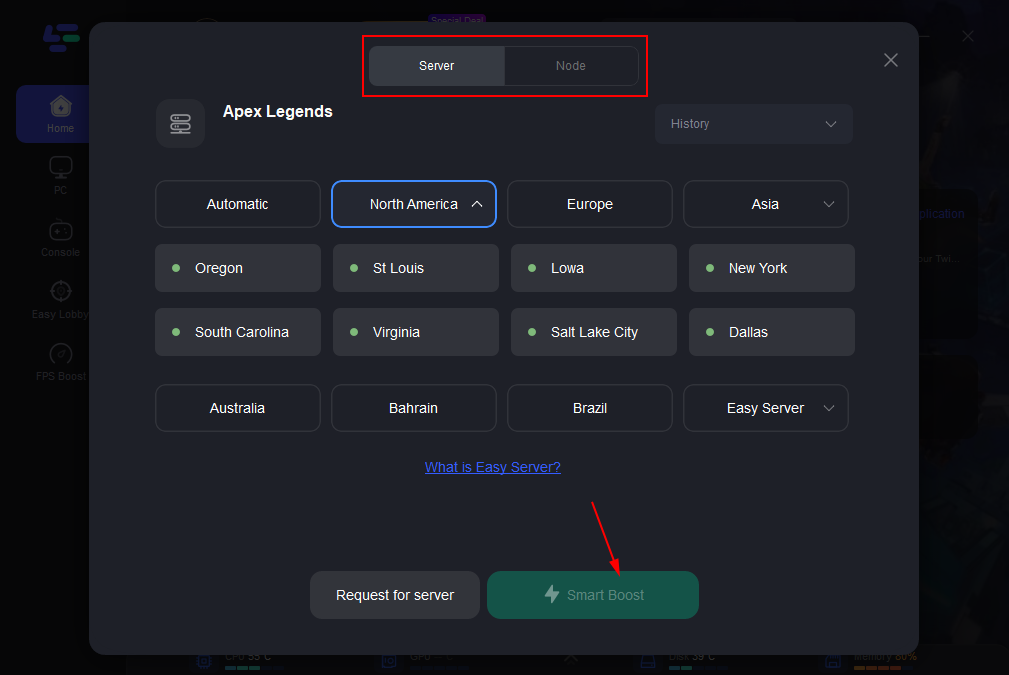 Step 4: Click on the Boost button to start boosting.
On this tab, you can see your real-time ping and packet loss rate, which are closely related to your FPS performance.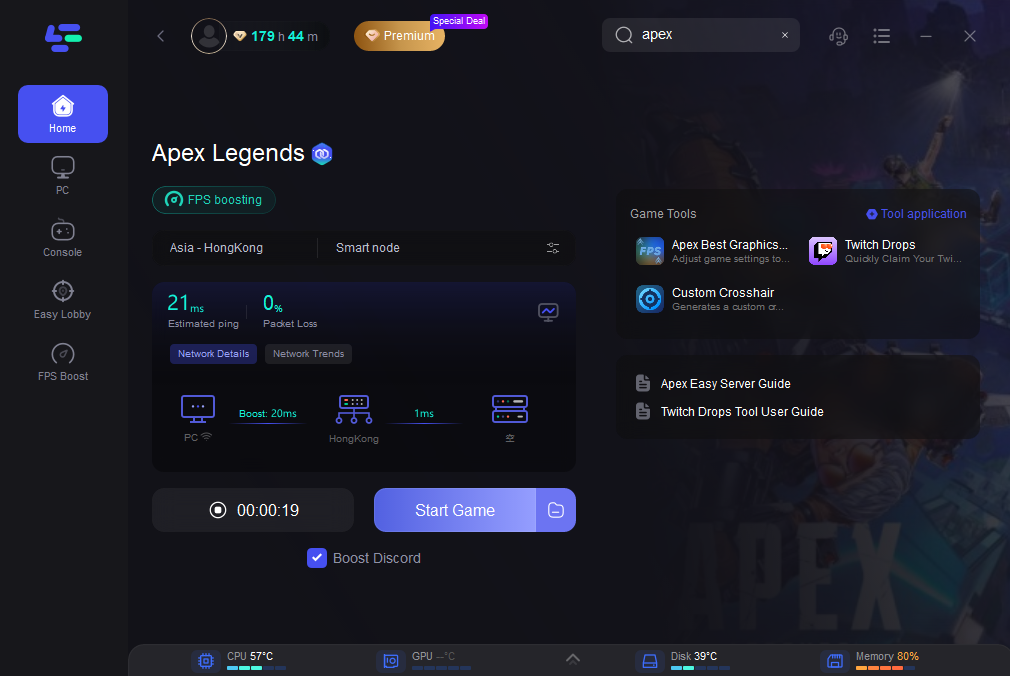 You can change the settings manually by clicking on the ones you want to turn on/off.
To accomplish this:
Step 1: Select the FPS Boost tab on the left side of the desktop.
Step 2: Turn on/off the settings to boost Apex Legends FPS.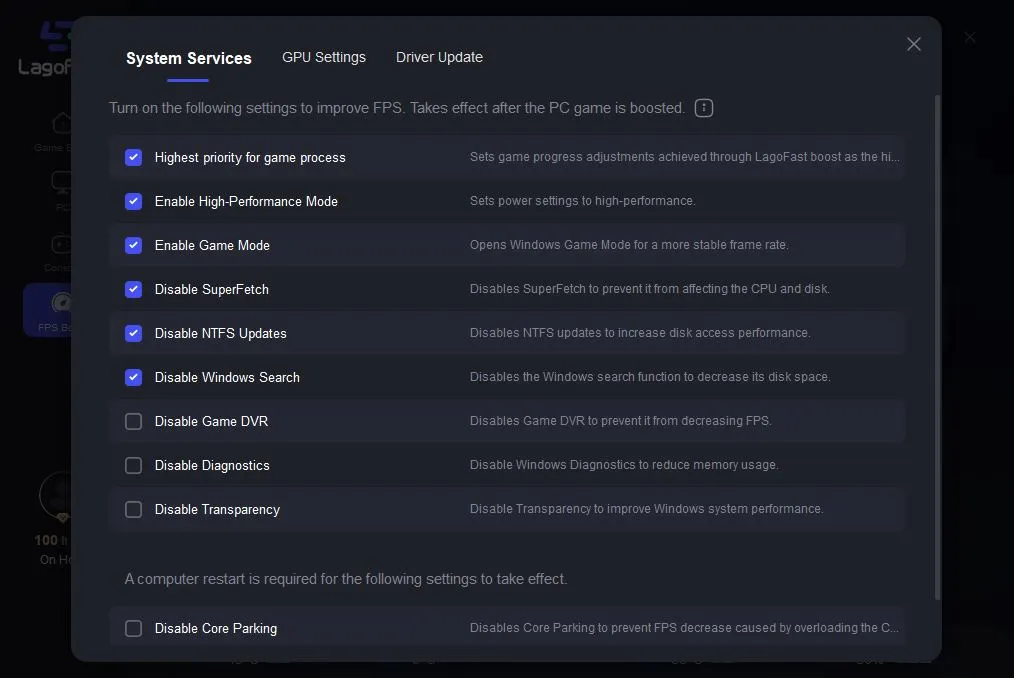 Other Fixes for Apex Servers Lagging
Change server: Though no guarantee switching servers will solve all of your connection problems, However, if you're experiencing consistent lag or outright disconnects from games, it's worth trying out another server, as some may be more stable than others.
Check system requirements: If your Apex Legends game on PC is lagging, it could be because your hardware does not meet the game's system requirements. Hardware issues cause your game to stutter, which can appear as lag. Check your PC against the minimum system requirements to ensure it has enough processing power to play Apex Legends without lag. This is the basic guarantee for smooth gameplay, but if you want a more flawless gaming experience, you'll need to run Apex at a higher configuration.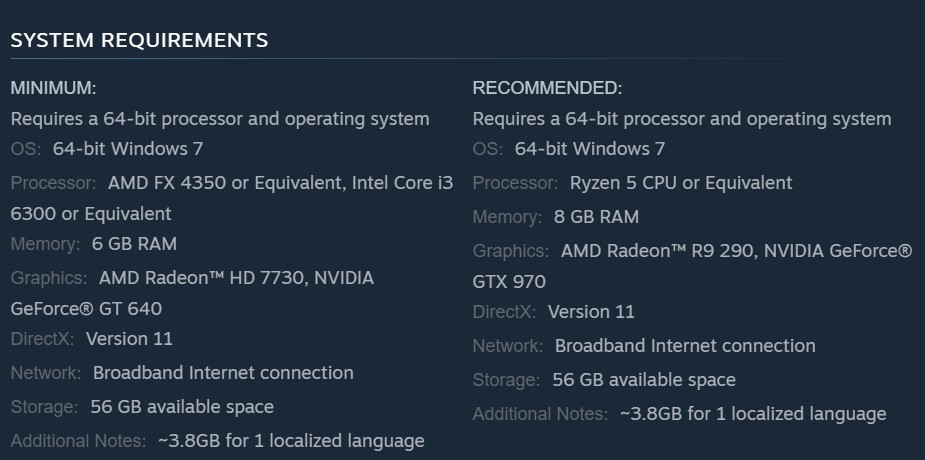 Update Graphics and network drivers: Open Device Manager, locate your graphics card in the list under "Display adapters," right-click it, and choose "Update driver." Then, select "Automatically search for drivers." Additionally, you can upgrade your network drivers. Simply select "Network adapters" from the list, click the arrow, and then right-click on the settings in this list.
Run a ping test: Running a ping test can assist you in better understanding your real-time ping rate and determining what to do next. LagoFast can assist you in performing a ping test whenever you wish. Simply search Apex Legends in LagoFast and click the Boost button to monitor your ping and packet loss rate.
Apex Legends FAQs
How to fix Apex Legends packet loss?
First, I'll tell you what is packet loss. All data on the internet is transmitted in fragments known as packet loss. Some of these packets may be lost during data transport for a variety of reasons. The proportion of packet loss is determined by the number of lost packets. Bad internet connection, faulty DNS configuration, and outdated Apex app all will result in packet loss in Apex Legends. Here, we gathered some ways to fix Apex Legends packet loss.
Switch to a wired connection: If you live in a household where you must share a WiFi connection with family members or housemates, requesting that they refrain from using the internet while you are gaming may be tough. You can try to fit in a game anytime they are away from home, or you can connect your gadget to the router using an Ethernet wire.
Change server: Due to server instability, you may experience packet loss only on certain servers in some circumstances. Simply exit the game and restart it to determine if other servers are also experiencing packet loss. You could try playing on a different server until the problem is repaired.
Perform a full packet loss test:
1. Press the key Windows + R to open the Run dialog box.
2. Type cmd into the Open field and click OK.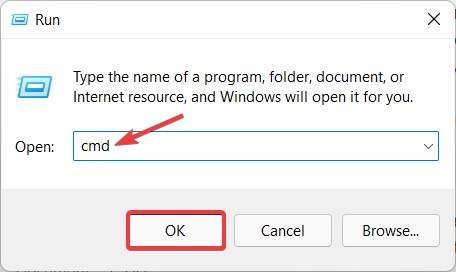 3. In the terminal, type the command: Ping 127.0.0.1 -t and press enter.
4. When there if at least 10 packets have been processed, press Control + C to stop the test.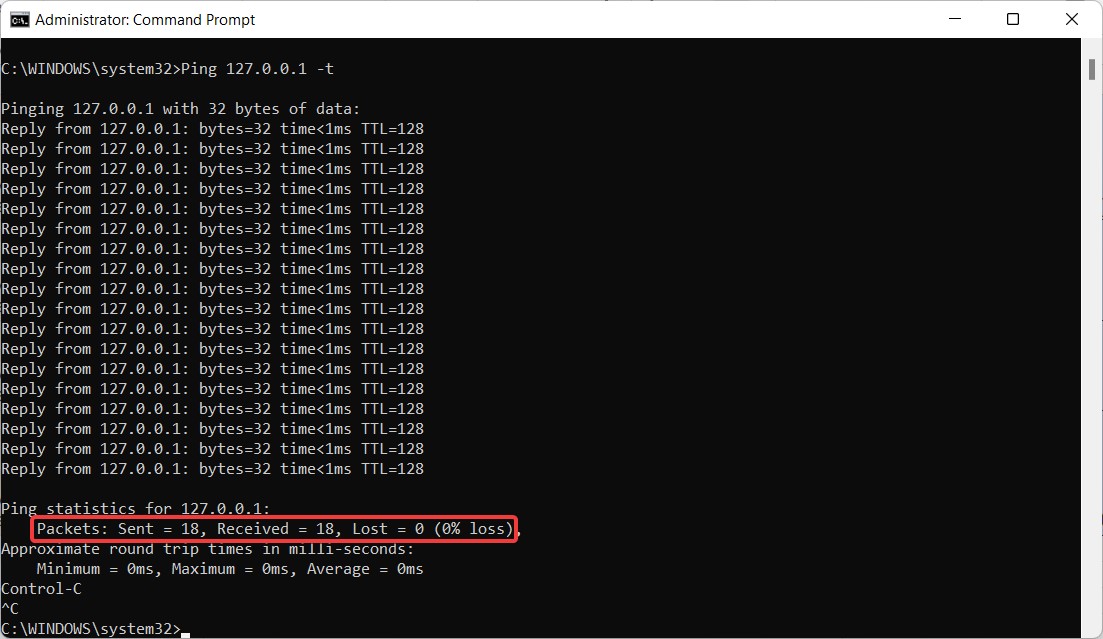 If the findings reveal no packet loss, there is no need to be concerned.