Roblox is a social networking virtual world game built with virtual Lego bricks. It is a Roblox-developed massively multiplayer online game creation platform where you can design your clothes and items and play a variety of fun games created by yourself or other developers. Now, millions of players have joined the game, and considering that some games are more complex, it is not surprising that Roblox lag appears. To fix the game lag and have a more exciting gaming experience, we recommend you LagoFast, a Roblox game booster that is excellent in all aspects.
Part 1: Why do We Encounter Roblox Lag?
Part 2: Different Types of Lag
Part 3: How to Fix Roblox Lag?
Part 4: How to Have Roblox Better Connection?
Why do We Encounter Roblox Lag?
Roblox lag can occur for a variety of reasons, including hardware or software issues, or simply too many people flooding the server at the same time. Next, we have summarized some of the reasons that can cause Roblox Lag.
Unstable internet connection: If you are connected to the Internet via a wireless network at home, Roblox could be laggy. Other signal pulses or changes in geographic location can cause unstable WIFI signals because WIFI signals are more susceptible than you might think.
High graphics settings: When we play games, we turn up the graphics settings for a better visual experience, but our graphics cards lack processing power. This circumstance causes Roblox lag.
Too many apps running in the background: Despite the fact that we don't have any applications open, many programs start running by default right after booting, and these programs consume our computer's processing power. If we open Task Manager, we will see that numerous applications are running in the background that is consuming a significant amount of broadband and CPU processing power.
Network driver issue: The network driver handles any network-related process in the computer, so when we have a problem with the network driver, Roblox will lag due to network problems.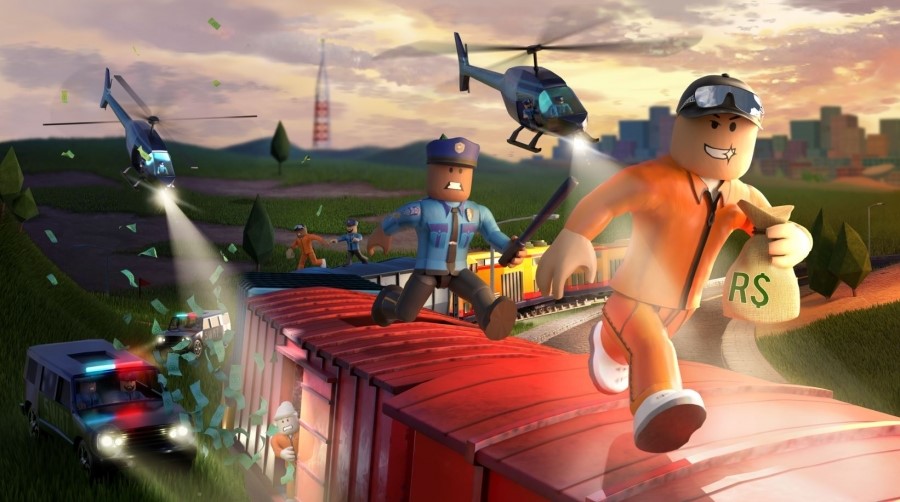 Different Types of Lag
We will categorize each of the different types of lags based on why they are generated, so let's take a look at what types of lags are generated in Roblox.
Ping lag: When a player's Internet connection is slow, it generates a high ping and Roblox becomes laggy. In other words, the higher the Ping value, the greater the severity of the Roblox lag.
Block lag: If a single block contains an excessive number of graphical elements, your computer will have to process a large amount of data before it can be output, causing Roblox to lag.
Chat lag: Because too many people are typing at once or bots are constantly sending spam to the chat box, your network must accept a large number of messages in a short period, causing lag. This is the most common type of lag as well.
System lag: This type of lag is caused by an outdated system or low-performance hardware on your computer. As previously stated, system lag will occur if you have outdated network drives or a low-end PC.

How to Fix Roblox Lag?
Use LagoFast
An excellent internet environment is just as important for online games like Roblox. Fortunately, LagoFast is an expert in this field, and it is built on an internal LFP data transfer protocol that vastly improves the player's gaming experience. Over 8 years of data transmission experience ensures that it can handle a wide range of network environments. What's more exciting is that you only need to click a Boost button to increase your FPS for a more intense gaming experience, isn't that simple? We also recommend it for another reason: LagoFast is a low-cost game booster that charges by the minute, allowing you to pause it at any time!
Here are the features of LagoFast:
Support Pay-Per-Minute, wallet-friendly!
More than 8 years of data transmission experience
Easy to use, boost with only one-click
Exclusive routes around the world
Supports over 1000 games
If you want to try LagoFast, to do this:
Step 1: Download LagoFast.
Step 2: Type Roblox in the Search box and choose it among the results.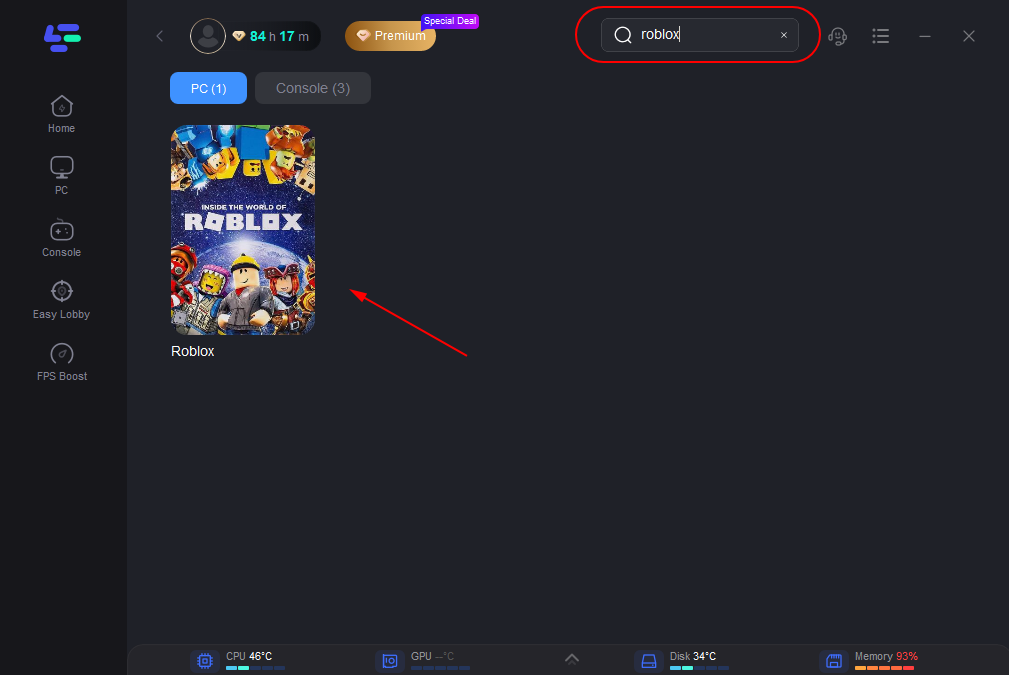 Step 3: Choose your needed server.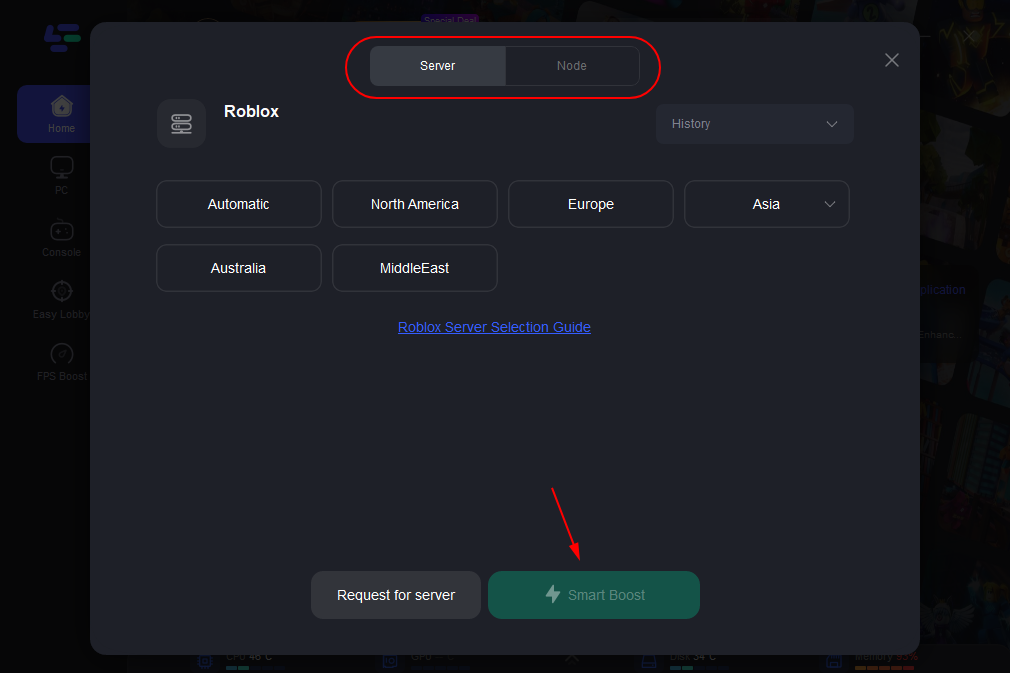 Step 4: Click on the Boost button to start boosting.
On this tab, you can see your real-time ping and packet loss rate, which are closely related to your FPS performance.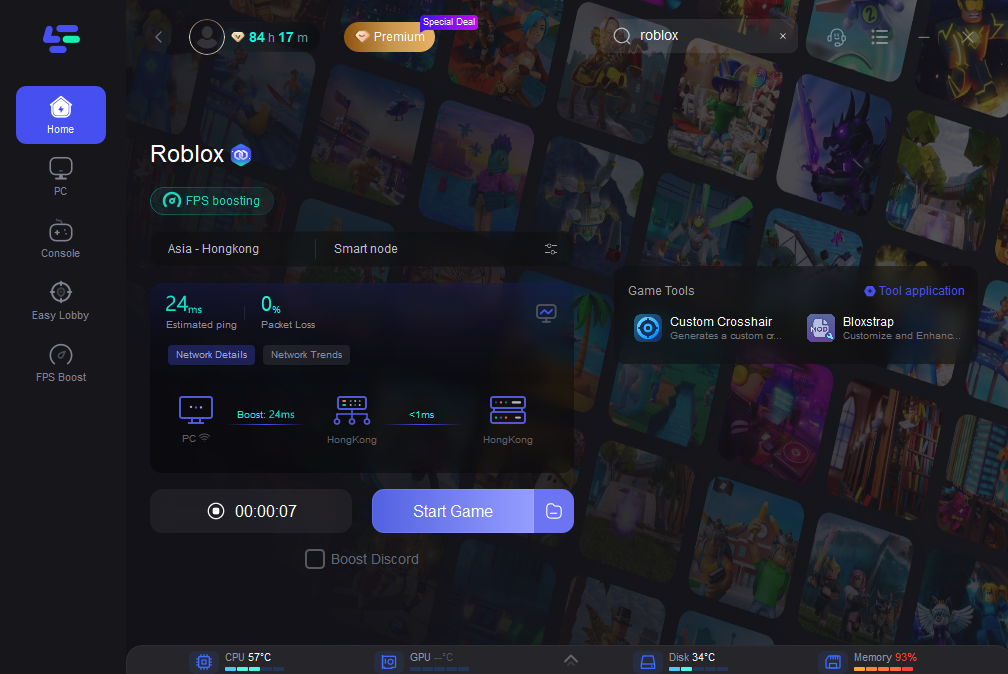 Aside from game boosting, LagoFast offers a dedicated FPS Boost service. You may change the settings manually by clicking on the ones you wish to turn on/off. To do so:
Step 1: Click on "FPS Boost" on the left side.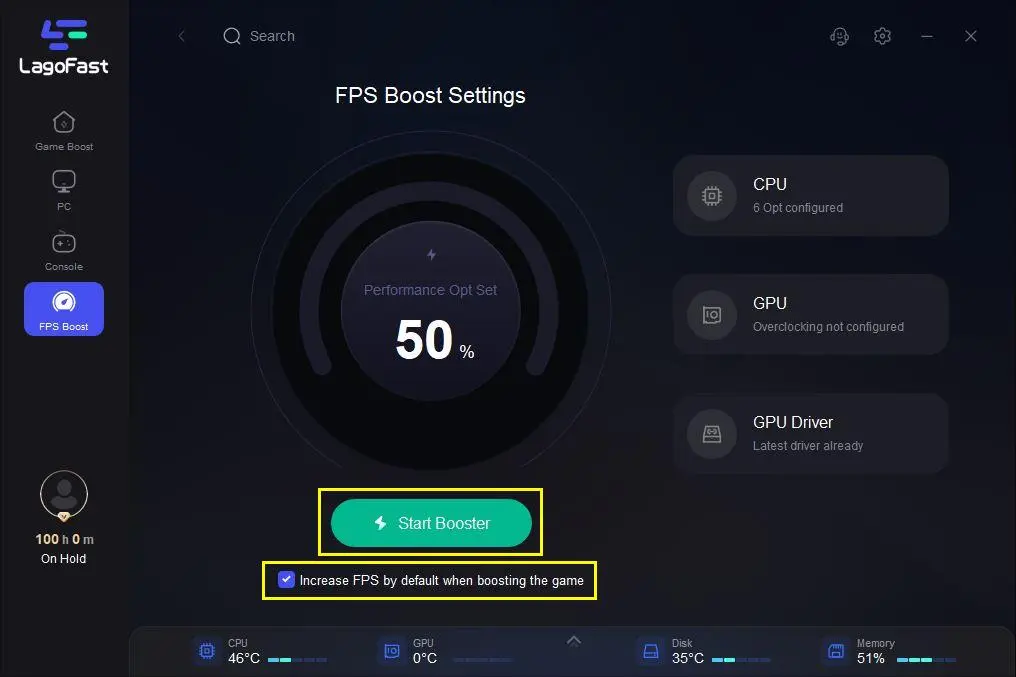 Step 2: Click "CPU Optimization" on the FPS Boost page and choose the settings that you want to open.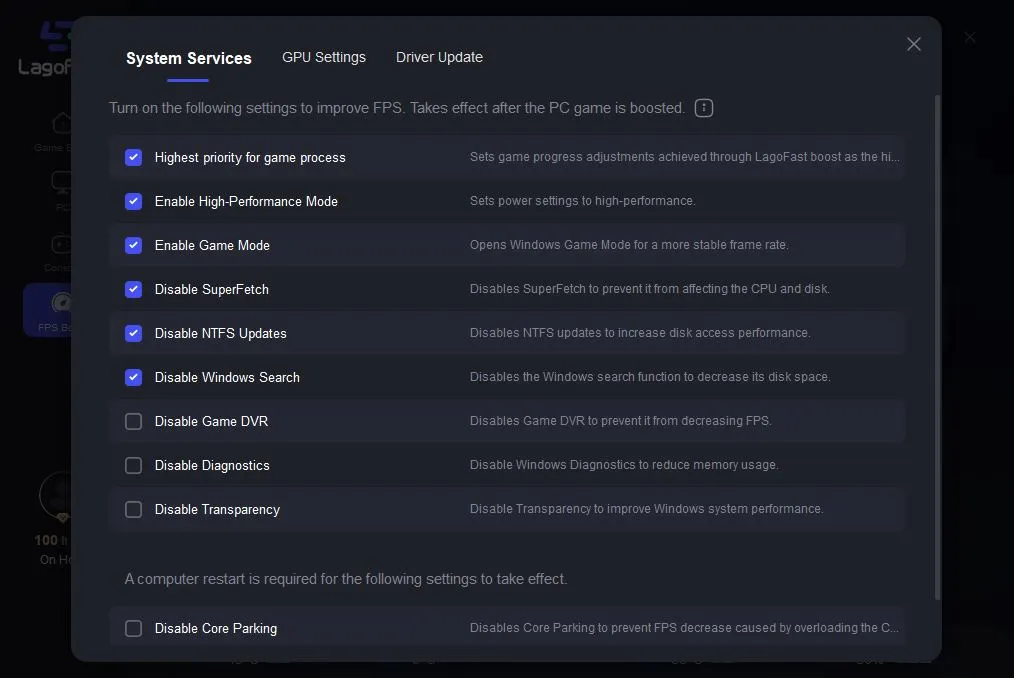 Step 3: Click "GPU Settings" on the FPS Boost page.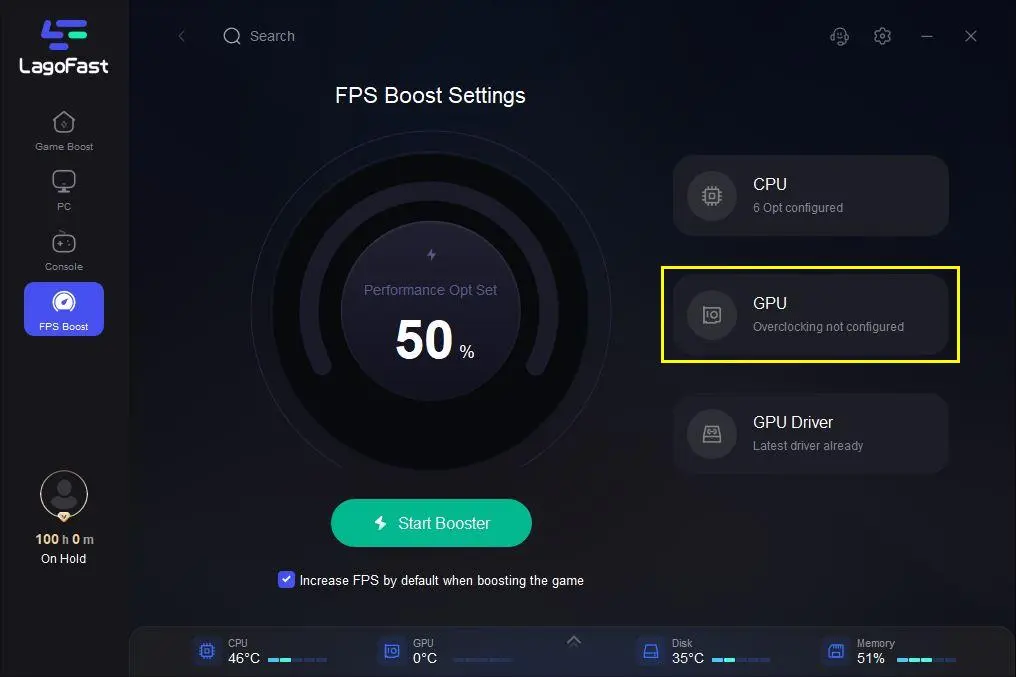 Step 4: Slide to choose your overclocking level in the first bar and tick "Enable GPU Boost" in the second bar.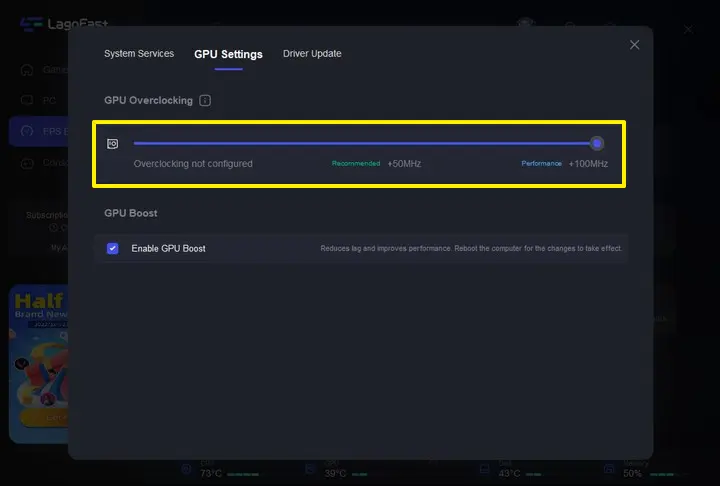 Step 5: Click "GPU Driver" on the FPS Boost page to check your GUP Driver updating version.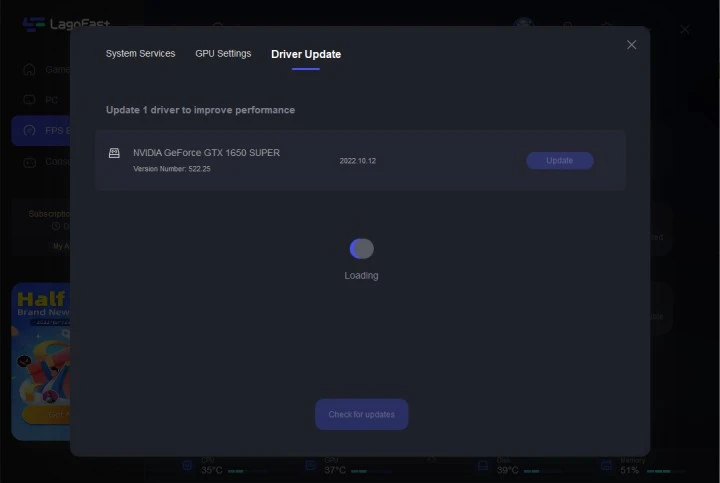 At last, you need to return to the FPS Boost page, and clicking "Start Booster" is OK.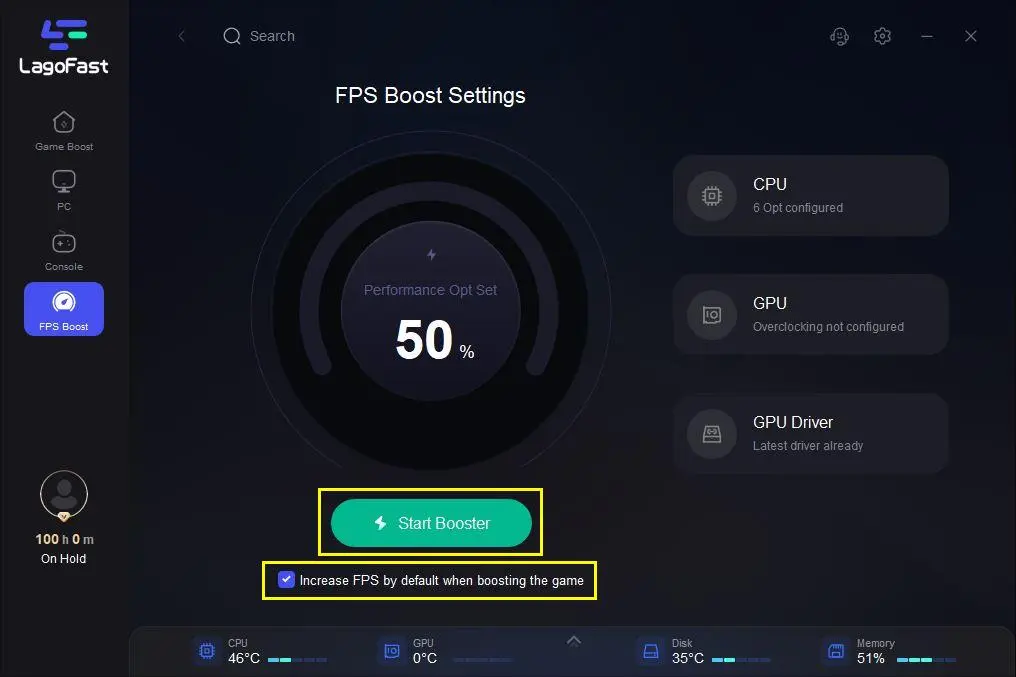 Other solutions
For which of the above-mentioned causes of lag, we can implement the following measures to alleviate Roblox lag; I hope these methods are useful to you.
Restart your PC: Internal errors can occur with your CPU and GPU resources at times. That is when your graphics or network driver begins to fail. Roblox's performance suffers as a result. All you need to do is restart your computer so that the resources are entirely free of burden.
Delete temporary files: Temporary files are files that store temporary data generated by Windows or the programs that users use. However, they take up some hard disk space, which slows down your computer and might affect the responsiveness to the connection. So, in order to make your computer function more smoothly, you should remove those files, which will not create any difficulties.
Reduce in-game graphics quality: If you are unsure whether your graphics card has enough performance to handle high graphics quality, you should downgrade it. Do like this:
1. Press the Esc key and navigate to Settings > Graphics Mode.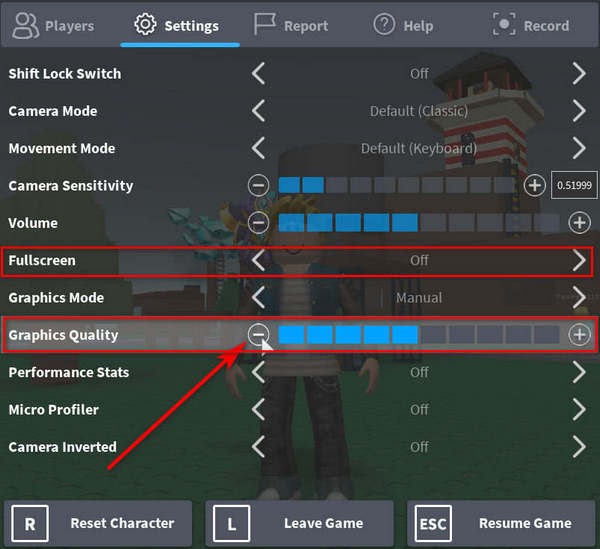 2. Change the graphics mode from Automatic to Manual. Using the minus (-) icon, you can reduce the graphics quality.
Run Roblox in windowed mode: Your computer must render as many pixels as possible when in fullscreen mode. That means the PC will be put under more strain. As a result, you should play Roblox games in windowed mode for better FPS. You can find it in the settings.
How to Have Roblox Better Connection?
Network problems are a common cause of Roblox lag, having a better connection will help a lot. We've compiled a list of tips to help you improve the quality of your network.
Update network driver: If your internet connection remains unstable after exhausting all available alternatives, you can upgrade your network driver. When the network driver is not updated, your internet connection may operate poorly. Here's how to update your network driver.
1. Enter Device Manager into the Start menu.
2. Go to Network Adapters in Device Manager.
3. Right-click on your Network Device in the list.
4. Click on Update driver.
Use wired connection: Wired connections are frequently more reliable than wireless connections. Wireless networks, as previously stated, are particularly prone to interference and can result in increased delay. As a result, if possible, we recommend using a wired connection.
Change your DNS: If your default DNS server experiences any technical issues, your Internet connection may become unreliable, at which point you can change your DNS server to another server.